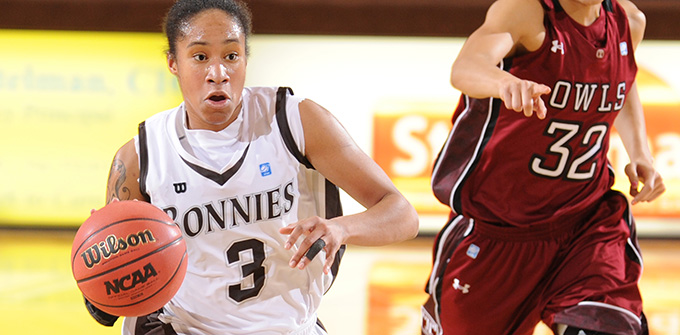 By Aaron M Smith
ST. BONAVENTURE, NY – To steal a phrase from Yogi Berra, for the St. Bonaventure women's basketball team it was déjà vu all over again.
After the University of Massachusetts rallied from a sixteen-point deficit to cut the lead to just a single point on Saturday, the Bonnies found themselves in yet another tough Atlantic 10 conference game for the third straight game.
In their Atlantic 10 conference opener against the Temple Owls, the Brown and White failed to protect a second half lead, only to fall 67-59.
On Wednesday, the visiting Bonnies rallied from a 31-16 second half deficit against the University of Richmond to tie the game only to fall short, 51-46.
With a little bit over ten minutes to play, the Brown and White had a comfortable 14-point lead and seemingly appeared to pulling away for its first Atlantic 10 conference win of the season. UMass however had other ideas and when Nola Henry scored on a lay-up the Bonnies lead was cut to just a single point, 47-46.
Bonaventure desperate for an answer to end the Minutewomen's run,  turned to their upperclassmen for an answer.
On the next possession, Doris Ortega drove to the basket and drew a foul. Hitting the pair of free throws, the lead was extended to three, 49-46.
UMass failed to connect on its next trip down, Alaina Walker corralled the rebound and was immediately fouled. Walker hit both free throws to push the Brown and White lead to 51-46.
"I challenged them (upperclassmen) the other day who is going to be a leader and who wants the basketball," Coach Jim Crowley admitted. "They (Walker and Ortega) both responded in a terrific way, which is what we figured they would. They are both great competitors."
Of the Bonnies last fourteen points in the game, Ortega (8) and Walker (4) accounted for twelve of the points scored.
"I think for a second it hit us like 'ahh, here it goes again,'" Ortega confirmed. " I think we did a great job of having answer shots. Our coaches talked about to us about teams are going to make runs but it is that answer shot that stops their run and I think that is what we did. I think they cut it to three, but we didn't panic we just continued to execute and we went back up. I think team-wise we didn't let that affect us."
For St. Bonaventure it was the answer they needed to secure victory.
Aaron Smith can be reached on Twitter @PicknSplinters