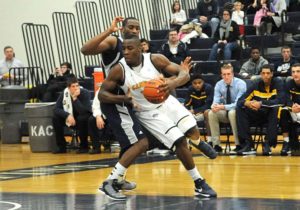 By Paul Gotham
BUFFALO, NY — What Billy Baron and Isaac Sosa started, Chris Manhertz finished.
For 36 minutes Saturday night much of the Canisius Golden Griffins' offensive attack came from the perimeter. When it mattered most, the player known for his grit pushed the Golden Griffins to a 3-1 mark in Metro-Atlantic Athletic Conference play with a victory over Marist's Red Foxes.
Baron and Sosa opened the night with a trio of threes to give the Griffs an early 9-2 edge. That served as a tease for Sosa's deluge to start the second stanza. With Baron feeding, Sosa drained four straight treys.  Overall, Canisius nailed 10-of-23 from behind the arc.  Baron and Sosa combined to hit eight of those triples.
The Griffs looked in complete control with a 16-point lead and less than 16 minutes left on the Koessler Athletic Center clock.
Using an 8-2 run, Marist whittled the lead to five.  Momentum dangled in the balance.
As soon as the Red Foxes thought they had a chance, Manhertz emphatically dismissed it.
Baron got into the paint with the dribble and looked to finish a layup from the right side of the rim when Marist's 6-10 Adam Kemp came across the lane looking for his third block of the night. Baron alertly put the ball up to the long side of the rim.  Manhertz slipped behind the defense, rose up and with two hands sent home a thunderous dunk which brought the 1,400 in attendance to their feet in approval.
"He's got a will, and he's not just accepting a box-out," said Marist head coach Chuck Martin. "If you can get more players to play with his will, you'd have a heckuva team."
For his encore, Manhertz corralled two more offensive on the next trip. Baron put a floater up to the basket. Manhertz shook his man and got in position for a tap in. When that rimmed out, he followed it and was hacked in his attempt. Manhertz sank both of the charity tosses for a commanding 71-63 advantage. The Griffs went on to win 73-64.
The Bronx, New York native finished with a game-high 14 rebounds. In four MAAC conference games, he is averaging more than 13 boards per contest. Last month, Manhertz, grabbed 13 in the first half en route to a career-high 18 as the Griffs defeated Marist on their home court, 94-82.
"We obviously paid him a lot of attention," Martin added.  "I remember the stats well, but he's got a will. That's hard when kids have will."
Hard only if he is your opponent.
The Golden Griffins know where to look when they need energy. After falling 66-45 to Fairfield on Thursday, Canisius players, Manhertz included, spoke of a lack of passion and complacency. Manhertz made sure that didn't happen.
Harold Washington noted his teammate's effort on Saturday: "He was an animal on the boards."
When the Griffs defeated Longwood earlier this season, Canisius head Jim Baron talked of the 6-6 forward's grit.
"He's got the body and the grit you need to have to win. For us to win, [we] got to control the boards, and that's going to be consistent. Chris really understands it, and that's why we're in the position we're in. He's a huge part of it."
Manhertz grabbed six offensive boards and eight on the defensive end in the victory over Marist. He added nine points with an assist, a steal and a block.
With a record of 3-1, the Griffs are in four-way tie for first place. Next up for Canisius is a date with Siena and the nation's leading rebounder, OD Anosike. Anosike averages 12.7 boards per game. A 7 p.m. tip is scheduled Friday night at the Times Union Center.