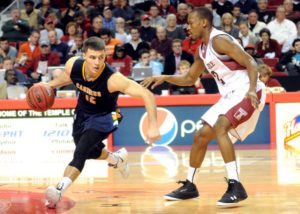 By Paul Gotham 
BUFFALO, NY — Punch in the gut.
Slap in the face.
Kick in the back side.
Taken to the woodshed.
All these and more describe what Fairfield's Stags did to the Canisius Golden Griffins , Thursday night.
Almost forgot, one good turn deserves another.
Less than one month after Canisius went into Fairfield's barn and staked their claim to the Metro-Atlantic Athletic Conference crown, the Stags reminded all they are still contenders.
Canisius coach Jim Baron called timeout less than four minutes into Thursday's contest. It mattered little. The Stags scored the contest's first 11. Canisius never climbed closer than four.
Maurice Barrow tallied 14 as the Stags took a 17-point lead into halftime. Fairfield didn't stop there building 28-point bulge before sealing a 66-45 victory.
"They came out, and they were going to answer the intensity bell," Baron said. "We had to match it. We said that before the game, we need to match it. That has to be with our upper class men."
The Griffs entered play averaging nearly 77 points per game scoring 80 or more in five of their first 13 contests. From behind the arc, Canisius ranked at the top of the MAAC shooting 40.8 percent (126-for-309). Against Fairfield, Canisius shot 20 percent (3-for-15) from long range.
"Coach told us to limit their threes to run them off the line," Barrow said of Fairfield's defensive game plan. "Make them make tough twos. That was our challenge."
"They still got 15 threes up," said Fairfield coach Sydney Johnson. "I think they had some open threes to be honest that didn't go down. Normally they make those. I'm not so sure that we executed everything that we wanted to do. We were fortunate. I thought we played hard defensively. Tough shots and finishing possessions was what we were able to do."
Canisius shot just 11-for-31 inside the arc.
"They did a good job with their pressure," Baron noted. "The game became a 94-foot game because they kept making shots. We want to run. We want to push it. We want to attack. When they're making shots, now we have to take it out. We have to go 94 feet, and that makes it a little bit tougher. We were forced to play their tempo.
The lack of success from the field trickled into other parts of the game. The Griffs entered play shooting better than 74 percent from the free throw line (201-for-271). The Blue and Gold went 14-for-27, including a pair of misses on the front ends of one and one opportunities.
"It's unbelievable," Baron said of the poor shooting from the line. "We have to do a better job when we're practicing of being focused. Sometimes, guys get out of focus because they think we're there."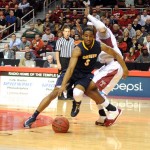 Billy Baron and Harold Washington scored 19 apiece when the Griffs downed Fairfield, 67-55 on December seventh.  Jordan Heath added. Thursday Heath and Washington combined for six points.
Washington had scored double figures in 35 of the 43 occasions he suited up for the Griffs. He has now been held under that number in two of the last three games.  The senior guard talked about possible complacency among the team.
"We needed to get smacked," Washington commented. "We needed to be humbled. We need to get our fire back. We need to come back with a new passion."
One player who showed little of being content was Chris Manhertz. The junior forward notched his first double-double of the season.  He had a game-high 13 rebounds including seven of his team's 15 offensive boards. He scored four in the Griffs' lone rally of the night. A 7-0 run to close within 11-7.
"I'm so proud of the way he plays and his intensity," Baron said. "We got to answer the intensity bell when we're playing against teams that are physical. We got to handle it with poise and with confidence."
Canisius started the season 6-1.  The Golden Griffins went 5-3 in December but two of those defeats were on the road to ranked teams, then no. 4 Syracuse (85-61) and then no.21 UNLV (89-74).
"This is all about the process of understanding," Baron explained. "Once we won those games it's new ground for us. Our kids have never been in that position. It's constantly a learning experience. Now, we got to bounce back and get ready for the game Saturday night. It's a process."
Marist comes to Koessler Athletic Center on Saturday. A 7 p.m. tip is scheduled.