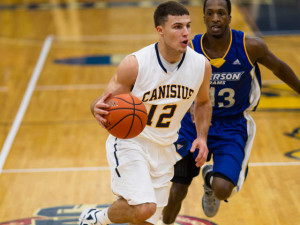 Courtesy of GoGriffs.com.
DETROIT, Mich. – Detroit junior guard Ray McCallum scored a game-high 22 points, with seven of those points coming from the free-throw line in the game's final 50 seconds, and the host Titans shot 45 percent from the field and 80 percent from the charity stripe en route to an 83-78 win over Canisius College Sunday in the Golden Griffins' final game of the Chevrolet Gotham Classic in Calihan Hall. The win moves Detroit to 8-5 on the year, while Canisius slipped to 9-4.
McCallum was one of five Detroit starters to score in double figures with his game-high 22 points, and he also added seven assists. Guard Jason Calliste scored 19 points while forward Nick Minnerath chipped in 16 points. Doug Anderson and Juwan Howard Jr., added 13 points apiece in the win for Detroit, which overcame a seven-point deficit in the game's final 11:46 to earn the victory.
Canisius junior Billy Baron scored a team-high 20 points to go with eight rebounds and seven assists in the losing effort. Senior Isaac Sosa and junior Jordan Heath were good for 17 points apiece for the Blue and Gold, with Sosa's 17 points allowing him to reach 1,000 for his career, including him time at Central Florida. Heath's 17 points are a new career high, and he also matched a career-high with seven boards.
"I thought we turned it over too many times and we really struggled to get the offense going at times in the second half because of their physical play," Canisius head coach Jim Baron said. "Physically, they really beat us up. I guess that's the difference between Midwest basketball and what we play on the east coast. I'm proud of the way we battled, and I thought we really rebounded the basketball too, but the turnovers at key times did us in. [Detroit is] the defending league champs in a really good conference, and they made shots when they needed to today."
Canisius led by seven at 55-48 with 11:46 left in the game after Baron nailed two free-throws coming out of a media timeout. From there, the Titans used a 12-0 run, capped by a 3-pointer by Howard with 8:29 left on the clock, to take a 60-55 lead. Canisius was able to get the Detroit lead down to 60-57 moments later on a basket by junior Chris Manhertz, but the Titans pushed back and ended up holding a lead of anywhere from four to six points for the game's next 4:49 of game action.
Canisius was able to make it a one-possession game with 2:57 left when Sosa hit a 3-pointer from the right corner to make the score 69-66 in favor of Detroit. On their next trip down the floor, Anderson hit a 3-pointer as the shot clock expired to push their hold back to six points at 72-66 with 2:18 left to play. Canisius made it a four-point game at 76-72 with 43 seconds left when Sosa drilled another trey, but McCallum pushed his team's cushion back to six points with a pair of made free-throws. Canisius countered as Baron drove the lane and made the score 78-74 with 30 ticks left. McCallum was fouled moments later and made just one of two tosses from the charity stripe, setting up a 3-pointer by Baron to make the score 79-77 in favor of Detroit with 21 seconds left on the clock. After Detroit took a 30-second timeout, Minnerath was fouled and made both shots from the line to make the score 81-77. After Baron was fouled hard on a drive to the hoop with 14 seconds, he made one of two shots from the free-throw line to get Canisius within three at 81-78, but McCallum hit two more free-throws with 14 seconds to ice the win for the Titans.
In the first half, Detroit led 35-23 with 8:33 left before intermission, but Canisius answered with a 19-4 run over the final 8:12 of the first stanza to take a 42-39 lead into the locker room at the break. In the first half, Canisius shot 53.1 percent from the field, 55.6 percent from 3-point range and 75 percent from the free-throw line. The Griffs ended the contest with a 34-26 margin on the boards and shot 50.9 percent from the field and 52.4 percent from behind the 3-point arc, but the Blue and Gold's 23 turnovers were turned into 20 Detroit points. Detroit also held a 25-17 margin in fast-break points.
Canisius senior Harold Washington scored 13 points and posted three assists for the Griffs in the loss, while Manhertz was good for six points and six rebounds. All of Detroit's points came from its starters in the game, and only two players that came off the bench attempted field goals for the Titans.
Canisius will return home Thursday, Jan. 3, when the Griffs play host to Fairfield in MAAC play. Game time in the Koessler Athletic Center is set for 7 p.m. Canisius met Fairfield Dec. 7, in its first league game of the season and posted a 67-55 win over the Stags.
            Game Notes: This marked the 31st all-time meeting between Canisius and Detroit, with the Titans holding a 17-14 advantage in the series… The Griffs lost for the first time this season when leading at the half – the team was 7-0 prior to Sunday's defeat… Canisius' 78 points on Sunday are the team's most in a loss this year… The Blue and Gold's 11 3-point field goals on Sunday gives the team 94 makes from long range since Dec. 7… Jordan Heath's 17 points bested his previous career-high of 15, which came Nov. 24, at Stony Brook… Baron matched a career-high with eight rebounds, a mark he previously tied earlier this year at Marist on Dec. 9… Baron's seven assists at Detroit gives him five or more helpers in 10 games this year… Sosa has now posted double figures in the scoring column nine times this season and 46 times in his career… Washington's 13 points gives him 10-plus points in 35 of his 43 career games as a Griff.