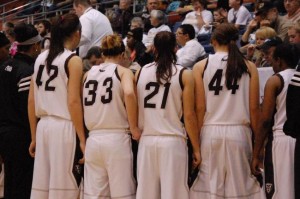 By Ryan Lazo
ST. BONAVENTURE, N.Y. — Jim Crowley and his St. Bonaventure squad take the court on Sunday to face Canisius in their 12th game of the season, while the shadows of their past success hangs over them in the rafters of the Reilly Center.
The young Bonnies (5-6) squad have lost six of their last eight games after earning three consecutive victories to begin the season. However, the turnover from last year's record setting squad has been too much.
Four seniors graduated from a team that went 31-4 and reached the Sweet 16 before falling to Notre Dame. The senior class of Megan Van Tatenhove, Armelia Horton, Jessica Jenkins and Jennie Ashton accounted for a program-best 98 wins.
But without them on the court, it's been a difficult transition.
"When you have young players and have returning players taking over new roles, it's a learning curve," Bona head coach Jim Crowley said in his office. "We haven't really helped them out because we've played really good teams, played on the road, and I do believe it will help in the long run."
Alaina Walker and Jordan McGee are the team's only seniors with Walker being the only player who has been with the program for the past three seasons. The senior guard has been leaned on heavily to help get the team on track.
The soft-spoken Walker has started every game, averaging 26 minutes per contest. And in those minutes, she has taking a more aggressive approach on offense, which led to a 17-point effort in a loss at West Virginia.
Bona trailed the Mountaineers 28-13 at the end of the first half and that's when Walker knew she had to take over. Using drives to the baskets and playing tough defense, she helped make the final score respectable, but she knows the team needs to learn from the set-backs.
"Everyone knows what level they have to play at, every game, practices included," Walker said. "West Virginia is a great team and it brought out a competitiveness within ourselves."
And that is where this team is different than in years past.
Never was there an issue with the competitive nature of Crowley's Bonnies. Bona trailed Dayton by over 20 points in the Atlantic 10 Conference Championship game last season, only to claw back and take a late lead.
They played each and every game with a chip on their shoulder to prove that they belonged and it's something that this team is beginning to realize.
"They're learning the value of playing hard and together," Crowley said. "The results take care of themselves. Just learning the value of competing everyday, going hard in practice and getting consistent with that and we've seen better stuff."
And the results starts with the play of the freshmen.
Katie Healy impressed in the first game of the season, scoring 12 points on 5-for-8 shooting. Her deft touch around the basket with a powerful inside presence coupled with a mid-range jumper showed the talent she has.
But after scoring 12 points against Niagara, Healy posted an 0-for-3 effort against Colgate and faced the first struggle of her playing career.
"It's intimidating sometimes, but you just need to know that you practice this everyday," Healy said. "We go hard against each other in practice so when we do play teams that may be better than us, we are prepared and know what to do to stop them."
The freshman forward provided enough spark off the bench to earn her first career start against Toledo, yet failed to record a single point. But she has still impressed Bona's head man.
"The maturity of handling the high-level stands out. She's not afraid of it," Crowley said of Healy. "She's a competitive kid, but we're trying to get her consistent. She has shown she can do good things against good players, but also bad things against bad players."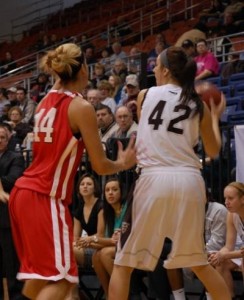 Meanwhile, Emily Michael has earned herself the starting point guard job over the past three games. While she has struggled shooting from the 3-point line — just 10-for-32 for 31 percent — she has impressed with her defensive tenacity.
Michael provided a spark in the season-opening victory over Binghamton with a two-steal effort and she is currently third on the team with 10 assists.
"She is able to get up defensively and create great on-the-ball pressure," Walker said of Michael. "Sometimes we lack energy or don't do as well as a team, she helps pick up the slack."
Defensive pressure is important to Bona's system but it's only as good as their offense. With a ball-control offense that lets the clock run while searching for the best shot, the other team has less a chance of scoring, but this year it hasn't worked as well.
Without a true go-to scorer like last season with Jenkins and Van Tatenhove, the Bonnies are shooting just 35 percent from the field and have turned the ball over an astonishing 168 times. To put that into perspective, last year's team turned the ball over just 428 times in 35 games.
However, Walker thinks the fix is as simple as working harder collectively.
"Just play hard all the time," Walker said. "Sometimes we take breaks. I think that's a major thing with us, we need to play hard all the time. People who have been here have experienced it and know what it takes. Now it's about getting everyone on the same page."
A team devoid of senior leadership and filled with young players, this Bona team is learning how to succeed all over again. Going through the hardships of non-conference play will only help them grow as a team and plant the seeds to success in the coming years.
Ryan Lazo can be reached on Twitter @RMLazo13