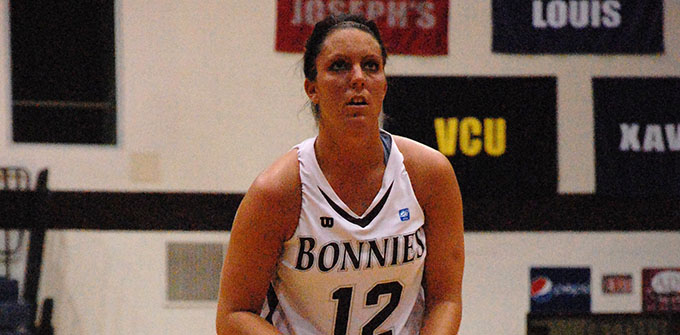 By Aaron M Smith
Ask any shooter and they will tell you that the best remedy for a cold-shooting night is to keep right on shooting. All it takes is one shot, they find their rhythm and the opposing team could be in for a long game.  On Wednesday night, St. Bonaventure guard, Ashley Zahn found herself in that very position against Big 4 rival, the University of Buffalo.
The Canandaigua, N.Y. native was held scoreless for the first 33:41 minutes of the game. The Bulls defense was relentless.  Nothing was dropping, and the outcome of the game in the balance for the Bonnies. The junior knew exactly what had to be done. "They (coaches) told me all through the first half and before coming out (to start the second half) the keep my head up,"  Zahn confirmed. "You have worked on shooting the ball, had a lot of reps with it; so just stay comfortable and shoot  the ball how you know."
The sharpshooter took heed of that advice and the results are unmistakable. At the 6:19 mark with the Bulls leading 43-41, Zahn hit her first jumper of the game.  The next trip down the junior hit her first trifecta on the night when freshman forward Katie Healy found her wide open in front of the Bonnies bench. It would be the first of three treys on the night for Zahn. All in all, Ashley went on to score the next 10 points in the game for the Brown and White.
Over the last 6:19 minutes of the game, Zahn accounted for 19 of  Bonaventure's last 25 points in the game, and helped lead the Bonnies to a thrilling 64-55 victory.
Ashley Zahn is Pickin' Splinters' choice for Performance of the Week.
Who is your Performance of the Week?