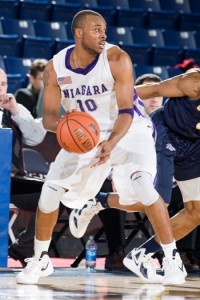 BALTIMORE – The Niagara men's basketball team held off a late Loyola Greyhounds' run to defeat the defending MAAC champions, 62-61, on Wednesday for its sixth straight win at Reitz Arena.
"This was just a great win. It was a character win and it was hard fought," said head coach Joe Mihalich who is one win away from 250 in his career. "It might be too early to say this, but when we look back this could be the game that helped us become a good team."
Niagara (3-5, 1-1 MAAC) needed another last minute clutch play to come away with a victory at Loyola (7-3, 0-1 MAAC). Last season, it was a go-ahead layup by Antoine Mason with one minute remaining, and this season it was reigning MAAC Rookie of the Year Juan'ya Green who provided the game-winner.
The Purple Eagles had the game's largest lead at 56-46 with 4:13 remaining when Loyola began its rally. A series of NU turnovers and Loyola free throws led to 9-2 run by the Greyhounds to tie the game at 58-58 with 1:41.
Both teams exchanged scoreless possessions, before Green made a running layup in the paint to break to the tie with 56 seconds left. Loyola's Tyler Hubbard missed a go-ahead 3-pointer on Loyola's next possession, but Mason committed an offensive foul on NU's next possession.
The Niagara defense made things difficult for the Greyhounds on their next possession and Green intercepted a pass by Dylon Cormier with six seconds left. Green connected on two free throws to seal the win and to snap NU's three-game losing streak.
"Great players, make great plays," Mihalich added. "It was a tied game. He (Green) had to make a tough shot while being fouled."
Green led all scorers with 19 points and had a game-high five assists for his seventh five-plus assist game of the season. Mason and Ameen Tanksley added 14 and 10 points, respectively.
The Purple Eagles trailed by eight in the first half, but took over the game late in the half. Niagara had a 14-2 run spanning from the under eight-minute mark in the first half to the early minutes in the second half. Niagara held Loyola scoreless for almost eight minutes in the first half while going on an 8-0 run to take a 28-25 lead. A last second layup by Cormier ended the scoring drought, but the Purple Eagles took a one point halftime lead; NU opened the second half with a 6-0 spurt.
The Purple Eagles conclude their season-long five-game road swing with a Big Four matchup against Buffalo on Saturday at 7 p.m. The game will be broadcast live on Time Warner Cable SportsChannel.