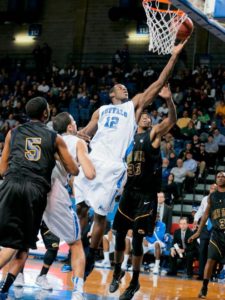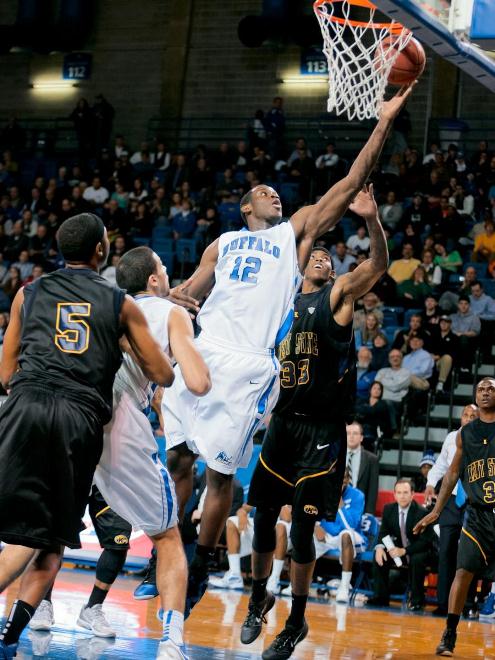 By Paul Gotham
BUFFALO, NY — To say that Wednesday night was an exercise in frustration for Javon McCrea and his University of Buffalo Bulls understates the point. The 6-7, 250 pound forward, who had become comfortable making opposing frontcourts uncomfortable, found the tables turned on him by the Temple Owls.
Halftime of Wednesday's non-conference tilt and  McCrea accounted for four points on two-of-seven shooting, zero rebounds and had committed two miscues without an assist en route to a 54-39 defeat to the Atlantic 10 team.
In seven games prior to Wednesday, McCrea averaged 17 points and six rebounds. He had hit better than 53 percent (42-78) of his his field goals and averaged six free throws per game. Not to mention the big man had handed out 19 assists while committing 17 turnovers.
"Our wings did a good job of pinching in maybe and avoiding some of those quick post feeds," said Temple head coach Fran Dunphy. "If you watch them on film, (Jarod) Oldham to McCrea is a very good combination of post feeding. McCrea is really tough down there. He does a really good job. He knows how to play. He has a great feel for his body and what he can do with it."
The pre-game respect resulted in a tough night for McCrea who didn't find things any easier in the second half. With seven minutes remaining, the Newark, New York resident had just eight points. It wasn't until the closing moments with the Bulls trailing by 19 that McCrea was able to surpass double digit points.
A year ago, the Bulls lost in overtime to Temple, 87-85. McCrea went off for 28 points with seven rebounds, an assist and two blocks. Wednesday the junior forward finished with 14 points, two rebounds, and an assist with three turnovers, a block and a steal.
"Last year I had it tough playing him for the first time," said Temple's 6-9, forward Anthony Lee. "This week I was doing a lot of studying on him. I just wanted to front him and make it tough on him on the passes inside. The guards helped me a lot cutting off passes and making it tough on them."
McCrea has shown the ability to put opposing frontcourts in foul trouble. Last Tuesday, both Josiah Heath and Chris Manhertz tried to slow McCrea but fouled out in a 71–64 Canisius victory over the Bulls. Most, if not all, of their 10 combined infractions came against UB's forward.  Princeton's Brendan Connolly had a similar fate in the season opener.  The 6-11 center played 25 minutes before getting the DQ. Florida State's Okaro White played just 18 minutes against McCrea and picked up four fouls.
"The frustrating thing is the number of times we got the ball into the paint and came out with not a foul or a basket," explained UB head coach Reggie Witherspoon. "And I don't think they fouled us. They just took the ball out of our hands. In order for us to succeed, we were going to have to win it in a blue collar way, and we're not ready to confront in a physical way."
Things don't get any easier for the Bulls. They travel to St. Bonaventure on Saturday night to fae the 4-2 Bonnies. McCrea will face off with Bona's seven-foot Youssou Ndoye. Beyond that, SBU has a reputation for disrupting opposing offenses.
The Bonnies are coming off a 69-64 loss to UB's MAC rival, Ohio. The Bobcats return all five starters from last year's Sweet Sixteen team and are receiving votes in the polls. A 7 p.m. tip is scheduled at the Reilly Center.