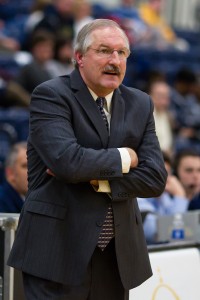 BUFFALO, N.Y. – Canisius College head men's basketball coach Jim Baron announced today that Jermaine Crumpton (Niagara Falls/Niagara Fall, N.Y.), Zach Lewis (Fishburne Military Academy/Windsor, Conn.) and Adam Weir (Canisius High School/Tonawanda, N.Y) have all signed their National Letters of Intent and will join the school's men's basketball team for the 2013-14 season.
"We are very pleased to add these three young men to our program," Baron said. "We are going to need to replace four seniors next season, so we knew we needed to go out and find some players that can help us fill a void, and I believe that's what we have. We're excited to be able to recruit and sign two guys from Western New York as well. That was one of our priorities. Both Jermaine [Crumpton] and Adam [Weir] come from strong local high school programs with a tradition of winning and all three guys have played against some pretty good competition."
Crumpton is a 6-foot-6, 220-pound forward who averaged 17 points and 9.0 rebounds per game for the Niagara Falls High School Wolverines in 2011-12. In his junior season, Crumpton helped lead his team to a 17-5 overall record and an 11-1 mark in conference play before seeing the season end to Aquinas in the state tournament, an Aquinas team led by current Canisius player Phil Valenti. Crumpton is a three-year starter at Niagara Falls and has been recognized as an All-Western New York honoree after his sophomore and junior seasons.
Lewis is currently spending a prep year at Fishburne Military Academy in Waynesboro, Va. The 6-foot-3, 175-pound guard was a two-time first-team all-state selection in Connecticut where he played at Northwest Catholic High School. In his senior season at Northwest, he averaged 22.2 points per game and was also recognized as a four-time honor-roll student for his work in the classroom.
Weir will trade his blue and gold of Canisius High School for the blue and gold of Canisius College next fall. A 6-foot-4, 185-pound shooting guard, he averaged 18 points and 7.0 rebounds per game last season for the Crusaders and earned Most Valuable Player honors as Canisius High won the 2012 Monsignor Martin Association championship, the school's second-straight Manhattan Cup title. Weir, who is the first Canisius High player to sign an NLI to join the Canisius men's team since former Griff Darren Fenn in 1997, was an AAU teammate with Crumpton in the summer of 2012. He also won three varsity letters on the Canisius High golf team and earned All-Catholic honors.
The Griffs will return to action Tuesday, Nov. 20, when the team hosts cross-town rival Buffalo in the Koessler Athletic Center. Tipoff is set for 8 p.m. After beating Big 4 rival St. Bonaventure last Saturday, Canisius is off to its first 2-0 start since 2000-01.