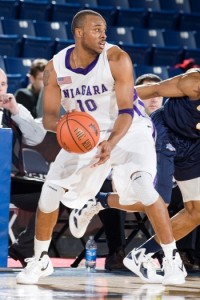 By Paul Gotham
BUFFALO, N.Y. — Last season Joe Mihalich referred to Juan'ya Green as the Maestro. This season the Niagara University head men's basketball coach hopes he will be talking about his star guard's leadership qualities.
It's not that Green didn't lead Niagara a season ago. He did. He topped the Purple Eagles in points (17.7) and assists (4.5) per game. He set freshman records for steals (63), free throws (148) and field goals (188).  He led the Metro-Atlantic Athletic Conference in thefts, and his scoring mark ranked second in the nation among freshmen.
He proved he can lead by example.
If Niagara is going to improve, Mihalich needs Green to become a complete leader.
"You always want people to be themselves," Mihalich said during the Big 4 media day at the Pearl Street Grill in Buffalo, New York. "I don't ever want somebody to not be himself, but Juan'ya has just got to get to where he's a little more comfortable being vocal."
Green set a Niagara freshman scoring record with 35 points in his MAAC debut against Fairfield. He went 12-22 from the field including 5-8 behind the arc and a perfect 6-6 at the free throw line.
"He's a terrific kid. He loves the game," Mihalich continued. "He's very competitive. He works extremely hard, but as far as leadership goes he has to take the next step and be more of a vocal leader too."
Niagara returns their starting five from a team which finished 8-10 and in seventh place in the MAAC. Mihalich knows that for improvement to happen it will need to be earned. Green's role must expand if Niagara is to climb the MAAC ladder.
"We're still awful young," Mihalich explained. "Just because we have five starters back doesn't mean they're old. They were freshmen last year. They're only sophomores. That year really helped them. It's a group we can really build on."
Niagara's season ended with an 86-73 loss to eventual MAAC champion Loyola.  Green scored a team-high 22 and dished out a game-high eight dimes with just one miscue. His lay up with six and change remaining in the game pulled Niagara within four.  Five minutes later he threaded a pass through the defense to Joe Thomas for an easy deuce, and the Purple Eagles trailed by five. That was as close as they got. Loyola converted eight free throws in the final 90 seconds.
"Every team is dying for a leader. Every team wants a leader," Mihalich commented. "Every team looks up to its best player, and that's the way it is with him. He's such a great kid that he doesn't realize that this team wants him to be more vocal. They're going to listen him. They want to be led."
Green was at his best last year when Big 4 rival, Canisius, took away his scoring. On a night when he only took eight shots and scored an equal amount of points, the Philadelphia, Pa. native handed out 11 assists as Niagara turned away their rivals 75-56. Green spent the night dissecting a Golden Griffin zone which extended to take away his scoring from the perimeter. Green recognized the gaps created and took advantage of what the defense gave him.
He returns with red shirt sophomore Antoine Mason to combine for one of the more formidable back courts in the MAAC. The duo scored more than 32 points and grabbed just under seven rebounds per night for the denizens of Monteagle Ridge and were named to the Pre-Season All-Big Four First Team.
"We really like our guards," Mihalich said. "Juan'ya and Antoine can be a special back court. They aren't right now, but maybe down the road they can be an even better back court than they are right now."
Niagara opens the season on the road playing at Oregon State in the 2K Sports Classic. Niagara hosts St. Francis (Pa.) for the home opener on November 13th. A 7 p.m. tipoff is scheduled.