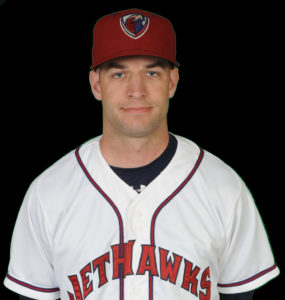 By Paul Casey Gotham
Like it or not, Patrick Urckfitz knows his surroundings.
The left-hander has spent parts of the last three seasons hurling for the Lancaster Jethawks.  So when he started this, his fifth season in the minor leagues, with the Class A-Advanced affiliate of the Houston Astros, Urckfitz scored one for familiarity.
Not that he wouldn't mind taking in some new scenery.
Twelve months ago Urckfitz appeared on track for a shot with the big club. He had made steady progress through the Astro system proving himself at every stop from Rookie ball to Double-A eventually earning a spot in the prestigious Arizona Fall League for the 2010 season and making an appearance in the Rising Stars Game.
Then three-plus years of work unraveled in one month.
Urckfitz opened the 2011 campaign with the Corpus Christi Hooks of the Double-A Texas League before getting called up to Oklahoma City on June 16th. His stay in Triple-A lasted just 10 days. He tossed five and two-third innings in four appearances, the worst four outings of his career.
At the same time, the Astros dealt Hunter Pence and Michael Bourn. In return they received five veteran minor league pitchers. By the time the shuffling ended, Urckfitz found himself back in Lancaster.
"At first it was tough. I realized I wasn't pitching the best at the time," Urckfitz said recently by phone. "They brought over a bunch of guys who they gave away two great big leaguers for. Those guys are going to be the priority at the time. I took a back seat in terms of that. I readjusted to everything and accepted it. I realized that I have to pitch the way I know I can, and that I have to re-establish myself in the organization."
To an outsider the moves seemed abrupt. For three years Urckfitz was given time to establish himself at each level. In 2009, Urckfitz spent more than four months in Class A with the Lexington Legends before moving on to Lancaster. The following season he spent the April, May, June and July with the Jethawks prior to his promotion to Corpus Christi.
His stay with the Hooks in 2011 was limited to two months.
"You got to be ready for moves like that," Urckfitz continued. "You never what's going to happen at different levels. You take it for what it is and go."
After his struggles with Oklahoma City, Urckfitz came out of the bullpen 10 times for the Jethawks last August. He fanned 17 while walking three in 13 and a third frames. He saved two.
"Once in a while things really speed up," Urckfitz said when reflecting on the lessons learned from last season. "But then you got to take a step back and look at it from the outside-in…slow everything down and look at what you're doing. It definitely helps you perform on the field."
He leads the Jethawks with 17 appearances thus far in 2012.  Entering games primarily in the set-up role he has fanned 24 and walked four in 21 innings of work.
With short fences and and parks built in wide open spaces, the California League has gained a reputation as hitter's league.
"You're not going to put up zeroes every night," Urckfitz explained. "The nights you're not feeling good as others you just minimize the damage. It's definitely a grind."
Prior to signing with the Astros in 2008, Urckfitz fanned 25 in 14.2 innings of work with the now-defunct Webster Yankees of the New York Collegiate Baseball League. Opposing batters hit a paltry .207 against the lefty. From there Urckfitz made 15 appearances for the Greeneville Astros of the Rookie Appalachian League fanning 23 in 19 innings of work while notching an ERA of 1.40. The southpaw finished 1-0 with three saves for the campaign.
He started 2009 in Lexington and led the Legends' pitching staff in appearances (42) and saves (13). In 49 innings of work Urckfitz compiled a 4-1 record with a 2.57 ERA while striking out 42 and walking 13. The lefty earned Legends' Pitcher-of-the-Month honors for May going 1-0 with four saves and an ERA of 0.71 for the month.
Urckfitz tossed 11.3 innings of relief surrendering just one run while striking out 15to lead the Monroe Community College Tribunes to a third-place finish in the 2008 NJCAA World Series.
Pence spent the summer of 2002 playing in the NYCBL with the Schenectady Mohawks.
The New York Collegiate Baseball League, founded in 1978, is a summer wood bat development league for professional baseball. Major League Baseball funds a small portion of the league's annual budget. The league gives college players who have not yet signed a professional contract the opportunity to develop their skills at a higher level of play, gain experience with wood bats and be evaluated by scouts. Current major leaguers Brad Lidge, Tim Hudson, Dallas Braden along with Pence have all spent time in the NYCBL.
The NYCBL. Sending players to the pros since 1978.