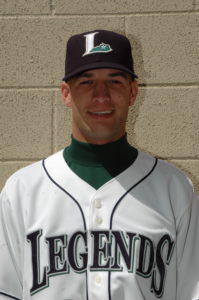 By Paul Gotham
When Pat Urckfitz took the mound on August 21st, the outing was not unlike many of his previous performances. The left-hander came on in relief and tossed an inning and a third of shutout ball. The difference this time was that the native of Penfield, New York did his work for the Lancaster Jet Hawks of the Class A Advanced California League. 

Urckfitz took the hill in a set up role as the Jet Hawks downed the Visalia Rawhide, 9-2. 

After a successful stint with the Lexington Legends, the Class A affiliate of the Houston Astros, Urckfitz learned of his promotion while on the road with Legends. 

"I was a little surprised," said Urckfitz. "My stuff is back in Lexington. I'll have to take a plane back when our season is over to get my things." 

The southpaw led the Legends' pitching staff in appearances (42) and saves (13). In 49 innings of work Urckfitz compiled a 4-1 record with a 2.57 ERA while striking out 42 and walking 13. Urckfitz earned Legends' Pitcher-of-the-Month honors for May going 1-0 with four saves and an ERA of 0.71 for the month. 

"I started the season struggling a little," noted Urckfitz. "It helped my confidence to be able to contribute to the team." 

In Lexington, the left-hander settled into the closer's role, but he will have to wait and see what his responsibility is with Lancaster. 

"My role right now is not clear," mentioned Urckfitz. "I came on one night to throw to a lefty, but on other nights I am in a set up role." 

Urckfitz noticed a difference in leagues right away. 

"If you make a mistake here, they make you pay," stated Urckftiz. "In Lexington, I could get away with hanging one over the plate. I can't do that here." 

The 21-year old already has his plans for the Fall. 

"When the California League ends on the seventh, I'll have about ten days off before I head back to Florida again for the instructional league." 

"If they don't think much of you, they don't invite you," said Webster Yankee Coach Dave Brust of the invite to fall league. "It's an investment." 

Urckfitz led Monroe Community College to a third place finish in 2008 NJCAA tournament tossing 11.3 innings of relief surrendering just one run while striking out 15. 

Before signing as a free agent with the Astros, Urckfitz fanned 25 in 14.2 innings of work with the Webster Yankees of the New York Collegiate Baseball League. Opposing batters hit a paltry .207 against the lefty. 

From there Urckfitz made 15 appearances for the Greeneville Astros of the Rookie Appalachian League fanning 23 in 19 innings of work while notching an ERA of 1.40. The southpaw finished 1-0 with three saves for the campaign.