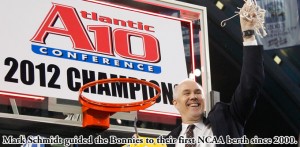 ST. BONAVENTURE, N.Y. – Men's basketball head coach Mark Schmidt has signed a long-term extension with St. Bonaventure University, director of athletics Steve Watson announced on Wednesday.
Schmidt, now under contract through the conclusion of the 2018-19 campaign, inked a five-year extension following a season that culminated with the program's first Atlantic 10 Championship title and first NCAA Tournament berth since 2000. No further details of the contract will be announced.
"I'm happy we were able to reach a long-term agreement and give men's basketball at St. Bonaventure the security and continuity it deserves," Watson said. "Mark and his staff have done a terrific job with the program on the court, in the classroom, on campus and in the community. We look forward to their continued success."
The Sporting News Atlantic 10 Coach of the Year guided the Bonnies to 20 wins in 2011-12, the most in a season since 2000, while posting a 10-6 A-10 mark that earned a bye into the A-10 Championship in Atlantic City.
"I'm pleased and honored by the commitment the University made to me and my staff," Schmidt said. "The players that my staff has successfully recruited the previous five years have brought our program back to prominence. We fully expect to continue building on the tradition of excellence and doing it the right way in years to come."
SBU defeated three 20-win teams in as many days, highlighted by a 67-56 triumph of Xavier in the title game to advance to the NCAAs for the sixth time in school history.
The Bonnies received one vote in the final Associated Press Top 25 Poll and have increased their league-win total in each of Schmidt's five seasons, while simultaneously improving the strength of schedule and Rating Percentage Index (RPI) metrics.
Additionally, the North Attleboro, Mass. native was instrumental in the development of A-10 Player of the Year and AP Honorable Mention All-American Andrew Nicholson, who ended his career ranked second in school history in scoring (2,103 points) and fourth in rebounds (887).