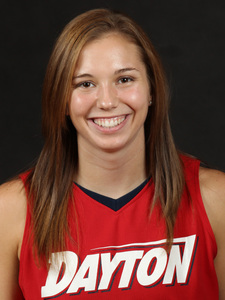 By Kyle Soppe
Dayton Flyer fans will argue that is not only death and taxes that are assured to come, as consistent play from Justine Raterman is as close to a guarantee as anything.
The UD senior paced her Flyers team in two wins, as they locked up the three seed in next weekends A-10 tournament. Raterman, the first player to win this award twice in a season, poured in 25 points in a 83-54 rout of Xavier on Wednesday night. She connected on four three pointers, and shot 10/17 from the field in only 23 minutes of action. She was dominant in every sense of the word, as the Musketeers simply had no answer for one of the best in the country. She added two blocked shots for good measure, in the blowout victory. She produced in a big win, but she saved her best for when her teammates needed it most.
Raterman did it all in a 74-69 overtime win over Duquesne, including scoring a career high 32 points on 12/21 shooting. Her two free throws with eight seconds left in the extra session iced the game, giving Dayton loads of confidence heading into the post season. Raterman connected on two of her three triples, grabbed a team high eight rebounds, recorded a game high three steals, and unofficially led the changed from superwomen back into a college senior in a phone booth after the game.
Her 57 points in two games are also a career high. The point total in for Raterman in 63 minutes of action was greater than the number of points by 12 entire teams when facing Dayton this year. There may not be a more feared player in the Atlantic 10, and with Raterman playing at such a high level, they can beat anybody in the country.
Justine Raterman gets my vote, who gets yours?