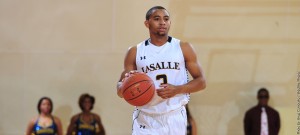 All that is good with Atlantic 10 men's basketball.
Monteiro earns player, Powell, Lee Rookie of the Week
NEWPORT NEWS, Va.—The Atlantic 10 has named Duquesne senior forward B. J. Monteiro and its Men's Basketball Players of the Week. Rhode Island freshman guard Mike Powell and Temple freshman Anthony Lee were chosen as the league's Co-Rookies of the Week. Both awards were announced Monday for games played during the week of Dec. 26 – Jan. 1.
Monteiro averaged 26.0 points, 11.0 rebounds and 4.0 assists in leading Duquesne to a pair of wins. The Waterbury, Conn. native scored a career-high 28 points on 11-of-14 shooting in a 10-point win over Bowling Green and followed that with a 24-14 double-double including career highs for rebounds (14) and assists (tied with 5) in a 118-72 victory over Houston Baptist. Monteiro became the 35th member of Duquesne's 1,000-point club early in the win over Houston Baptist. He completed the double-double, which was the third of his career, with four minutes left in the first half. For the week, Monteiro shot 66.7 percent from the field (20-30) and 73.3 percent from the foul line (11-15).
Powell averaged 15.5 points, 3.5 rebounds, 3.5 assists, and 1.5 steals in a 1-1 week for Rhode Island.  A Chicago, Ill., native, Powell also shot 52.6 percent from the floor (10-19), 5-7 from 3-point land (71.4 percent), and 6-8 from the foul line (75.0 percent).  In Rhody's win over James Madison, he tallied 10 points, three rebounds and four assists as the Rams snapped their eight-game losing streak.  Against UCF, the 5-11 guard poured in a game and career-high 21 points, connecting on 8-of-15 from the floor and 3-of-5 from beyond the arc.  He also added four boards, three assists and three steals.  For his efforts, Powell was named to the UCF Holiday Classic All-Tournament team.
Commissioner McGlade featured in Big Lead Sports Q&A
There has been a great deal of excitement in college sports this season. Unfortunately, a number of events have been tragic.
The scandals at Penn State and Syracuse are serious situations that demand full attention. And powerhouses such as Ohio State and Miami getting busted for rules infractions by the NCAA have tended to overshadow the accomplishments of student athletes, coaches and universities nationwide.
The landscape of college sports also is changing, with major universities switching conferences and TV enterprises such as the Longhorn and Pac-12 Networks turning schools into media moguls.
The Atlantic 10 has not been without its own issues. On Dec. 10, a fight broke out during a game between A-10 member Xavier and Cincinnati. Players from both teams were subsequently suspended.
About that situation, Atlantic 10 Commissioner Bernadette McGlade said in a statement, "This was an unfortunate incident that occurred, and is not representative of the values within the Atlantic 10 Conference. The additional disciplinary actions taken by Xavier University are fully supported by the conference. In the long run they will help the student-athletes and Xavier University in maintaining the high standards we expect. These penalties reinforce Xavier's and the Atlantic 10's commitment to sportsmanship and accountability and the importance we place on the integrity of intercollegiate athletics."
Conference play begins
Coaches refer to three "seasons" within the college basketball season. First is non-conference play, when teams try to build a resume that will help them get postseason opportunities. The third season is postseason, where every team gets a clean slate and a chance to compete for championships.
Sandwiched in the middle is Conference play, which is when a team gets some of its most difficult tests: opponents that know your schemes, intense rivalries and hostile road gyms all make this "second season" a grind for teams. For some leagues, conference play starts in December. For the Atlantic 10, it begins Wednesday.
There are six games on the A-10 docket Wednesday and outside of a marquee Duke at Temple non-conference matchup, there are five games in which 10 Atlantic 10 teams that will face familiar opponents to start league play.
Atlantic 10 Power rankings
…The Hawks came out on fire in the first half against Harvard, shooting 19 of 24, but made only eight of 27 in the second. Held 11 point lead over the Crimson with a little over 10 minutes to play, yet could not finish the upset.
Niners lose hard-fought battle at Memphis
The Charlotte 49ers fought Memphis down to the wire before falling, 67-58, on the road New Year's Eve.
Charlotte (7-5) took a brief one-point lead, 47-46, with 8:13 left on two KJ Sherrill free throws and were within one, 54-53, with 4:34 to play following a Pierria Henry three-pointer.  But Memphis scored the next nine points to pull away in the final minutes.
"I thought effort-wise, we played hard enough to win," said 49ers head coach Alan Major.  "Let's maintain that and add more purpose to what we do on both sides of the ball."
Charlotte endured a bad shooting night by hitting the boards, forcing turnovers and hitting their free throws, but in the final four minutes could not get enough of any while their shooting woes continued.
Read more…

Flyers dispatch Rebels in 62-50 win
DAYTON, Ohio – The University of Dayton Flyers topped the Ole Miss Rebels 62-50 at UD Arena on Friday night. With the victory, the Flyers recorded their sixth consecutive season of at least 10 non-conference wins. UD will enter conference play with a record of 10-4. Ole Miss falls to 9-4 on the season.
Senior Chris Johnson led the Flyers in scoring with 16 points on 5-of-8 shooting from beyond the arc.  Johnson also tallied five rebounds and five assists. Senior Paul Williams was the only other Flyer in double figures as he scored 12 points and pulled down seven rebounds. Senior Luke Fabrizius missed the last three games with a rib injury but returned tonight to score eight points on 3-of-7 shooting from the field. Fabrizius scored all eight of his points in the second half on 3-of-4 shooting, including 2-of-3 from three-point range. Redshirt junior Kevin Dillard added nine points and a game-high seven assists.

Benson suffers season-ending knee injury
An MRI examination revealed that University of Dayton junior forward Josh Benson suffered a torn ACL in his left knee during last night's 62-50 win over Ole Miss.  The surgery and rehab to repair the injury will put Benson out for the remainder of the 2011-12 season.  The 6-9 junior had started every game this year at forward for the Flyers.
"Everyone in our program feels for Josh right now," Flyer head coach Archie Miller said.  "He was really playing at both ends of the floor with a confidence that comes from being dedicated to getting better every day.  But he will still have a big role for our team as he comes back from this.  We will need his leadership and enthusiasm with us as we head into conference.
Bonnies defeat Niagara, complete Big 4 sweep
NIAGARA UNIVERSITY, N.Y. – Demitrius Conger recorded his fifth career double double with a career-high 27 points and 11 rebounds to guide St. Bonaventure (7-5) to a 72-70 victory over Niagara at a sold-out Gallagher Center.
The victory snapped the Bonnies' eight game skid versus the Purple Eagles and completed the first-ever Bona sweep of Big Four rivals Buffalo, Canisius and Niagara.
Garrett sets school blocks record as Spiders roll
UNIVERSITY OF RICHMOND, Va. – On a night when Kevin Anderson had a banner raised to the rafters, his former teammate Darrius Garrett set the school's career record for blocks as Richmond finished non-conference play 9-6 with a 78-58 win over UNC-Greensboro on Friday in the Robins Center.
Garrett blocked six shots Friday, giving him 184 for his career and passing Tim Faulconer for the Richmond record.
Garrett already has 60 blocked shots this season, equaling his total as a sophomore and one block ahead of his 59 blocks last season. He is averaging 4.0 blocks per game this season, which ranks fifth in the nation. He finished with nine points, 12 rebounds and the six blocks.
Tyreek Duren named Philadelphia Big 5 Player of the Week
PHILADELPHIA –  La Salle sophomore Tyreek Duren has been named the Philadelphia Big 5 Player of the Week, it was announced today.
Duren averaged 21 points, four rebounds, and 3 assists per game in a 2-0 week for the Explorers. He shot 16-for-26 (61.5%) from the floor and 6-for-11 (54.5%) from beyond the arc in the two contests.
Against Boston University, he had 23 points, 7 rebounds, and 5 assists before tallying 19 points in a victory over Hartford.
Duren, a Cousy Award nominee for the top collegiate point guard, is averaging 13.4 ppg. and 4.2 apg. for the Explorers (10-4, 0-0 A-10).
La Salle opens Atlantic 10 play on Wednesday versus Xavier at 6 PM.
La Salle downs Hartford
PHILADELPHIA – The La Salle men's basketball team continued its winning streak at Tom Gola Arena by defeating Hartford, 73-55, on Saturday evening, for their ninth straight victory at home.
The win adds on to La Salle's record-setting string of victories at Gola, dating back to last season. La Salle broke the record of seven, set during the 2006-07 season, during its last contest against Boston University and has won nine straight in the building.
"It's a big deal," head coach Dr. John Giannini said of his team's success at home this season. "We have not won at home [in the past] but this group is different. This group plays well at home. There's no other way to have a good program; you have to win at home."
Junior Ramon Galloway and sophomore Tyreek Duren each added a game-leading 19 points.  Freshman Jerrell Wright added a game-high 11 rebounds.
Dukes roll over Houston Baptist
PITTSBURGH – Sean Johnson and B.J. Monteiro scored 24 points each as Duquesne extended its winning streak to three by completing the non-conference portion of its schedule with a 118-72 win over Houston Baptist at the Palumbo Center.
The Dukes (9-5), who led 52-31 at the half, posted their highest point total since a 129-59 win over Howard on Nov. 9, 2007 in handing HBU (5-8) its sixth road loss without a win. The 46-point margin of victory was the largest since the 70-point win over Howard.
Monteiro, who scored his 1,000th career point on a free throw early in the first half, added a career-high 14 rebounds, 5 assists and 2 blocks in 29 minutes. Jerry Jones went 8-of-9 in scoring a career-high 19 off the bench and T.J. McConnell handed out 9 of the Dukes' 27 assists.
Fordham knocks off Harvard
Bronx, N.Y. – Jimmy Carter was president. Gas was about 67 cents a gallon. Andy Gibb's "(Love Is) Thicker Than Water" was the number one record. What do these things have in common? They were true that last time the Fordham University men's basketball team beat a ranked opponent. But that all changed tonight as the Rams upended #22/21 Harvard University, 60-54, before a boisterous Rose Hill Gym crowd.
The Fordham win snapped a 54-game losing streak to ranked opponents stretching back to February 28, 1978 when the Rams knocked off then 18th-ranked Georgetown, 63-59, in the Rose Hill Gym.
The win, Fordham's third in a row and fourth in its last five games, brings the Rams record to 7-6 on the year while Harvard, who entered the game ranked 22nd in the latest Associated Press poll and 21st in the latest ESPN/USA Today Coaches poll, falls to 12-2.
Got any bits to add to the Bounce? Throw a brother a line. Please post in a comment.