Musketeers Conclude Exhibition with 58-41 Victory
Pachko Earns Double-Double in Xavier Victory
Nov. 5, 2011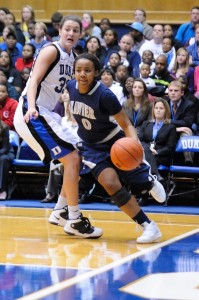 CINCINNATI-The Musketeers concluded their only exhibition game of the season today with a 58-41 victory over the Indianapolis Greyhounds at Cintas Center. Redshirt junior Amber Gray had a game-high 16 points from 7-for-13 shooting from the field.
Redshirt junior Jessica Pachko earned a double-double with 10 points and a game-high 12 rebounds. Senior Tyeasha Moss did an excellent job protecting the ball as she dished out a game-high six assists with only one turnover to go with her nine points during the exhibition.
Similar to previous years, this Xavier squad fared well on the boards, outrebounding Indianapolis 53-29, including 15 offensive rebounds. The Musketeers were able to dominate in the paint due to their size advantage by outscoring the Greyhounds 34-14 down low. Xavier was very effective defensively in the match as they held Indianapolis to 20.8 percent (11-53) from the field and only 11.5 percent (3-36) from behind the three-point line.
Xavier finished off the first half with 31-15 lead over Indianapolis. The Musketeers opened up the game with an 11-3 run, led by Gray and Pachko who each recorded four points. Pachko nearly completed a double-double at half with eight points and 10 rebounds, including an offensive rebound with a put back lay-up at the buzzer.
Katy McIntosh led the Greyhounds with eight points and was 4-for-4 from the charity stripe.
Xavier kicks off its regular season play Saturday, Nov. 12th at 2 p.m. against Eastern Kentucky at Cintas Center.