by Wally
As college football's opening day fast approaches, it's unquestionably time to put a marker out there and set expectations for the apple of my college sports eye, Notre Dame.    So here we go … first with 5 key questions for the season and then a game-by-game prediction.  
The 5 key questions:
1) This defense showed signs of brilliance over the last third of the 2010 season … has it really transformed into a dominant unit … a Top 10 type PHYSICAL defense?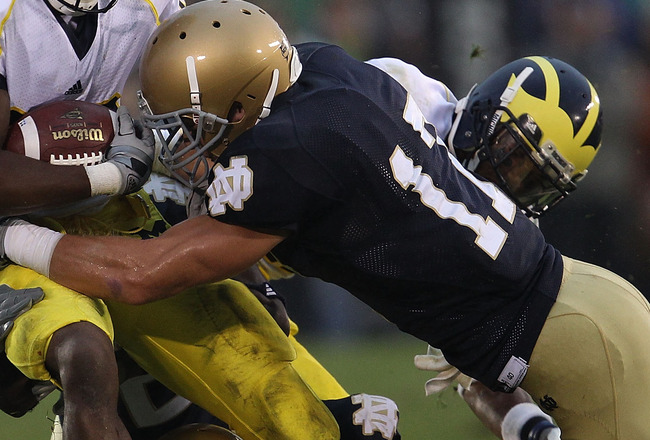 2) Will starting QB Dayne Crist stay reasonably healthy and play in at least 9-10 games?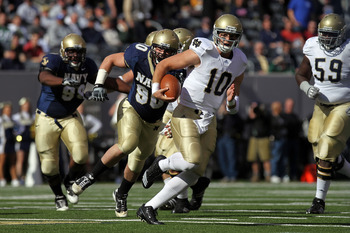 3) Will the Irish run the ball effectively as they did toward the end of 2010?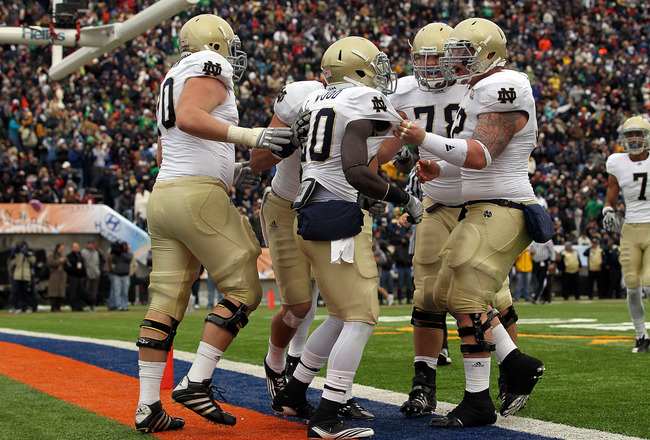 4) With stud WR Michael Floyd likely seeing double teams all season, will WRs Theo Riddick and TJ Jones and TE Tyler Eifert step up and make opposing defenses pay?
5) This is the most important question of all:     For once, can ND get off to a good start this season … say 3-1 or better?     
 ~~~~~~~~~~~~~~~~~~~~~~~~~~~~~~~~~~~~~~~~~~~~~~~~~~~~~~~~~~
 Here's the schedule with predictions:
 S03 SOUTH FLORIDA  (W) — a bit jittery to start, Irish pull away for a 14 point win against the Big East favorite and Lou Holtz's son, Skip.
S10 @ Michigan (L) — the ball doesn't bounce ND's way and neither does some highly questionable officiating in the Big House.  UM by 2.   Pains me to write this.   Have  I previously mentioned my disdain for the Meeeeeeeeshigan Skunkbears???   Grrrrrrrrrr.
S17 MICHIGAN STATE (W) — Spartans are a very good team, but Irish are back in the friendly confines and pissed as hell about the week before.   And they're pissed as hell about blowing last year's game in East Lansing.   The tricks are on Sparty this time.
S24 @ Pittsburgh (W) — Irish are just a better team than Pitt, but this won't be a cakewalk.   Who's coaching Pitt these days?   Wanny?  Mark May???   God help 'em.
O01 @ Purdue (W) — ND is zoned in, Boilers are terrible … Irish by 24.
O08 AIR FORCE (W) — if it were Navy, I'd hesitate … but like I said, ND is focused.
O22 SOUTHERN CAL (W) — ND at home and coming off a bye week while USuC is at Cal the week before.   It'll be close, but the Irish prevail by a field goal in the end.  (Take that, Crash!)
O29 NAVY (W) — Yes, I hesitated.   This will be a nail-biter as ND loses some focus after the big win vs USuC … but the home crowd wills the Irish to a victory in the end.
N05 @ Wake Forest (W) — Seriously?  
N12 MARYLAND (at FedEx Field) (W) — I guess this counts as a "home game" for the Irish.   Terps struggling to rebuild … ND typically plays well in these "big stadium showcase games".
N19 BOSTON COLLEGE (W) — Don't get caught looking ahead!!!  It's Senior Day, so let's go out with a win.   BC is rebuilding … hopefully they won't be rebuilt by mid-November.   At least this one's not out there in Chestnut Hill … a graveyard for ND.
N26 @ Stanford (L) — This will be close … possibly a battle of Top 10 teams, but the Luck is with Stanford.
So there ya have it … 10-2 and ranked maybe #11 in the country on Dec 1 … probably good enough to barely make a BCS bowl game … and of course folks will be whining that there were "more deserving" teams.    Could it be 9-3?   Absolutely!   Do I feel like I'm out on a limb?    Sure.    ND could lose to Sparty in week 3, at Pitt in week 4 and/or to USC in October.   Bad luck with key injuries early on could quickly turn this into an 8-4 campaign.    On the other hand, the Irish could also win one or both of the games I've predicted they'll lose.   
Things appear different now …  the Irish have talented depth at just about every position except running back.    Some freshman could see meaningful playing time this year … and not necessarily because of injuries.   And I've detected some maturity on the roster that can weather a storm or two.    Therefore ….
Anything less than 9-3 will be extremely disappointing, at least to this scribe, unless there are extenuating circumstances.     The Irish MUST get off to a good start to be 10-2 in the end … not that it will be easy.    But somehow I think they will buck the trend over the last decade or so.   I have faith in Brian Kelly.   This is an experienced team with essentially 18 starters returning from a team that played very well down the stretch last season while overcoming a boatload of adversity.    I think this team's got character, leadership and talent … experienced talent.    The depth is getting a lot better thanks to some nice recruiting classes … and the Irish might boast three first round draft picks next April:    WR Michael Floyd, LB Manti T'eo and Safety Harrison Smith.    When's the last time an ND team could even suggest that?    And when's the last time I felt comfortable saying that the Irish will be physical and tackle well?   Can't remember.
Just shoot me if they're 2-2 after 4 games … okay?   🙂