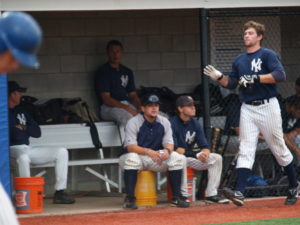 By Paul Casey Gotham
One summer collegiate wood-bat team. Two Major League Baseball draft picks. One player launching a professional career. Another player re-working a career. Both came to the Webster Yankees and got what they needed.
When Chris Bostick took advantage of a change in the New York Collegiate Baseball League's by-laws, a unique situation was created. The Gates, New York native joined an amateur team with, among other players, Jake Montgomery. The two shared the distinction of having already heard their names called in the MLB draft.
The Oakland Athletics chose Bostick, a slick infielder, in the 44th round of the 2011 draft. Montgomery, a power-pitcher in high school,  heard his name called by the Atlanta Braves with their pick in the 32nd round of the 2009 draft.
Bostick needed time. Montgomery needed to re-invent himself.
Dave Brust and the Webster Yankees provided just that for both.
"It was my honor to coach these guys," Brust said.
Bostick had to decide between a chance to play professional baseball and a full scholarship at St. John's University. Prior to the 2011 season, the NYCBL required all players to be NCAA eligible which meant that all student-athletes must have played one year of college baseball and have one year of eligibility remaining. The league changed the rule to allow eligibility to drafted high school seniors.
Montgomery continued his transition from pitcher to two-way player. Sixteen months after shoulder surgery ended his prospects on the mound, the Marietta, Georgia native continued his progress with glove and bat.
Bostick joined the pinstripes on June 12th. In 36 games with Webster he hit .413 with 17 extra-base hits including five home runs and 32 RBI.
Poor weather conditions this past spring worked against Bostick and his draft spot. With his high school team, The Aquinas Little Irish, not playing from May 14th to the 29th, scouts could not get a chance to see him play.
"I thought the Cubs would draft him in the sixth to eighth round," Aquinas head coach Mark Magliocco explained. "But 15 days of bad weather hurt his draft choice."
"It helps to play in the south," Bostick reflected. "They play 50-60 games. When it comes to the draft, they separate by warm-weather and cold-weather states with warm-weather going early in the draft."
Bostick hit .510 his senior season for the Little Irish. This after hitting at a .507 clip his junior year and .490 as a sophomore when AQ when the New York State title.
"He is a gentleman," Brust commented.  "He competes at a level that everyone hooked their wagons to."
With a fast ball topping out over 90 mph, Montgomery led Pope high school to the Class 5A Georgia state championship.  He busted pitches down and in on batters using a 3/4 delivery to strike out 84 in 66 innings while posting a record of 10-1 with an ERA of 1.27.
Being drafted was tempting, but a scholarship to the University of Georgia caught Montgomery. His older brother played with the Bulldogs 2008 team which qualified for the College World Series. Montgomery witnessed several of those players earn hefty paydays with high draft selections.
He made his choice.  Montgomery would head to Athens in 2009. A place and team with which he had familiarity, or so he thought.
Once there, Montgomery discovered things weren't as they appeared. He saw the business side of Division 1 baseball.
"There was more focus on the coach's job than improving the players," Montgomery recalled.
Disillusioned, Montgomery transferred to Young Harris – a school in North Georgia making its own transition – one from junior college to Division II athletics.
Montgomery arrived at Young Harris, but noticed something wasn't right. His delivery had changed. Instead of releasing from 3/4, he was coming over the top. Problems continued.
"I never really felt loose all of sudden," Montgomery explained. "Guys started hitting me."
He went for an MRI, and the procedure showed what he probably already knew. He had a torn labrum in his throwing shoulder. Surgery was required. Rehabilitation would be lengthy. Doctors found scar tissue during the procedure that pointed to the possibility of the injury occurring during his junior year in high school. Montgomery could play baseball again, but he would not have a professional career as pitcher. He needed to re-invent himself.
After not playing competitive baseball for over a year he came to New York. In 34 regular season games with Webster, Montgomery hit .304 with five extra-base hits, 15 RBI and 17 runs scored. He helped Webster claim its first divisional title.
"He's a very athletic kid," Brust said. "He understands the game at a high level – at times almost too much, but that will be something he works out as he gets older."
Bostick awaits his chance. He is on the roster of the Oakland Athletics affiliate in the rookie Arizona League. He has passed his physical and other required tests. His spot in the lineup should come any day now.
Montgomery will get s fresh start this fall. He will head to Wallace State in Alabama.  He still ranks in the top 300 for draft projections.
Two draft picks. Two journeys. One dream. Baseball.