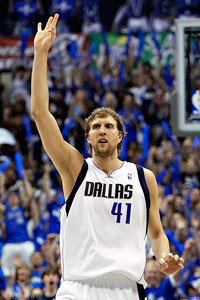 by Wally
I know it's still Tuesday, but I couldn't find anything catchy that contains "Wally" and "Tuesday", okay?
Man, it kinda sucked going without a playoff game in either hockey or hoops last night.    But, no worries, we're back at it tonight with the Oklahoma City Thunder opening the Western Conference Finals in Dallas versus the Mavwrecks. So what do YOU think we'll see in this series???   Personally, I gotta go with Dallas.   I think Dirk & Co will win a hard-fought series … it'll take 6 or 7 games.   And it's a good thing they have home court advantage.
For some reason, I have trouble taking the OKC Thunder seriously.   Maybe it's because they just seem like they were created as part of a comic strip or something.   Flash of lightning is their logo … then why aren't they called the Lightning?   Or the T-bolts?   Feels like we're in the middle of a Shazam! episode (remember that one?)   I suppose if we changed their name back to the Seattle SuperSonics, I might even pick 'em to win the series.   But seriously … they're just a little wet behind the ears to win this series right now.  Next year … yes.  This time, Dallas gets it done and goes to the Finals.   Dirk has never been better, they have seasoned vets, they have Tyson Chandler being somewhat of a force in the paint.
Heat vs Bulls: starts up again with Game 2 tomorrow night, then they wait til Sunday for Game 3.   This is driving me nuts!   C'mon, David Stern … there should NEVER be 3 days between games!!!   Two off days already feels stretchy.    Anyway, Bulls are up 1-0 after playing REALLY well for the last 17 minutes of Game 1  to pull away convincingly for a 21 point win.   Certainly not shocked by a Bulls win, but a little surprised they blew the doors of the Heat down the stretch.  Miami had been playing very well in the 4th quarter of their games vs Boston.   Okay, it's only one game.    I will be shocked (pleasantly), though, if the Bulls do it again Wednesday.   As of now, I'm sticking with the Heat to win the series (brain talking here) … and they'll have to win a game in Chicago to make that a reality.     But I obviously hope the Bulls sweep in 4 (heart talking here), but that won't happen.
Don't believe the fibby, bench Mike Bibby!    Mario Chalmers should be playing A LOT more than Bibby … I cannot believe Spoolstra can't figure this out.   But i'm glad.   How is it that Eric Spoolstra is the head coach of an NBA team??   How is that possible??
Tampa Bay Lightning at Boston Bruins: Simple as this … I'm rooting for the Buins to go all the way … Stanley Cup and all.   So they simply MUST win tonight since they're already down 1-0.   No small task … the Lightning are the hottest team in all of pro sports.    They've won their last 8 games … 8 PLAYOFF games.    Holy crap!
San Jose Sharks at Vancouver Cashmucks: Okay … it's obvious … I'm rooting for the Sharks.   Why?    It's Roberto Luongo … something creepy and unlikable about him.   The Sedin twins … ANNOYING!   City of Vancouver just has this nose-in-the-air feel about it … and the team has never had a good logo … NEVER!
What's with that rectangle with a hockey stick in it???   Then there's the Flying Skate Era.   Now, it's a whale shaped like a "C".    Puh … lease!    They might as well have a lightning bolt as their logo.   But, dangit … the Cashmucks are already up 1-0 cuz San Jose just has trouble holding leads.     Sharks win in 7 games … just a gut feel.
Pinesters … let us know what YOU see going on in the playoff games coming up!