By Paul Gotham
No lead is safe…
At least when New Orleans and Indianapolis is involved, opponents can not score enough.  The Saints and Colts continued walking a thin, thin line en route to their undefeated marks. New Orleans erased an 11-point halftime deficit to defeat the Panthers 30-20. Carolina's defense held New Orleans to just 84 yards on the ground, but the Saints have been figuring out a way to win all year. Drew Brees completed 24 of 35 for 330 yards. Robert Meachem led the way with 98 receiving yards on 5 catches.
For those keeping track at home, 'Pomme' DelHomme forgot to bring the dessert. The Carolina QB went an entire game without any turnovers.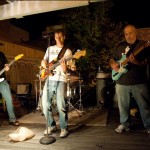 Indy also performed their own escape routine. After Steve Slaton scored on a one-yard run , the Houston Texans led the Colts 17-13 in the fourth. Jospeh Addai answered seven minutes later with his own end zone plunge. Indy needed a little divine intervention. The Texans missed a field goal from 42 yards away as time expired.
Indy head coach, Jim Caldwell, might be considered the nothing man because "around here everybody acts the same; around here everybody acts like nothing's changed." Fans would be hard-pressed to remember a coach who has more quietly led his team to an 8-0 start.
Welcome to the working week
Tom 'Terrific' and his Pats have had plenty of pictures in the paper 'being rhythmically admired,'  but Bill Belichick's crew will need to 'do it till their through it, so they better get to it.' New England travels to Indy for a Sunday night show down with the Colts next week. After that those pesky Jets come to town. If that isn't bad enough, the Pats geaux to N'Awlins for a Monday night soiree with the Saints.
For all those fans keeping track at home
Heisman trophy winner, Matt Leinart got into the game yesterday. He threw one pass. Leinart completed that pass…to THE WRONG TEAM. Yeah, Matt. Life is grand. "And I say this at the risk of falling from favor."
Spirit in the night
Mark Sanchez and the Jets enjoyed a bye week. It's been rumored that Mark "picked up Hazy Davy and Killer Joe" and headed out "to where the gypsy angels go."
Does All State cover Green Bay
Aaron Rodgers might want to consider some insurance. The lowly Tampa Bay Buccaneers sacked the Packer QB six times yesterday. At this rate Rodgers will kiss the turf 74 times this season. Ouch! Tampa Bay in those lovely creamsicle colored jerseys scored 21 fourth quarter points to win 38 -28. Tampa Bay has scored 37 combined points in the fourth quarter this year.
Cincinnati in first
Holy Kenny Anderson is it true? The Bengals clipped the Ravens 17-7 yesterday sweeping the season series from the divisional foe. The Bengals haven't done that since 1997. Next up – the Steelers. Considering the Steelers have the Monday night game, can the Bengals take advantage?
Free falling G-Men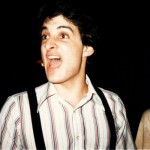 A recent article by Chas sums up my sentiments toward the Giants. In the back of my mind is always the possibility that the Giants could implode at any moment. Yesterday's debacle could make any clear-thinking Big Blue fan scream. First and goal, and the Giants managed a field goal. Followed by the defense playing matador to Philip Rivers and the Chargers.Not that Rivers had any motivation to beat the Giants or anything.
MNF
Pittsburgh at Denver. Hey Broncos! "Is it you baby, or just a brilliant disguise?"
Got any NFL Splinters? Share them here.