By Paul Gotham
With the daughters both off to college, Kel and I decided it was time for a getaway. Day one of our venture took us to the Saratoga Performing Arts Center for Bruce Springsteen and The E Street Band.  From there we continued east as far as the coast line would allow.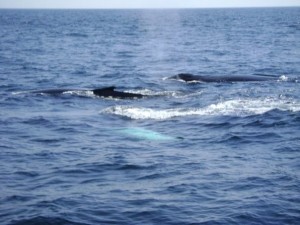 We made it to Plymouth, Massachusetts on Wednesday for a whale watching tour. We have been on at least four or five whale trips in the past. Reason I mention this, we were no more than 20 minutes out of Plymouth bay when the captain stopped the boat to observe three Humpback whales swimming together. The sighting caught the marine biologist on board by surprise and interrupted her opening remarks. We stayed in the area for about 45 minutes to watch the mother, her calf, and companion before leaving for Stellwagen Bank. The underwater canyon is off the coast of Cape Cod and home to a bounty of aquatic life.
Once again, we stumbled onto another three whales running together. Two sightings, like this, are pretty rare, especially within an hour of each other. By the time we stayed with this group our tour was over, and we headed back to the bay – not needing to get to our destination.
Given the 90 degree temperatures and humid conditions on shore, the whale watching trip came at a perfect time. It was pretty relaxing and cool out on the open water.
We made our way to Boston…errr…Bahsten and  our lodgings for the night. If you haven't already, give Hotwire.com a chance when you need a hotel for a night. They hooked us up with a decent room at a reasonable rate. The savings allowed us to stay another night in Beantown and catch a second Saux game. Okay, so that second one was a rationalization. I admit it.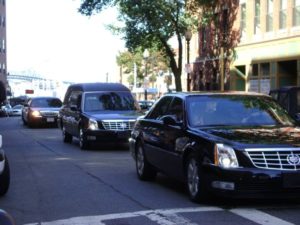 What's a trip to Bah-sten without a walk along the Freedom Trail. We started with the Paul Revere house. The North End – I love that neighborhood with its colonial feel and Italian flavor. You could blindfold me and drop me off on in the middle of that area, and I could figure out where I am. I love the cobbled streets and early-American buildings. I am about as much of an Italian as a grizzly bear, but I have a deep respect for the heritage of the paesanos. I stopped and read a poster in one of the storefronts. The poster consisted of a narration by a third generation Italian- American on the importance of his heritage, and how America tends to strip the unique qualities of individual cultures. There has to be a way for us to maintain that connection with the past.
Of course, we knew of  Senator Kennedy's passing before we left our hotel. But with our novice understanding of the city and its subway system, we harbored no intentions of seeing the motorcade. That is until we arrived in the North End and found citizens lining the streets. With a little bit of patience we managed to be a part of history. It was a walk on the Freedom Trail I'll not soon forget.
With our bellies growling, we made our way to the Bell In Hand Tavern. Actually, we considered the Union Oyster House long enough to read the menu. Yeah, teachers' wages kinda dictated our eating arrangements.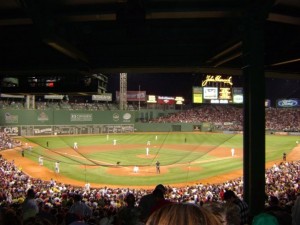 We headed to Fenway with the idea of watching the game in a neighborhood bar. Props to the Saux management for their game day ticket plan. We ended up with a pair of grandstand ducats in section 20 about 40 rows behind home plate. So the White Sox knocked Tazawa around like an old rag doll? It didn't matter. We had a chance to watch a game in Fenway.
Anyone could have predicted Tazawa's debacle. The rookie tossed six shutout innings in his previous outing versus the Yankees – his first start in the majors. Francona seemed intent to let the youngster work through his problems as he surrendered nine earned in four innings – oh that put a hurtin' on the ERA.
The area around Fenway is great. They close down Yawkey Way prior to the game, and let the party begin.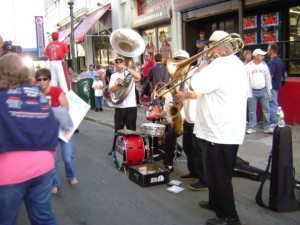 Friday, we enjoyed a bus ride past Boston University into town – grabbed a ride on the orange line and headed to Jamaica Plain and the Sam Adams Brewery. Hops, barley, yeast, fermenting…it is all so foreign to me. I listen with curiosity, but comprehend very little. Taste, on the other hand?
Brewery owner, Jim Koch, is a great story.  25 years ago the guy pedalled his home brew out of the back of his car…errr….should I say caahh. He took something he enjoys doing (making beer) and has done it his way. Somehow, that seems to be the opposite of so many business models which appear to identify a possible market and  try to make something that fits. Koch makes his product and lets the market fit around the product.
We took the trolley from the Brewery to Doyle's – the first pub to serve Sam Adams. Along the way we struck up a conversation with our tour guide, Ted: we talked about the game in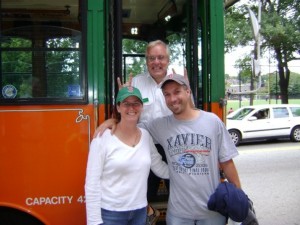 '78, the game in '86, and of course, 2004. Ted provided an in-depth history to the neighborhood around the brewery, and how it came to be. By chance, we met his wife and friends at Doyle's. They made a pit stop after the Senator Kennedy wake.   After talking for a while, they gave us a ride to Fenway. These people were so nice I half expected them to throw some tickets our way.
Again, we planned to watch the game at one of the nearby bars. Again, we managed to get tickets. This time we sat in section 21. Yeah, we could see the break on Josh Beckett's ball. Yeah, we also saw Beckett get taken yahd…twice. The Saux showed some resilience. With Beckett struggling, the offense came back twice.
In the fourth, with Alex Gonzalez on first and JD Drew on second, Jacoby Ellsbury sent a Scott Richmond cutter into the triangle. If the ball had fallen 10 feet to the right, it's a three-run home run. Instead, it caromed off the wall. If it comes back to the field of play, it's a two-run triple. Instead, the ball landed in the bullpen for a ground rule double and only one run scored. Toronto made it 5-3 the top of the next frame, but the Saux got the job done after a 45 minute rain delay – "So good! So good!"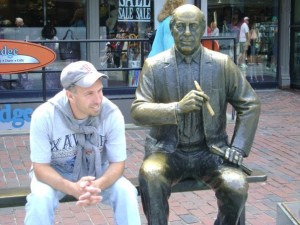 Before leaving the next day we took the train to Faneuil Hall and Quincy Market. We had a couple small gifts to buy. The rainy weather made our departure easier. Still, we reluctantly made our way to the Government Center train station. While waiting for the D train a spanish street musician entertained. I didn't know the first song he played. He continued with La Bamba. Then he took a quick break to tune his strings and get a swig of club soda. To our delight he broke into a spanish rendition of 'Til There Was You' – our wedding song. Yeah, it was good trip.
Until next time Boston…errr….Bahsten.