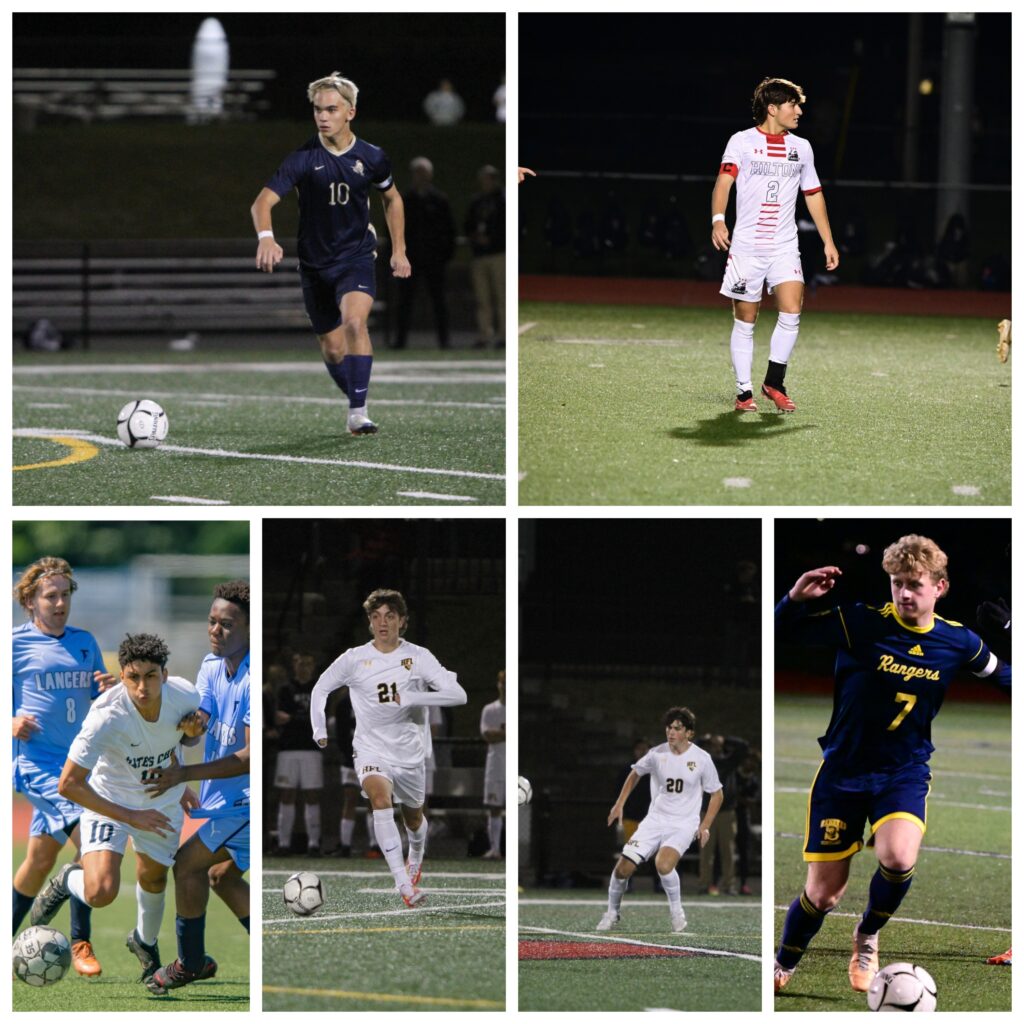 By MIKE ROSE
Johnny Bianchi, Kyle Milburn and Will Hanford helped lead their teams to first-place divisional finishes. Zach Zollo and Brandon Pritchard led HF-L to an unbeaten divisional mark. Sebastian Guerrero led all Monroe County players with 55 points.
The five seniors and one junior were named Players of the Year in their respective divisions by the Monroe County Soccer coaches.
Bianchi was the catalyst for the Hilton offense all season long. The senior netted a team-leading 15 goals and 32 points on the season to earn Division I Player of the Year honors. His 15 goals placed him tied for fourth among Monroe County players. His efforts helped lead the Cadets to a 14-4 campaign and the No. 3 seed in Class AA. Hilton's season ultimately ended with penalty kicks to eventual Class AA champion Churchville-Chili.
Joining Bianchi on the Divison I First Team were teammates Max Meagher, Ian Smith, Kyle Cunningham and Ashton Kendrick. Meagher finished fourth on the Cadets with four goals. Cunningham tallied two goals and seven points on the season. Smith tallied five assists, second on the team. Kendrick helped anchor a defense that allowed only 18 goals in 19 games. The Cadets allowed one goal or fewer in 14 of their 19 games.

Zachary Buys, Alex Grejda and AJ Nelson represented Fairport on the first team. Buys finished third on the Red Raiders in goals with five and first in assists with seven. Gredja finished fourth with four goals and tallied eight points. Nelson made 54 saves in 1171 minutes in goal while allowing 16 goals overall.
Paul Rolland and Zach Shores made the first team for Penfield. Rolland netted over 50 percent of the Patriots goals with a team-leading 17 and tacked on three assists. Shores helped lead a backline that allowed 17 goals on the season while chipping in a goal and two assists.
Quinn Halsdorfer and Kyle Saia received first-team nods for Webster Thomas. Halsdorfer led the Titans' offense tying for the team lead with five goals and four assists. Saia helped lead a backline that held its opposition to one goal or fewer in half the games.
Carson Hamann made the Division I First Team for Victor. He tallied 37 saves in 420 minutes, allowing four goals on the season while also scoring a goal. Zayden Patel rounds out the first team for Rush Henrietta. One of just two underclassmen on the Divison I First Team, Patel led a unit that allowed 2.5 goals per game.
Guerrero was named Co-Player of the Year in Division II as the lone Gates-Chili representative. He was the most prolific scorer in Monroe County, leading all divisions with 20 goals and 55 points. Guerrero also finished second in Monroe County with 15 assists. He recorded a tally on 35/42 goals scored by the Spartans and was the lone man to eclipse double digits in either category for Gates-Chili. In addition to pacing Monroe County, Guerrero finished tied for fourteenth in all of Section V in goals and points.
Milburn was the other half of the Co-Player of the Year honors in Division II as part of a first-place-finishing Spencerport team in Class AA. He led the Rangers with 15 goals and 13 assists. Milburn's efforts led to a tally of nearly 53 percent of all Spencerport goals. He finished fourth in all of Monroe County in goals and points (43). His season was highlighted by a pair of early season hat tricks against Orchard Park on September 9th and against Irondequoit on September 26th.
Justice Hinman, Zach Tortora and Jack Distaffen joined Milburn on the first team in Division II from Spencerport. Hinman finished second on the Rangers netting 12 goals and recording 26 points. Tortora filled in all over the field picking up an assist offensively while helping lead a defense that allowed 16 goals in 20 games. Disstaffen anchored the Rangers back line with 36 saves in 1404 minutes in goal and helping Spencerport record 10 shutouts.
Cam Bean, Elijah Bailey and Andrew Berdacurti received the nod on the first team for Churchville-Chili. Berdacurti led the Saints in both goals with eight and assists, recording five. Bailey tallied seven goals to finish second on the Saints, including the eventual game-winner in the sectional finals. Bean played primarily on the back end, anchoring a defense that surrendered 15 goals on the season, while also chipping in five goals and an assist offensively.
Brighton garnered three representatives on the first team with Matt Picone, Isaac Wing and Peter Odhiambo. Wing led the Bruins with seven goals and four assists, contributing on over 60 percent of the tallies on the season. Picone and Odhiambo helped lead a backline that surrendered 1.5 goals per game. Picone chipped in on the scoresheet with a goal and an assist.
Carson Keller and Bailey Connor received first-team honors for Irondequoit. Connor finished tied for the team lead with 14 points including six goals for the Eagles. Keller added three goals and an assist up front for the Irondequoit attack.
Sam Burton rounded out the Division II first team, representing Webster Schroeder. He led the Warriors with seven goals and four assists, tallying on nearly 70 percent of the Webster Schroeder goals this season.
Hanford claimed the Division III Player of the Year leading Pittsford Sutherland. He led the Knights in goals with 15, the only Sutherland player in double digits this season. Hanford finished tied for fourth in Monroe County in goals and sixth in points with 36. Hanford was the driver of the Knights' offense, recording goals in 10 of the 19 games, highlighted by a hat trick against Brockport on September 14th.
Joining Hanford on the Division III first team from Pittsford Sutherland are Santiago Castillo, Zach Bennett and Seth Rozen. Bennett finished second on the Knights in points including a team-leading nine assists along with adding seven goals. Castillo was a playmaker out of midfield for the Knights, recording seven assists. Rozen held down the backline racking up 82 saves in 1308 minutes in goal, ceding nine goals overall.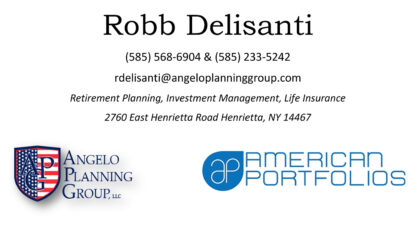 Colden Forney, Ethan Hughes and Danny Hurley represent Pittsford Mendon on the Division III first team. Forney tallied a goal and five assists in the Vikings midfield. Hughes netted a pair of goals while manning a backline that surrendered 1.6 goals per game. Hurley scored two goals with five helpers to earn the first-team nod.
Greece Arcadia earned a pair of first-team honorees with Kasey Conrow and Aidan Byrnes. Conrow stopped the fourth most shots in Monroe County, making 85 saves in 1131 minutes in goal while allowing 23 goals. Byrnes scored a team-leading six goals and added an assist.
Mazi McCraw and Adam Piendel made the first team from Greece Athena. McCraw tallied seven goals to lead the Trojans and added one assist. Piendel tacked on three assists managing the midfield for Athena.
Owen Schuessler and Jonah Lawrence from Canandaigua received first-team recognition. Schuessler buried four goals and added a helper for the Braves offense. Lawrence finished eighth in Monroe County with 29 points; picking up a team-leading 11 goals and seven assists.
Brandt Marshall was the lone Brockport first-team member. Marshall added three assists from the back end while helping the Blue Devils defense hold nine opponents to one goal or fewer.
Zach Zollo of HF-L was one-half of the Division IV Player of the Year honorees. He was one of two players in Monroe County with 20 goals while also tacking on nine assists. Zollo was the second-leading scorer overall in Monroe County finishing with 49 points. He helped paced a Cougars offense that averaged 3.5 goals per game and helped account for 46 percent of the goal production.
Zollo's teammate Brandon Pritchard was the other Division IV Player of the Year winner. Pritchard led the Cougars and Monroe County with 19 assists while adding 15 goals. He tied Zollo for the second-most points in Monroe County with 49. Pritchard was a factor in 54 percent of the goals for HF-L as they went undefeated and claimed the Division IV title.
Aidan Neenan and Ezra Gathercole joined their teammates on the first team for the Cougars. Neenan helped pace a defense that allowed 1.44 goals per game while adding six assists. Gathercole was a key factor in the HF-L attack, posting seven goals and nine assists.
Donovan Palma and Remy Okeefe of Eastridge got first-team nods. Palma led the Lancers with 10 goals while adding three assists all while playing on the back end defensively. Okeefe tallied three goals while roaming the midfield for Eastridge.
Owen Halpin, Quintin Cummings and Noah Whitcombe represented Batavia on the Division IV first team. Halpin paced the Blue Devils with eight goals and 11 assists. Cummings was close behind tallying seven goals and three assists. Whitcombe anchored the back end for Batavia while chipping in two assists.
Dylan Mattice, Jake Patrei and Arnanh Douangdala rounded out the first team from Greece Olympia. Mattice made 79 saves in 1382 minutes in goal for the Spartans. Patrei joined Mattice in leading a defensive unit that allowed just over one goal per game. Douangdala led Greece Olympia with 11 goals and finished second with six assists.