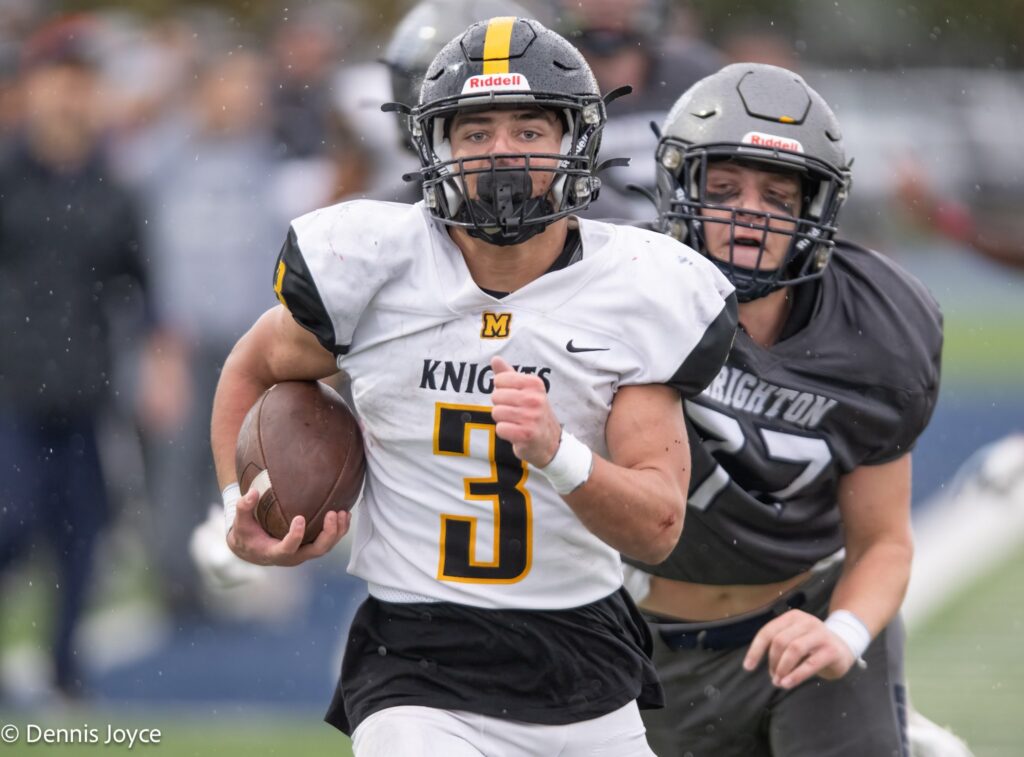 One squad is looking to avenge two years of defeat. Another is looking to continue its quest for a second straight state title. McQuaid and Bennett meet in the Far West Regional for the third time in as many years. Here's the breakdown:
MCQUAID JESUIT KNIGHTS (11-0/No.12 NYSSWA)
vs.
BENNETT/OLMSTED/MIDDLE EARLY COLLEGE TIGERS (10-0/No.5 NYSSWA)
Saturday, Williamsville South HS, 7 p.m.
How they arrived here: McQuaid took down the No. 8 seed Rush-Henrietta in the opening round with a 48-14 win before rallying against No. 4 seed Aquinas to win 35-14. The Knights then defeated UPrep 45-15 to win their fifth straight sectional title. Bennett opened with a 62-22 win over Orchard Park before defeating Lancaster 20-7 in the Section VI Class AA final.
Points per game: McQuaid (36.7), Bennett (43.2)
Points allowed per game: McQuaid (14.8), Bennett (8.4)
Trends: McQuaid enters having won three straight by a double-digit margin. Bennett has won every game by double-digits and has posted three shutouts.
Players to watch for McQuaid: Johnny Harding (Sr. RB/C): 25 total tackles, one PBU, 26 receptions for 350 yards (five receiving TDs), 63 rushes for 975 yards (11 rushing TDs), 10 returns for 100 yards. Eoin Meyer (Sr. WR/RB/LB): 65 total tackles, five TFLs, two QB hurries, one interception, two forced fumbles, 24 receptions for 360 yards (one receiving TD), 33 rushing attempts for 250 yards (five rushing TDs), seven returns for 125 yards. Will DiMarco (Jr. QB): 90 of 150 passes completed for 1280 yards and 10 passing TDs. 27 rushing attempts for 147 yards and 3 TDs. one fumble and four INTs. Brenton Paladino (Sr. WR/FS): 45 total tackles, one INT, one forced fumble, one fumble recovery, 21 receptions for 330 yards (four receiving TDs), six returns for 140 yards (one return for TD). Owen Begemann (OL/DT): 40 total tackles, three sacks, seven TFLs, three PBUs, two QB Hurs, one INT. Nate Earl (Sr. TE/DE): 30 total tackles, six sacks, seven TFLs, one PBU. Allen Nesmith (Jr. RB/LB): 12 total tackles, one sack, three TFLs, one PBUs, 10 receptions for 98 yards, 63 rushing attempts for 407 yards (seven rushing TDs), two fumbles, 10 returns for 155 yards. Shemir Bridges (Sr. DE/TE): 36 total tackles, six sacks, 10 TFLs, one PBU, eight QB Hurs, three fumble recoveries. Dominic Sansone (Sr. K/P): 43-of-43 extra points and 7-of-7 field goals

Buffalo Bennett: Ja'Meer Thomas (Sr. WR/DB) 68 carries for 867 yards and 12 touchdowns, 29 catches for 615 yards and six touchdowns, one kick return for a touchdown, 18 tackles. Sherrad Bennard III (Jr. QB/LB) 1349 yards on 17 passes, 13:3 TD/INT ratio, eight tackles. Kahmari Cook (Sr. TE/FB/ILB) 101 tackles, four TFLs, two sacks, three interceptions, one fumble recovery, 12 carries for 158 yards and two touchdowns. E'Ryan Lawrence (Jr. WR/DB/P) 17 receptions for 363 yards and five touchdowns, 684 rushing yards on 84 carries and 11 touchdowns, 35 tackles, two TFLs, one sack, three interceptions, one fumble recovery. Noah McDuffie (Jr. RB/FS) 73 carries for 585 yards and nine touchdowns, 81 tackles, two TFL, one sack, eight interceptions, one touchdown. Jazier Fluker (Sr. OL/DE) 71 tackles, 29 TFLs, 13 sacks, one fumble recovery. Delshon Taylor (Sr. OL/DL) 69 tackles, 19 TFLs, eight sacks. Jordan Freeman (Jr. QB/LB/DB) 164 yards on 14 carries and a touchdown, seven passes for 169 yards and three touchdowns, 34 tackles, one TFL, one forced fumble.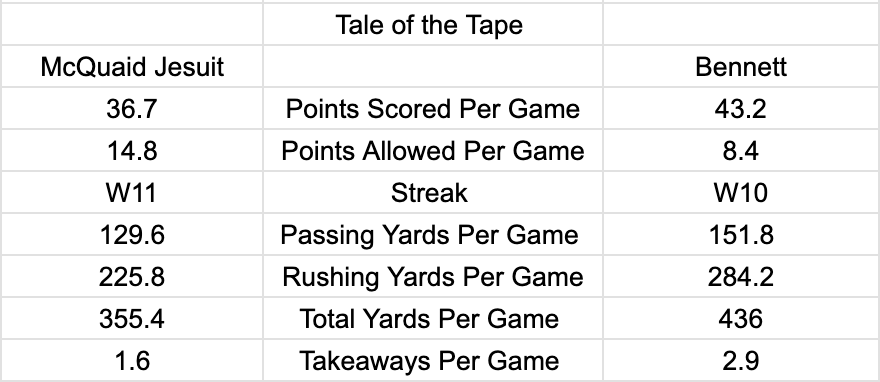 Coaches: Bobby Bates (McQuaid), Steven McDuffie (Bennett)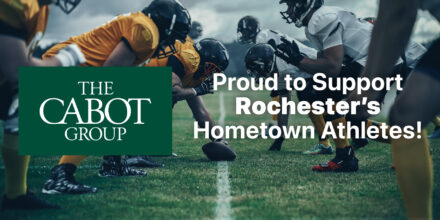 History 101: For the third straight year, McQuaid and Bennett matchup in the Class AA Far West Regional. Bennett took the last two meetings by scores of 20-14 and 26-14 respectively. After last year's win, Bennett went on to defeat Cicero-North Syracuse (III) and Newburgh (IX) to win the NYSPHSAA Class AA title. McQuaid is looking to advance to the state final four for the first time since 2019, a season that they made an appearance in the state final.
What's at stake: Winner advances to face either Christian Brothers Academy (III) or Elmira/Southside (IV).