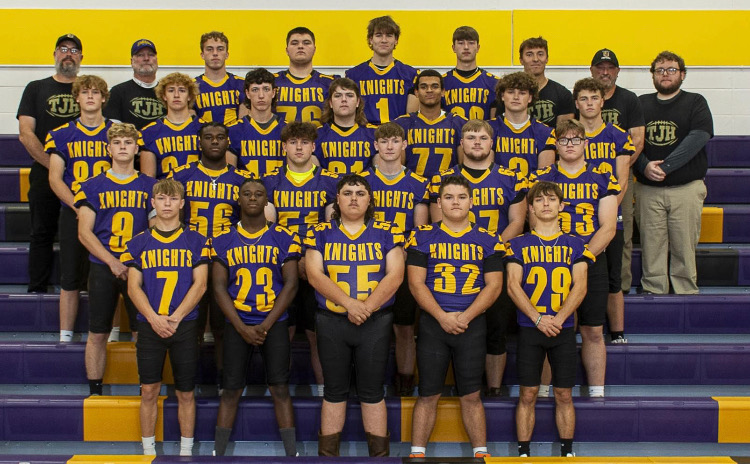 BY DAN GLICKMAN
Earlier this year, the York-Pavilion Golden Knights handed the Canisteo-Greenwood Chargers one of their two losses this season. Now, the two teams will meet again in the Section V Class D championship. Here's what you need to know:
No. 1 seed YORK/PAVILION GOLDEN KNIGHTS (8-1, 7-1 in class)
vs.
No. 3 seed CANISTEO-GREENWOOD CHARGERS (8-2, 6-2 in class)
How they arrived here: The Golden Knights started their tournament with a first-round bye. In the semifinal, they defeated No. 5 Notre Dame Batavia, 28-14. Canisteo-Greenwood started the tournament with a 54-12 win over No. 6 seed Geneseo/MM, and then upset No. 2 seed Avon, 20-6.
Players to watch for York/Pavilion: Parker Bonefede So. QB/LB 81-for-135 (60 percent), 13 passing touchdowns, 4 interceptions, 60 carries for 240 yards and seven rushing touchdowns; Carl Szczech Jr. WR/DB 160 carries, 772 yards, 11 touchdowns; Joe Bauer Sr. WR/DB 22 catches, 564 yards, four touchdowns, 39 tackles, two interceptions; Tyler Brady Sr. WR/DB nine catches, 113 yards, 42 tackles, seven interceptions; Jake Pangrazio Sr. WR/DB 20 catches, 333 yards, six touchdowns; Ryan Brady So. WR/LB 25 catches, 223 yards, team-high 78 tackles, three interceptions, two sacks; Brennan Royce Sr. 58 tackles, two interceptions (one returned for touchdown), one forced fumble; Liam Ezard Jr. RB/LB 53 tackles, one sack, two QB hurries; Joe Munoz Sr. OL/DL 26 tackles and three sacks.

Players to watch for Canisteo-Greenwood: Collin Cox Sr. QB/DB 69-for-143, 1034 yards passing, 14 passing touchdowns, 232 rushing yards, two rushing touchdowns; Beu Zeh Sr. RB/LB147 rushes, 915 rushing yards, seven rushing touchdowns; Griffin Weeks Sr. RB/LB 53 rushes, 396 rushing yards, six touchdowns; Paiton Davis Sr. WR/DB 24 rushes, 198 rushing yards, four rushing touchdowns, 12 receptions, 157 receiving yards, one receiving touchdown; Lucas Mason Sr. WR/DB 21 rushes, 192 rushing yards, three rushing touchdowns; J.J. Reese Sr. TE/DL 22 receptions, 276 yards, six receiving touchdowns; Carson Chaffee So. WR/DB Six receptions, 198 receiving yards, four receiving touchdowns; Ashton Davis Sr. WR/DB Eight receptions, 142 receiving 142 yards, two receiving touchdowns.
Coaches: Kurt Schneider (York), Steve Donlon (Canisteo-Greenwood)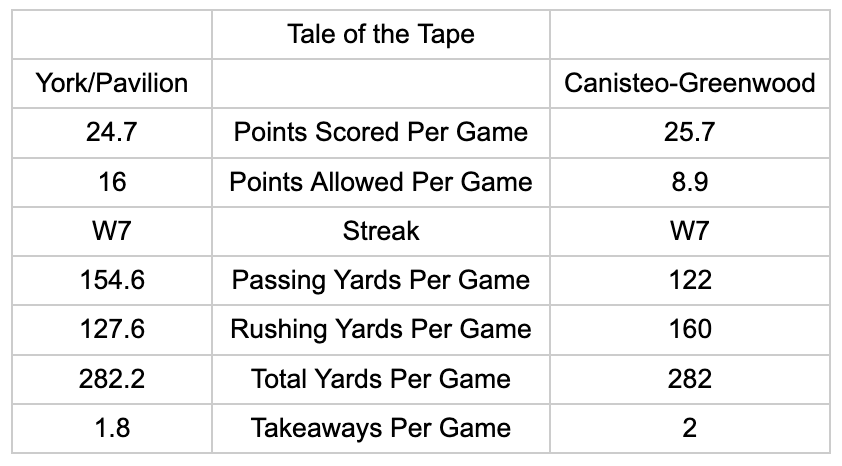 Last Meeting: The Knights edged out the Chargers on Sept. 22, 13-12, in York. Parker Bonefede scored both touchdowns for York/Pavilion in the victory, while Tyler Brady had two interceptions.
History 101: York/Pavilion lost in last year's semi-finals to eventual champion Oakfield-Alabama/Elba. A win this season would be their second-ever Class D sectional title- their last was in 1990. Canisteo-Greenwood participated in the 8-Man division last season, falling in the finals to Pembroke. The Chargers are looking for their first sectional title in program history.
What's Next: The winner of Friday's game will advance to face the Section VI champion either Clymer/Sherman/Panama or Wilson in the Far West Regional Championships.
A 7:00 PM kickoff is scheduled on Friday, Nov. 10 at SUNY Brockport.