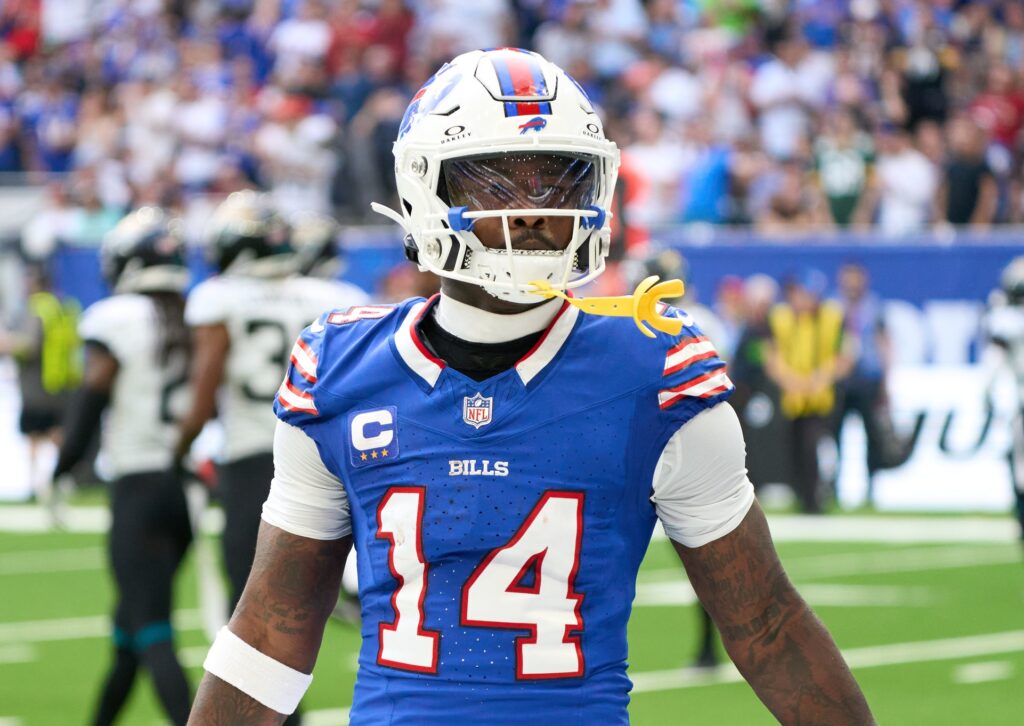 by TYLER HATHAWAY
After an off-season filled with much of big sports media producing baseless rumors, overblown drama, and unnecessary doubt of his future with Buffalo (3-2), how did wide receiver Stefon Diggs respond to open the season in 2023? By being on pace to have not only the best season of his career, but one of the best seasons by any receiver in NFL history. He looks to keep his career season going in a Week 6 showdown against the New York Giants (1-4) on Sunday Night Football.
"I don't take things personally from people I don't know personally," Diggs said of the media that criticized him. "I'm not in the space to try and be understood. I'm here to do a job."
In his fourth season as a Bill, the Maryland product has hauled in 39 passes for 520 yards and five touchdowns through five games. He and quarterback Josh Allen have connected for 24 first downs.
"He's a competitor, he's a fiery competitor," said Allen of Diggs. "He's a lot of our juice on the sideline, making sure that the offense is staying up, and our offense is as energized as possible. We feed off of that."
His stats through five games adjusted across a 17-game season equate to 133 catches, 1,768 yards, and 17 touchdowns. All of those would rank first in Bills history for a single season, with his catches and touchdown stats being sixth all time in NFL history for a single season. The yards would rank 8th all-time.
Diggs faces a Giants secondary in Week 6 that has allowed opposing number one wide receivers to accrue about five catches and 95 yards per game. In Week 5, Miami Dolphins wide receiver Tyreek Hill torched the New York defense, catching eight passes for 181 yards and a score.
This week is former Bills' offensive coordinator Brian Daboll's first return to Buffalo since taking over as the head coach for New York in 2022. Former Bills starting quarterback Tyrod Taylor is set to get the start for the Giants while Daniel Jones recovers from injury. This will be the left-handed veteran's first start in Buffalo since leaving the team after leading the Bills to the playoffs in the 2017 season.
The game is set for an 8:30 pm kickoff on Sunday Night Football at Highmark Stadium.