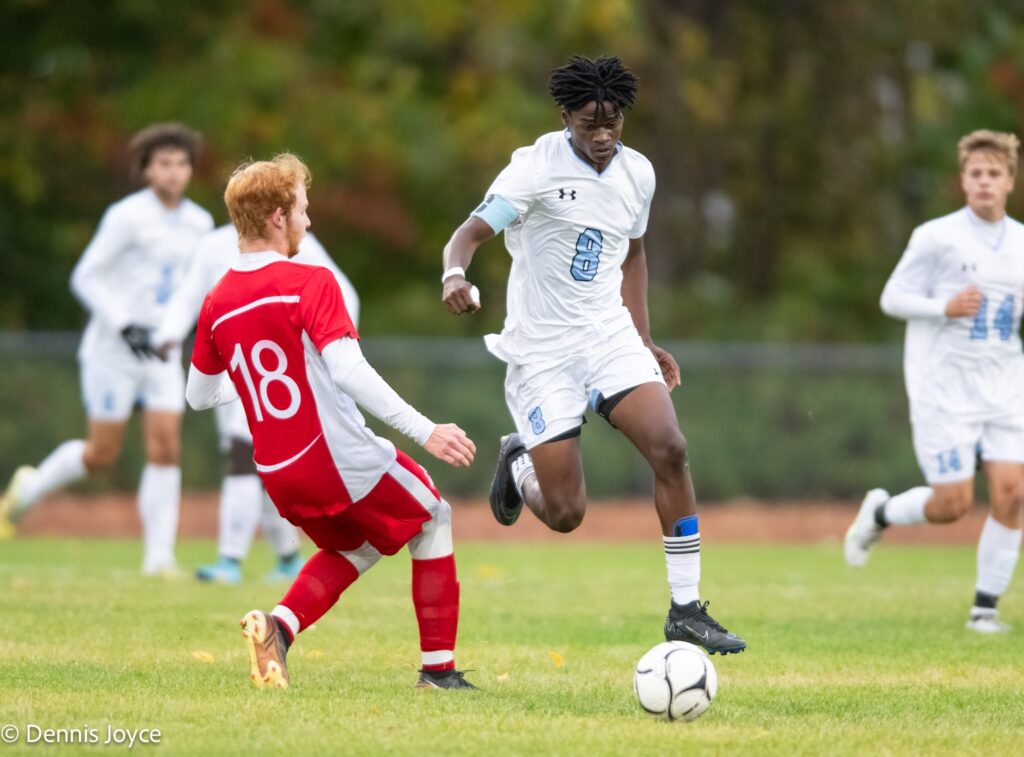 CANANDAIGUA ACADEMY (7-5-1) 2
GREECE ARCADIA (6-7-0) 1
After falling behind 1-0 early in the game, goals from Logan Brown and Owen Schuessler propelled Canandaigua to its fourth straight victory. Brady Fitzpatrick and Dean Spychalski had an assist each, while Lukan Tessena had seven saves as goalkeeper.
HONEOYE FALLS-LIMA (11-2-1) 3
BATAVIA (8-6-0) 0
Zachary Zollo had a goal and two assists in HFL's fourth-straight win. Brandon Pritchard and Ezra Gathercole also scored. Braden Belizzi had an assist.
PITTSFORD SUTHERLAND (9-4-1) 4
BROCKPORT (6-7-1) 0
Sutherland won its seventh straight.
MCQUAID JESUIT (8-3-1) 1
CANISIUS (SECTION VI) 0
McQuaid has won six of its last seven.
BISHOP KEARNEY/CHESTERTON ACADEMY (9-4-1) 2
WILLIAMSON (10-3-2) 2
Ben Burns and Caiden Hillegeer had a goal each for Williamson while Aidan Igler had an assist.
MYNDERSE (14-1-0) 2
WATERLOO (2-13-0) 0
Carson Montoney and Jariel Ubiles found the back of the net for Mynderse, while Elijah Doell and Mason Buckley had assists. Jake Prayne made a save in the shutout win. Mynderse hasn't lost since Sept. 14.
MIDLAKES/RED JACKET (0-15-0) 0
NEWARK (9-6-0) 12
Kaiden Carr and Douglas Wells both had hat-tricks as Newark won its third straight. Wells also had two assists, while Carr had one. Collin Abrams and Deikan Bueg had two goals, while Cameron Baker, Ryan Irizarry, Jonah Pettine, and Luciano Rank had one each. Cole Talbot had three assists. Grayson Cole, Irizarry, and Rank all had an assist. Goalkeeper Lucas Herd had two saves in the shutout.
PENN YAN ACADEMY (4-8-1) 1
SOUTH SENECA/ROMULUS (4-9-2) 1
Spencer Enos scored the lone goal for Penn Yan, while Nathaniel Chaffee made five saves. Nolan Mitchell scored South Seneca's goal.
HAC (9-5-0) 1
NAPLES (15-0-0) 3
Early goals by Matt Lincoln and Devon Ward put Naples ahead early as they remained unbeaten. Lincoln later scored a second goal to put the game away, 3-1. Finn Costello had HAC's lone score. Ward, Jake Betrus, and Sean Morehead had an assist each for Naples. CJ Fuller made four saves for Naples to Juan Diaz's eight for HAC. Naples clinched the Finger Lakes West title for the ninth straight year with the win.
MARCUS WHITMAN (4-10-0)
HONEOYE (1-13-0)
WAYNE (12-3-0) 9
GENEVA (4-10-0) 0
Nevin Crane had four goals and an assist for Wayne, while Matt Chelini made three saves in his 10th shutout of the year. Geneva's Abel Yeshanew had 20 saves.
PERRY (7-8-0) 7
PEMBROKE (1-14-0) 1
Dominic Hurlburt had four goals while Holden Kelly had a penalty-kick goal and five assists as Perry got back in the win column. Emmit Hill and Zachary Narowski also found the back of the net, while Brady Kelly had an assist.
HOLLEY (5-7-1) 1
MOUNT MORRIS (4-10-0) 2
Matthew Bacon had both goals for Mount Morris, while Jaiden Davis had an assist.
DANSVILLE (3-10-2) 0
CALEDONIA-MUMFORD (5-7-2) 2
Tyler McClurg and Jeremiah Anderson had goals for Cal-Mum, while Maxwell Poray had an assist. Logan Karn and Donald Peet split time in goal for Caledonia. Cameron Delaney had seven saves for Dansville.
GENESEO (11-2-1) 2
PAVILLION/YORK (9-5-1) 1
Evan Kingdon had Pavillion's lone goal, while Kyan Tiede had an assist.
FILLMORE (15-0-0) 3
ALLEGANY-LIMESTONE (SECTION VI) 0
Fillmore stayed undefeated behind goals from Jackson Cool, Henry Sardina, and Noah Strickland. Cool and Sardina also had assists. Brayden Hennard had seven saves in goal for the shutout.
CUBA-RUSHFORD/HINSDALE (7-6-1) 2
WELLSVILLE (3-11-0) 3
COACHES: To report scores and game details, please email scores@pickinsplinters.com.