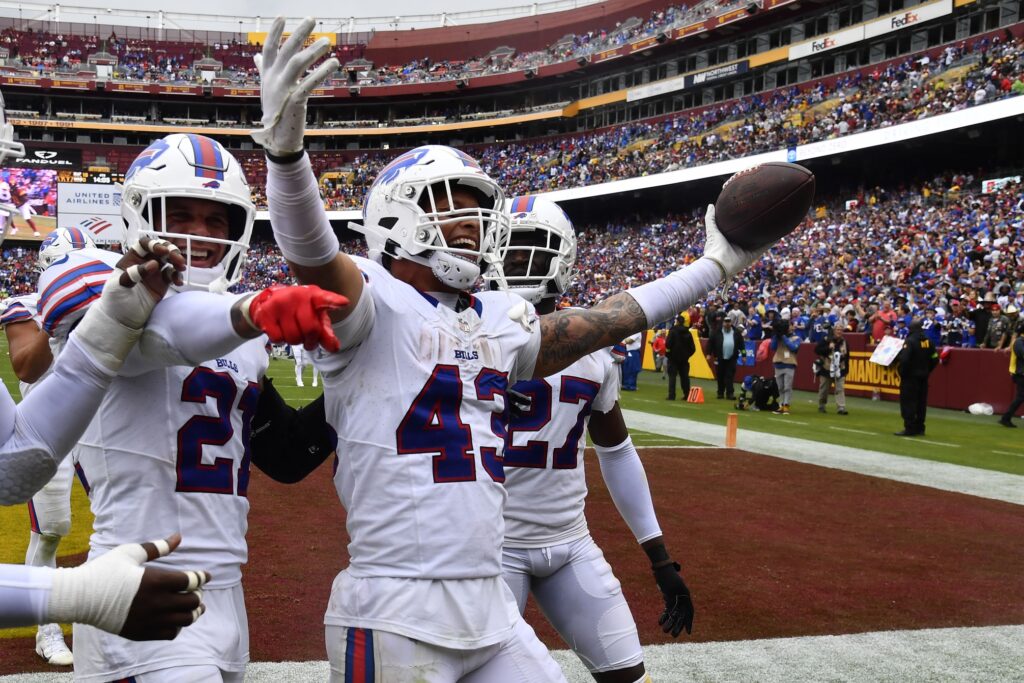 By TYLER HATHAWAY
As the Bills entered training camp earlier this year, it was unknown who would fill the void left by linebacker Tremaine Edmunds' departure in free agency. The Bills had a close competition, with second-year Baylor product Terrel Bernard eventually winning the job.
And after Sunday's 37-3 win over the previously undefeated Washington Commanders (2-1), it seems Buffalo made the right decision. The former third round pick became the first player since 2007 to have a game with two sacks, an interception, and a fumble recovery. Bernard led the Bills with seven tackles and also had a pass break-up. This was his second straight week with a pick.
"It was fun," said Bernard. "The energy felt like it was contagious out there. When you see someone else make a play it kind of makes you get this feeling like you're gonna be next. He makes a play, I'm gonna make a play."
Bernard was part of an emphatic Bills defense that was crippling, holding the Commanders to a season-low three points and five turnovers. Commanders quarterback Sam Howell had a career high four interceptions and was sacked nine times. Bernard recovered an Antonio Gibson fumble in forced by Taron Johnson early in the fourth quarter as the Commanders were attempting to mount a comeback.
"Working to put yourself in the right position, being around the ball as much as possible," said Bernard. "If you're flying around, eventually the ball finds you."
"TB (Terrel Bernard), he's so young," said quarterback Josh Allen. "He's been asked to do a lot as our starting middle linebacker but he's answering the bell and it's good to see him get better."
The closest the Commanders came to scoring a touchdown came early in the second quarter, when Washington had third and goal from Buffalo's one-yard line. Ed Oliver and Matt Milano broke through the line to tackle running back Brian Robinson for a loss. A Sam Howell pass on fourth and goal was broken up, giving Buffalo the ball back. 
"We know they're probably not gonna run the ball there so it gave us a leg up," said Bernard. "We were able to get some good tight coverage and some pressure on the quarterback and we won the play."
The Bills led 16-0 at halftime off of three Tyler Bass field goals and a 35-yard touchdown pass from Josh Allen to Gabe Davis. The Bills found the endzone three more times in the game's final quarter, with Josh Allen and Latavius Murray running for redzone touchdowns and defensive end AJ Epenesa running an interception 32 yards into the endzone. 
"This is something I've been getting some decent practice at, trying to get my hands on the pass," said Epenesa. "As a d-line and as a unit our whole thing was just attack and be physical. Make them uncomfortable."
Running back James Cook followed up his career day last week against the Raiders with another solid day, leading the Bills with 98 rushing yards. Stefon Diggs led Buffalo with eight catches and finished with 111 receiving yards. Josh Allen was 20/32 with 264 total yards and two total touchdowns.
"It's easy to play the game when your defense comes out like that and puts you in good positions," said Allen. "We had short fields most of the day. I thought our defense came in and balled out."
Buffalo (2-1) hosts the AFC East-leading undefeated Miami Dolphins in Week 4. The game is set for a 1:00 kickoff at Highmark Stadium.