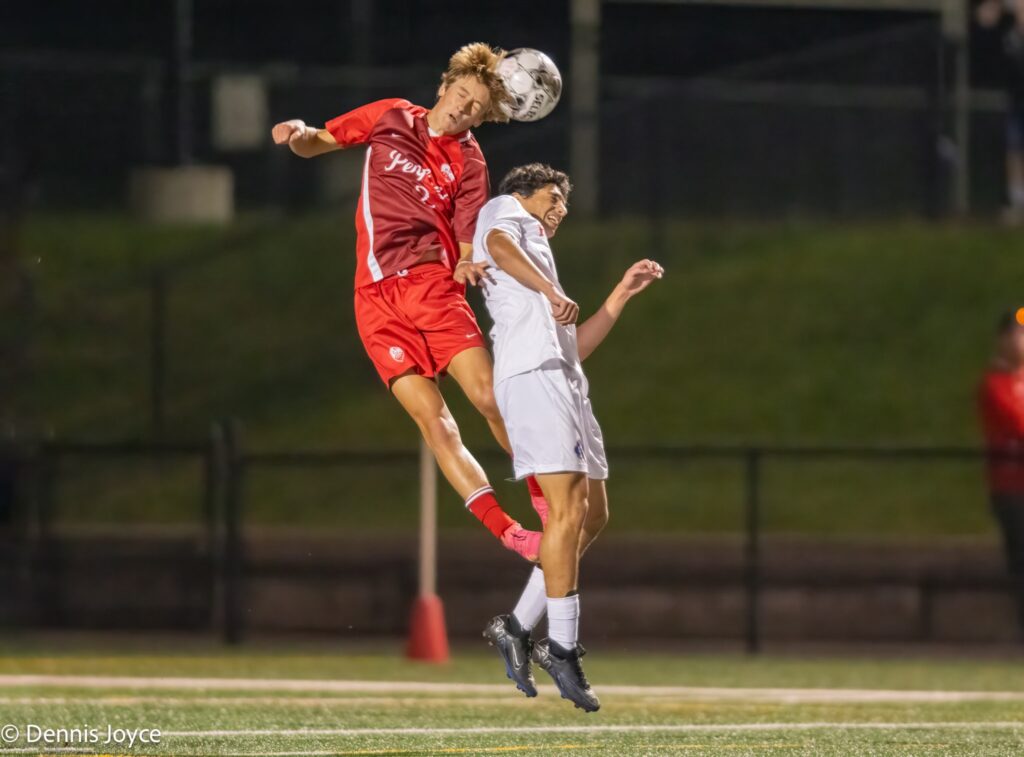 HONEOYE FALLS-LIMA (5-1-0) 5
RUSH-HENRIETTA (1-4-0) 1
Sean McQuillan had two goals while Elias Cleveland, Brandon Pritchard, and Zachary Zollo added a goal each for Honeoye Falls-Lima. Pritchard also had two assists, while Zollo, Aidan Neenan, and Owen Smith notched an assist each. Goalkeeper Sawyer Ferraro made seven saves. HFL has now won five straight.
PITTSFORD SUTHERLAND (2-3-1) 4
GREECE ATHENA (2-3-0) 0
Zach Bennett scored twice and added an assist for Sutherland as the Knights got back in the win column. Will Hanford had a goal and an assist.
GATES CHILI (1-5-0) 2
BROCKPORT (4-1-1) 3
William Hawken scored twice and added an assist as Brockport won its second straight. Benjamin Bristol added a goal of his own. Brandt Marshall assisted both Hawken goals. Robert Crissman had seven saves on the night. Sebastian Guerrero and Owen Curley scored for Gates.
WEBSTER SCHROEDER (1-6-1) 1
SPENCERPORT (6-1-0) 2
Justice Hinman had two goals and Jayden Mandarano had two assists to lead Spencerport.
FAIRPORT (5-1-1) 3
PENFIELD (3-4-0) 1
Alex Grejda, Zach Buys, and Alen Duric all scored in the second half as Fairport won its second straight. Buys and Jackson Dubose had assists.
GREECE ARCADIA (1-4-0) 1
IRONDEQUOIT (4-1-0) 4
Carraig Jones had two goals while Tommy Gillett and Carson Keller had one each as Irondequoit overcame an early deficit for its fourth straight win. Bailey Connor had an assist.
BRIGHTON (2-5-0) 2
VICTOR (1-5-1) 1
Luke Perillo scored the game-winner with 25 minutes remaining. Brighton's other goal was by Isaac Wing on a penalty kick.
*Recap has been updated to reflect correct time of winning goal.
HILTON (5-1-0) 3
PITTSFORD MENDON (3-4-0) 2 OT
Ryan Masi netted the game winner with an assist from Ian Smith as Hilton rebounded from its first loss of the season. Masi set up Johnny Bianchi's marker to start the Hilton scoring. Bianchi later assisted on a Cooper Nichols strike in the first half. Tyler Hurley and Ethan Westervelt accounted for the Mendon goals. Jacob Schwartman and Colden Forney had an assist apiece.
EAST ROCHESTER (7-0-1) 1
GREECE OLYMPIA (4-1-1) 1
The calendar indicated mid-September, but play on the pitch had a touch of October to it Monday night at Greece Olympia High School. Obi Kagde connected on the equalizer in the waning moments of regulation…READ MORE.
GREECE ODYSSEY (2-4-0) 3
DANSVILLE (2-5-1) 4 (Overtime)
Ryan Burley had two goals including the overtime game-winner for Dansville, and also assisted a Logan Kendall score. Isaac Ziefel also scored. Jacob Kreiley and Brian Geiger had assists.
EASTRIDGE (3-4-0) 0
LIVONIA (7-0-0) 11
BISHOP KEARNEY/CHESTERTON ACADEMY (4-3-0) 1
MYNDERSE ACADEMY (6-1-0) 4
Elijah Doell had a hat trick for Mynderse, while Cullen Herron added another. Riley King, Carson Montoney, and Jariel Ubiles had assists.
CANISTEO-GREENWOOD (4-3-0) 8
LIMA CHRISTIAN (0-6-0) 0
HAC (3-2-0) 3
SOUTH SENECA/ROMULUS (1-4-1) 0
Finn Costello had two goals and an assist for HAC, while Dante Colaprete added a goal.
NAPLES (7-0-0) 3
DUNDEE/BRADFORD (6-1-0) 0
WAYNE (5-0-0) 8
WATERLOO (1-6-0) 0
Nevin Crane led seven goal scorers with two strikes, and Wayne sprinted to 5-nil lead in the first half. Nick Caine, Peter Treasure, Jr., Evan Fosdick and Ian Lewis each found the back of the net in the first 40 minutes. Cameron Glessing and Landon LaFrance also scored. Caelen Crane and Jonah Schichtel had two assists apiece while Lewis, Fosdick and LaFrance each had a helper in the win.
PENN YAN ACADEMY (2-4-0) 3 (Double Overtime)
HONEOYE (1-5-0) 2
Landon Spears scored the game-winning goal with 10 seconds left in double overtime to send Penn Yan to victory. Matt Tones had two goals, one of them assisted by Spears. Owen Barber and Braiden Schneider had a goal each for Honeoye, while Brendan Moore contributed an assist.
NEWARK (4-3-0) 3
GENEVA (1-3-0) 0
MIDLAKES/RED JACKET (0-6-0) 0
PALMYRA-MACEDON (4-1-0) 3
MARION (2-5-0) 2
SODUS (4-2-1) 3
WILLIAMSON (5-2-0) 6
GANANDA (1-5-0) 0
Keenan Murray and Tim Niles had two goals each for Williamson, with Nathan Burns and Caiden Hillegeer contributing one each. Nathan Burns also had three assists, with Ben Burns adding another and Tim Niles also notching one.
WELLSVILLE (1-6-0) 0
HAVERLING (4-2-0) 5
Spencer Wheeler and Ezra Hoad finished with two goals and an assist apiece as Haverling won for the third time in the past four games. Connor Binkowski also had an assist in the win. Evan Pendle converted a penalty kick to cap the Rams' offensive production.
PEMBROKE (0-6-0) 1
ATTICA/ALEXANDER (2-2-0) 5
WHEATLAND-CHILI (1-3-1) 0
GENESEO (5-2-0) 5
KENDALL (2-3-1) 1
HOLLEY (1-2-0) 0
Louis Conte scored the lone goal of the game, assisted by Hunter Richards.
GENESEE VALLEY-BELFAST (4-2-0) 7
ANDOVER-WHITESVILLE/JASPER-TROUPSBURG (4-3-0) 1
Robert Bradley scored Andover's lone goal, assisted by Ronaldo Vasquez.
CUBA-RUSHFORD/HINSDALE (4-2-1) 4
HOUGHTON ACADEMY (1-5-1) 1
FRIENDSHIP/SCIO (1-7-0) 0
BOLIVAR-RICHBURG (4-3-0) 7
MARCUS WHITMAN (2-4-0)
BLOOMFIELD (0-4-1)
NORTH ROSE-WOLCOTT (1-5-0)
RED CREEK (1-4-1)
HAMMONDSPORT (1-4-0)
ADDISON (3-2-1)
To report scores and game details, please email scores@pickinsplinters.com.