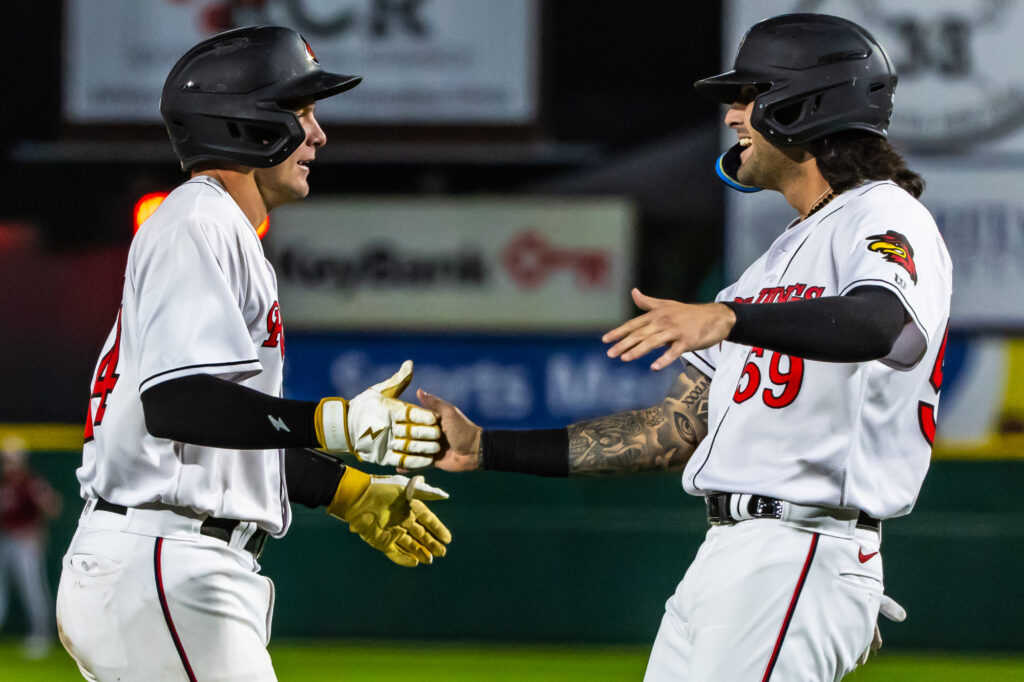 BY DAN GLICKMAN
ROCHESTER, N.Y. – In their second-to-last home game of the season, the Rochester Red Wings fell to the Lehigh Valley IronPigs in 10 innings, 6-5, after a back-and-forth final three innings.
Down 2-0 in the eighth, the Red Wings tied it up on a two-run home run by catcher Brady Lindsly, only to fall behind 5-2 after a three-run ninth by Lehigh Valley, including a two-run shot by Drew Ellis. The Red Wings tied it again in the bottom of the ninth, 5-5, thanks to an RBI single by Erick Mejia and a two-run triple by Frankie Tostado. Both Mejia and Tostado had been down to their final strike with two outs, only to bring the crowd of 9,444 alive with their key hits.
A win, though, was not in the cards: the IronPigs scored the "designated runner" in the top of the tenth on a sacrifice bunt followed by a sharp single from Darick Hall, and the Red Wings fell short in the final inning, leaving two men on.
"There was lots of excitement there in the end, we tied it up, Frankie got the big hit," said Red Wings manager Matthew LeCroy. "[But] our bats at the end just missed a few pitches for creating some more excitement."

Earlier in the game, Rochester struggled against Lehigh Valley righty Drew Hutchison, who allowed five hits and two earned run over 7.1 innings pitched, striking out five. A veteran of 135 MLB games, Hutchison frustrated the Red Wings throughout the night.
"I didn't like facing him, to be honest with you," said Lindsly, who had the only two RBI of the night against Hutchison when he hit his game-tying home run in the eighth. "I was very uncomfortable- his fastball was getting on me and I couldn't lay off. He did manage to hang a slider on one pitch, and that was the only good swing I took today!"
Lindsly's home run ensured that the Red Wings' record for games without a shutout would extend to 132- they haven't been held scoreless since game two of an April 8 doubleheader.
Rochester, meanwhile, used six pitchers, starting with Alemao Hernandez. The Mexican left-hander scattered seven innings through six innings of work, allowing an RBI single Ellis in the first and a solo shot to Brewer Hicklen in the sixth.
His skipper was impressed by how he did against one of the International League's best teams. Lehigh Valley, now 42-26 in the second half, are chasing the Durham Bulls for a playoff spot. A loss to the Red Wings on Saturday would have knocked them down to three games back.

"I thought Alemao's pitched well since we got him from double-A," LeCroy said. "To keep a team with this caliber that we're playing, that's in the hunt… to only give up two runs is pretty special."
The Red Wings (29-37 in the second half, 63-76 overall, 14 games back) finish the home section of their schedule on Sunday at 1:05 p.m. Right-hander Cory Abbott (3-4, 4.98) is scheduled to start for Rochester against a Lehigh Valley pitcher to be announced.