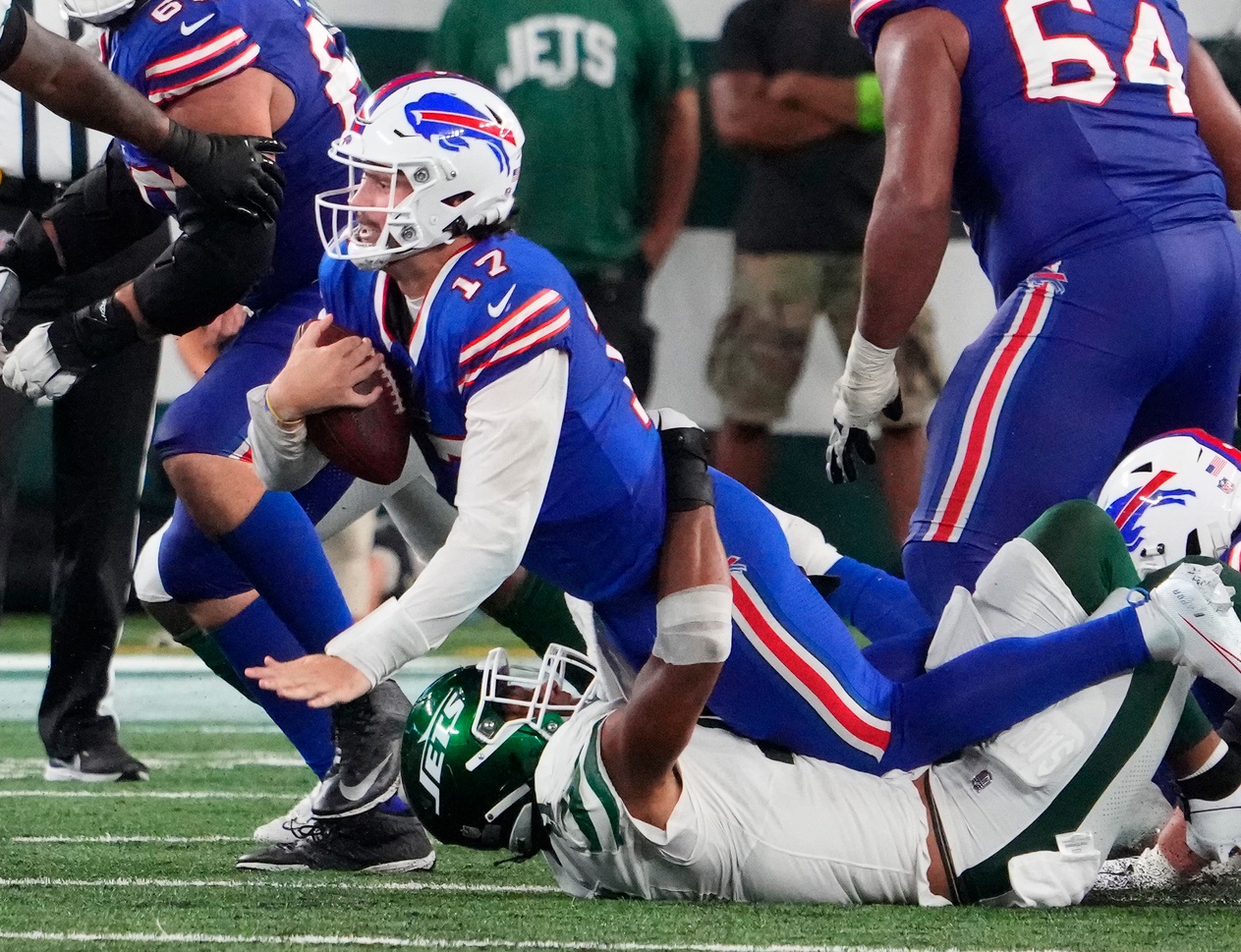 By TYLER HATHAWAY
Bills' quarterback Josh Allen had an opening week nightmare, turning the ball over a career-high four times including three times in the second half as Buffalo (0-1) fell in overtime to their divisional rival New York Jets, 22-16.
Allen threw three interceptions, all to Jets defensive back Jordan Whitehead, and fumbled in the 4th quarter with less than five minutes left while the game was tied 13-13. Undrafted rookie wide receiver Xavier Gipson took a punt return back for a touchdown in overtime after the Bills went three-and-out to give the Jets the win.
"I hurt our team tonight, I cost our team tonight," Allen told reporters after the loss. "This feels eerily similar to last year (vs. the Jets) and I hate that it's the same. I do."
Last year against the Jets on the road Allen threw two interceptions in a 20-17 loss. Monday night was the second time in Allen's career where he turned the ball over four times, the other time coming in the 2019 season opener, a game that was also against the Jets.
"We made it pretty hard on ourselves," said Bills head coach Sean McDermott after the game. It's hard to win in this league and we played two opponents, the one on the other sideline and ourselves. It's hard to win games like that in the NFL."
Trailing 16-13 with a few seconds left in the 4th quarter, Bills kicker Tyler Bass knocked in a 50-yard field goal off the left upright to force overtime. Bass was 3-for-3 on the night on field goals and 1-for-1 on extra points.
The Bills led 13-3 halfway through the third quarter. Jets quarterback Aaron Rodgers left the game early with a lower leg injury, with backup Zach Wilson playing the rest of the way. Rodgers will miss the rest of the year with a torn achilles, according to ESPN's Adam Schefter.
Wide receiver Stefon Diggs had 10 catches for 102 yards and a touchdown. The Bills pass' rush was able to sack Jets quarterbacks a combined three times on the night.
"We'll try and correct and got to correct it fast," said Allen. "We got a short week and we can't let one (bad) week turn into two."
The Bills have their home opener in week 2, a 1:00 pm contest against the 1-0 Las Vegas Raiders.