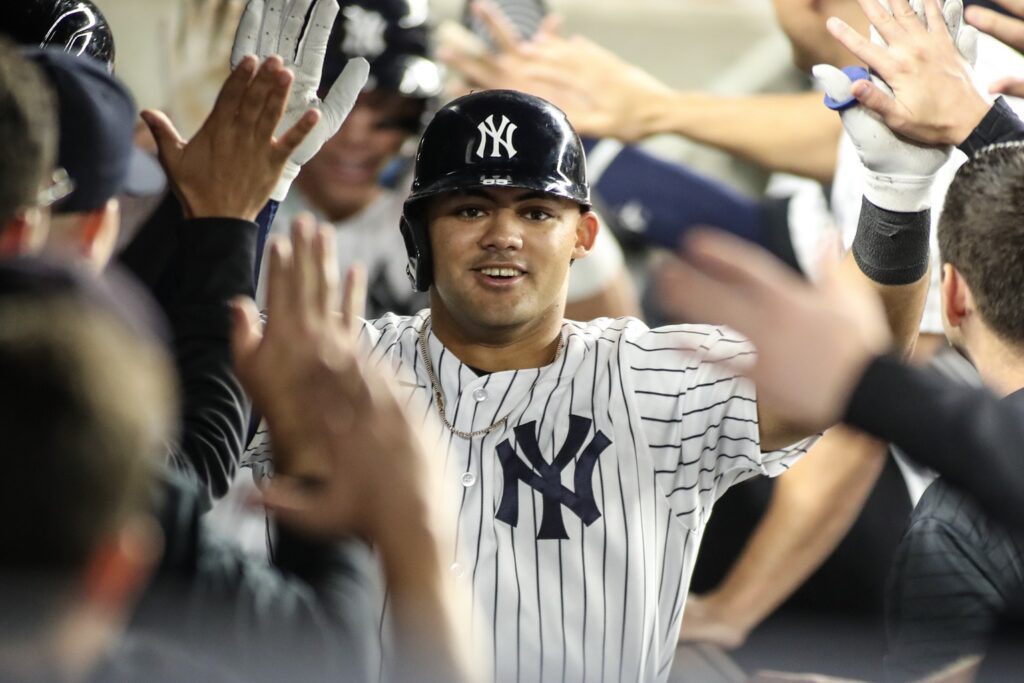 As originally aired on The Rochester Press Box
Jasson Dominguez wears uniform number 89.  A tight end's number.  Which would be fine were he not a baseball player.  Finding a good number is a challenge for a New York Yankee.  28 is taken.  Another 23 is retired.  Number 8, twice.  So, 89, generally given to someone less impactful, will have to do for now.
But Dominguez is New York's best hope to salvage something out of its 2023 Road to Nowhere Tour. Earlier this month Jasson homered in his first major league at-bat. The youngest Yankee, at 20 years, 206 days, ever to do so. This coming just a day. One day mind you, after playing for Scranton against the Red Wings at Innovative Field. Having already been hailed as the next coming, what are the chances they send him back?
That's an important question because there's a little local history at stake here. You can only confirm this through a careful examination of the box scores. But since I was actually present for these, we'll skip the added work. By leaving Rochester directly for the bigs, Dominguez joins a mighty impressive roster of visiting players who have recently done the same. How's this for a list. Bryce Harper, Aaron Judge, and Ronald Acuna. Playing for Syracuse, Scranton and Gwinnett, those three played their last Minor League baseball game, here in Rochester. And that's before you add Hall of Famers Cal Ripken, Eddie Murray and Stan Musial to that list. Guys in Red Wing uniforms.There is no logical explanation for this. The chance of seeing future big-league stars is part of the lure of going to games in Rochester. The chance of seeing them for the last time is something special. Welcome to the club Jasson Dominguez. Enjoy the ride.