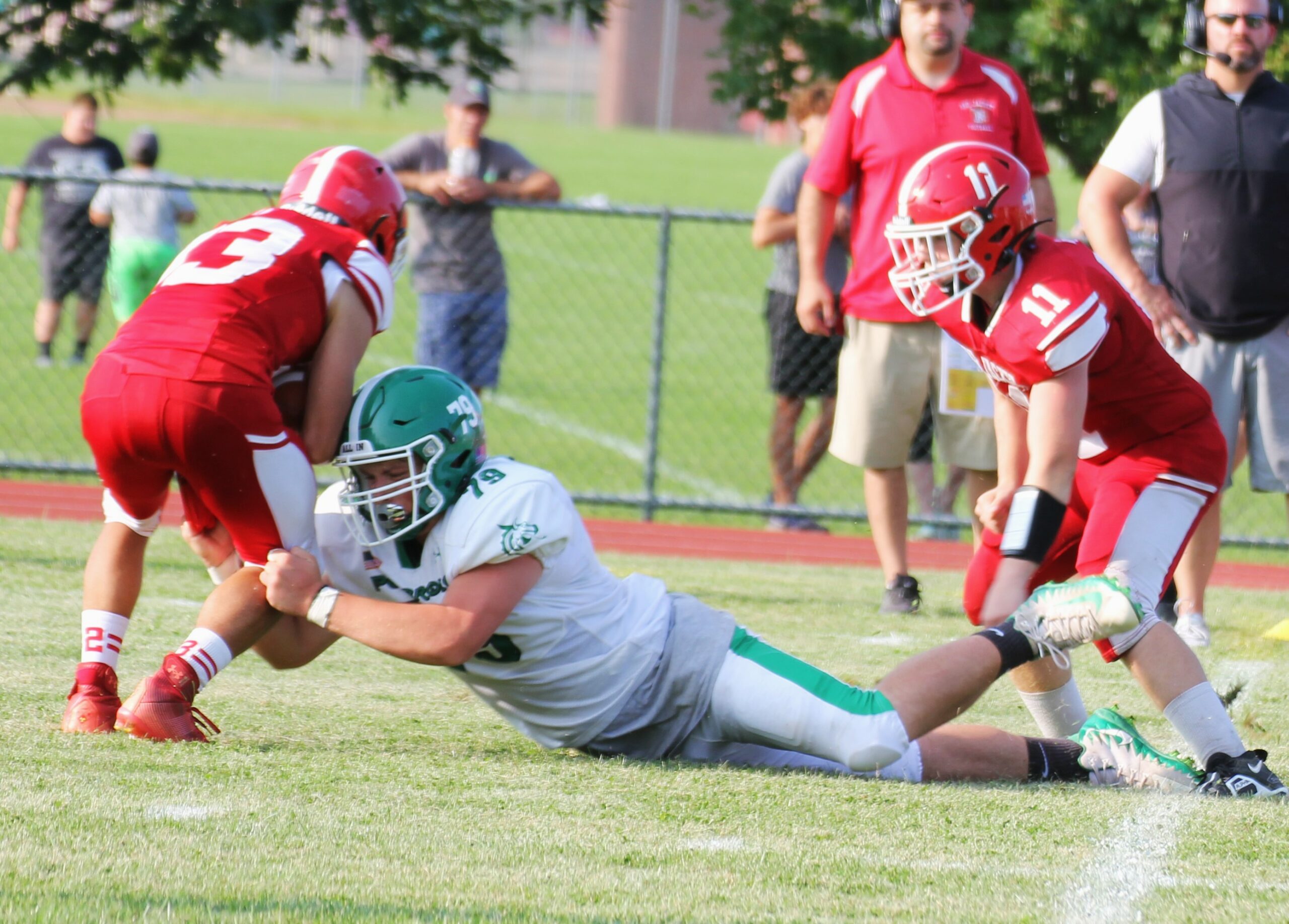 FRIDAY
PITTSFORD (0-1) 6
HILTON (1-0) 21
Robert Lowry reached the end zone on the ground thrice and led Hilton to a win in its home opener. Lowry converted the first of his three touchdowns on the first play of the game, rushing for 80 yards. Later, Lowry broke free for a 73-yard score to put the Cadets up 14-0. Lowry reached the end zone one more time in the fourth, scoring on a 14-yard run. READ MORE…
UPREP (1-0) 33
AQUINAS (0-1) 7
C.J. Robinson Jr. had 15 carries for 120 yards, including one carry for six as UPrep jumped out to an early lead it did not relinquish. Tavion Byrd complemented Robinson Jr. with five carries and totaling 101 yards with an 86-yard touchdown run. Byrd also completed eight of 15 passes for 100 yards and threw two touchdown passes to Tyrell Simmons. Simmons finished with five grabs for 63 yards. On defense for UPrep, Jaylen Singleton made 6.5 tackles and had a 40-yard pick-six. Jaylyn Melton had eight tackles to lead the defense. Simmons made 3.5 tackles including one sack and one tackle behind the line of scrimmage. Isaiah Moonschein had three tackles for a loss and 1.5 sacks.
IRONDEQUOIT (1-0) 52
GREECE ATHENA (0-1) 21
The Eagles took the opening kickoff and drove down the field in 4 minutes and 29 seconds. Myles Wynn finished the drive with an 8-yard run up the middle.  Cam Miller took a direct snap to convert the 2-point conversion for an 8-0 edge, and the Eagles never looked back.  After forcing a three and out, Irondequoit took over at its own 19-yard line and drove 81 yards in nine plays for a second score capped by a 15-yard strike from quarterback Taiden Makubire to Jordan Nolan in the left corner of the end zone.  Another 2-point conversion by Miller stretched the lead to 16-0. READ MORE.
CHURCHVILLE-CHILI (0-1) 14
EAST/WOIS (1-0) 45
Ervin Wiggins Jr. returned a 70-yard kickoff for a touchdown as well as a 40-yard pick-six as East won its season opener. Wiggins Jr. made seven catches for 117 yards and made eight tackles on defense. Zymier Jackson went 17-for-27 in the air, totaling 245 yards and passing two touchdowns. Jackson also ran for 41 yards and reached the end zone once on the ground. Anthony Diaz had 85 all-purpose yards and had a pick and six tackles on the defensive side. Perrion Williams also made nine tackles for the East defense. Yusuf Abdi went 6-for-6 on kicks and nailed a 29-yard field goal.
SPENCERPORT (0-1) 3
CANANDAIGUA (1-0) 27
Sean Olvany hauled in a 10-yard pass from Drew Willamee for six with seven seconds left in the second quarter, as Canandaigua scored 27 unanswered to win its first game of the season. The Braves reached the end zone twice in the third quarter, with Sam Clark scoring on a five-yard rush and Dominic Gullace returning a punt 75 yards for the score. Judd York caught a 20-yard touchdown pass from Willamee to round out the scoring for Canandaigua. Willamee finished with 10 completions, racking up 146 yards and two touchdowns. Olvany caught two throws for 47 yards, while York received three for 37 yards. Clark had 10 carries for 76 yards. For Spencerport, Jayhden Quick made 13 rushes for 45 yards.
WEBSTER SCHROEDER (1-0) 42
BROCKPORT (0-1) 21
Webster Schroeder forced five interceptions and scored 21 in the second quarter to pull away for the victory. Drew Hilfiker completed 24 passes for 333 yards and four touchdowns to lead the Warrior offense. Gavin Horton also converted a three-yard touchdown pass as well as received six passes for 81 yards and scored twice. Tyler Washington had seven receptions for 130 yards and a pair of touchdowns. Anthony DeRosa finished with seven carries for 34 yards and a touchdown, as well as catching a 20-yard pass. Justin Maier had six catches for 72 yards and scored once.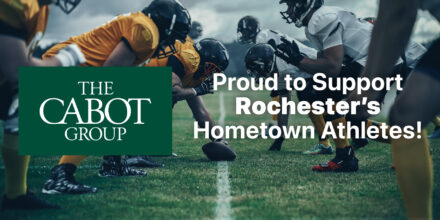 WEBSTER THOMAS (1-0) 26
EASTRIDGE (0-1) 9
Levi Kulik rushed for one touchdown, completed seven passes for 83 yards and another score while Tyler Estelle returned an interception 48 yards to lead Webster Thomas. Joe Ferretti connected on a 30-yard strike to Sean Myers. Mason Mylott hauled in a 21-yard scoring strike for the Titans. Sophomore linebacker MJ Wells finished with five tackles including three for a loss. Eastridge's Amere Rodgers had 52 yards rushing as well as eight tackles on defense with two for a loss. Steven Massetta racked up 33 receiving yards with a touchdown and a 29-yard field goal.
FAIRPORT (1-0) 21
PENFIELD (0-1) 17
Sam Pucci accounted for 150 yards and a touchdown on 13 catches to lead Fairport. Quarterback Jackson Rucker completed 25-of-35 passes for 225 yards and two touchdowns, and junior Bailey Frank ran for 70 yards and a touchdown on eight carries (8.75 YPC). Noah Remington recorded 11 tackles.
GATES CHILI (0-1) 27
GREECE ARCADIA (1-0) 28
EDISON/EC/FRANKLIN/NE/SWW (0-1) 0
MCQUAID (1-0) 49
BISHOP TIMON (VI) 56
GREECE OLYMPIA/ODYSSEY (0-1) 0
GENEVA (1-0) 36
PENN YAN (0-1) 0
Quadere Lawson made six rushing attempts, totaling 132 yards and found the end zone on two attempts for Geneva. Rey DeJesus completed three passes for 51 yards. On the ground, DeJesus scored three touchdowns and totaled 61 yards. DeSean Bruce snatched two interceptions, including a 40-yard pick-six. Gianni Velazquez made eight tackles and had two sacks leading the Panthers' defense. Xavier Praylor had a pick and three tackles.
HORNELL (1-0) 30
LIVONIA (0-1) 21
HAVERLING (0-1) 6
LE ROY (1-0) 43
Jackson Fix made 15 rushes for 165 yards and two scores, as Le Roy exploded in the second half to win its first game of the season. After a fourth-down stop by Le Roy in the second quarter, the Oatkan Knights marched 85 yards down the field and scored on a six-yard run from Fix. Tony Piazza scored twice on nine carries for 95 yards. Jude Sherman scored a 24-yard touchdown. Connor Hegeman converted a 102-yard pick-six for Le Roy and made three tackles. Hegeman also had a 36-yard reception. DJ O'Geen and Holden Sullivan both made tackles behind the line of scrimmage. For Haverling, Dante Nealy had 11 carries for 69 yards. Jordan Miller-Vogt rushed for 39 yards and accounted for the Rams' touchdown.
LETCHWORTH/WARSAW/PERRY (0-1) 12
ATTICA/ALEXANDER (1-0) 16
Tyler Marino made 10 rushes for 95 yards, including a touchdown to lead the running game for Attica. Landyn Thomas also had 10 carries for 79 yards and found the end zone once. Bradin Allen completed six of eight passes for 54 yards for the Blue Devils. Case Hill and Robbie Becker both had 11 tackles on defense.
CANISTEO-GREENWOOD (1-0) 12
AVON (0-1) 7
NOTRE DAME-BATAVIA (0-1) 12
YORK/PAVILION (1-0) 20
Parker Bonefede used seven carries for 55 yards and a touchdown, as well as completing nine passes for 139, including one to Joe Bauer for six as York/Pavilion erased a 12-0 halftime deficit to come back and win. Carl Szczech took 18 hand-offs for 61 yards and trotted into the end zone once. Bauer had four catches for 91 yards with a 60-yard touchdown reception. On defense, Tyler Brady and Ryan Brady both had an interception for York/Pavilion. Bauer and Liam Ezard both had six tackles.
EIGHT-MAN
PEMBROKE (1-0) 55
RED JACKET (0-1) 28
Tyson Totten had 20 carries for 414 yards with seven touchdowns to lead Pembroke. Totten also had a pick and 10 tackles on defense. Caleb Felski also found the end zone and recorded nine tackles. Caleb Kimmel and Jayden Bridge both recorded seven tackles. Sean Pustkulla went 7-for-8 on extra point attempts for the Dragons. For Red Jacket, Micah Harshfield and Matt Allen combined for 259 yards on the ground. Harshfield rushed for 183 yards and scored two touchdowns on rushes for over 20 yards. Allen ran for 76 yards on the ground and found the end zone on a 22-yard touchdown. Harshfield also connected with Truman Hill for six and led the Red Jacket defense with seven tackles. Hasen Wetherbee had 4 tackles and a fumble recovery.
To report scores and game details, please email scores@pickinsplinters.com.
SATURDAY
HONEOYE-FALLS LIMA (0-1) 19
WAVERLY (IV) 41
Honeoye Falls-Lima quarterback Matt Meacham was 26-of-34 with two touchdown passes.
BATAVIA (1-0) 46
NORWICH (III) 30
Bronx Buchholz completed 12 of his 17 passes for 364 yards and four touchdowns in the win for Batavia. The Blue Devil quarterback also ran the ball 14 times for 101 yards and a touchdown. Cole Grazioplene caught eight passes for 179 yards and two touchdowns. Mekhi Fortes had 17 carries for 98 yards and two touchdowns. Maggio Bucholz caught two touchdown passes and had 109 receiving yards.
PALMYRA-MACEDON (1-0) 25
LANSING (III) 14
WHITNEY POINT (IV) 42
MIDLAKES (0-1) 8
VERTUS (1-0) 28
ROCHESTER PREP (0-1) 8
Josiah Granville rushed 12 times for 105 yards, two touchdowns and two 2-point conversions to lead Vertus which took a 14-0 lead into halftime on the way to a program-first victory. Granville also finished with eight tackles on the day. Zyi'Shohn Mayo-Stokes scored a pair of touchdowns and rushed for 50 yards on eight carries. Von'Joseph Praylor had seven carries for 50 yards along with five tackles on the defensive side.  Casmier Bradford Sawyer completed one pass for 25 yards and had six carries for 40 yards while making three tackles. Malachi Jones was 1-for-3 through for 20 yards and four tackles. Ivory Loving had one catch for 20 yards, a sack, a safety and five tackles. Reginald Pough led Vertus with 12 tackles including four for a loss. Dale Benton III had one catch for 25 yards and eight tackles.

LYONS/SODUS (0-1) 35
EAST ROCHESTER/GANANDA (1-0) 50
Cadearell Sneed had 13 carries for 126 yards as well as four catches for 48 yards on his way to a four touchdown performance for ER/Gananda. Ben Newman completed 15 of his 24 passes for 219 yards and four touchdowns. Miles Caviness caught six passes for 100 yards and a touchdown. Noah Mather hauled in three catches tallying 68 yards and a pair of touchdowns.
CLYDE-SAVANNAH (1-0) 82
JORDAN-ELBRIDGE (III) 41
Zymere Smith amassed 278 yards and four touchdowns on 20 carries (13.9 YPC), as Clyde-Savannah set a school record in both total points and rushing yards. Sophomore John Whitfield rushed for 152 yards and two touchdowns on seven attempts (21.7 YPC) including a 81-yard touchdown in his first varsity game. Quarterback Cody Griffin ran for 104 yards and three touchdowns on eight carries (13 YPC). Tristian Donnelly and Steffon Harper each added 52 yards and a touchdown on three carries (17.3 YPC). The Golden Eagles rushed for 665 total yards and accumulated 677 yards of total offense.
OAKFIELD-ALABAMA/ELBA (1-0) 55
GENESSEO/MOUNT MORRIS (0-1) 14
Quarterback Bodie Hyde led the offense for Oakfield-Alabama/Elba, racking up 181 yards and finding the endzone four times in the win. Running back Avery Watterson ran the ball 11 times and added 90 yards, while Shaun Alexander ran the ball nine times for 50 yards and a touchdown. Defensively, Hyde racked up a dozen tackles with five being for a loss.  Watterson had an interception. The Aggies led 42-0 at halftime. Ronald Szpylman, Austin Pangrazio, and Gavin Armbrewster all ran for touchdowns, with Armbrewster also intercepting a pass on defense. Pangrazio had eight tackles, with two of them resulting in lost yards. Ashton Bezon had 12 tackles, and one of his three tackles for loss was a sack. Austin Penna tallied eight tackles, two for a loss, including a sack.
"It was great to see this team come out of the gate and play a style of football that we felt they were capable of playing," said head coach Tyler Winter after the game. "They were physical, played well at the point of attack, and they executed at a level much greater that a typical group in a week 0 game.  We are very pleased with the victory, but this group is more excited that they can now dive into film and begin preparations for the next challenge that awaits them"
8-MAN
WELLSVILLE (1-0) 28
FINNEY/NORTHSTAR CHRISTIAN (0-1) 26
Wellsville quarterback Brennan Geffers accounted for two touchdowns and two two-point conversion in a 22-point second half en route to a come-from-behind victory. Trailing 26-6, Geffers connected with JJ Howard for a 44-yard score, before completing the two-point attempt to Jack Davis in the third quarter. Geffers broke away for a 75-yard rushing touchdown in the fourth to bring the game within one score. Xander Outman had a four-yard score later in the quarter, followed by Geffers successful two-point run to complete the comeback. The sophomore threw for a 193 yards and two scores, while he ran for 122 yards on 10 carries (12.2 YPC). Davis and Howard each caught three passes for 54 yards and a touchdown. Howard led the defense with 18 total tackles (11 assisted, two for a loss). Trenton Green hauled in five receptions for 42 yards, while Derek Coleman made one catch for 27 yards. Outman was credited with 14 total tackles (13 assisted). Matt Ritter made 10 total tackles (eight assisted, two for a loss), and Green had nine (six assisted, three for a loss, two quarterback hits). Connar Otero had nine (eight assisted, two for a loss, one quarterback hit). Sam Childs made nine tackles (six assisted), while Davis had eight (four assisted). Gabe Black made six tackles (three assisted, quarterback hit).
ALLEGANY-LIMESTONE (IV) 48
HOLLEY (0-1) 22
BOLIVAR-RICHBURG (1-0) 24
FREWSBURG (IV) 16
Tavyn MacDonell rushed for 65 yards and two fourth-quarter touchdowns on 15 carries to lead Bolivar-Richburg. The junior reached the end zone from 23 yards out to give the Wolverines an 18-16 lead, before adding a 1-yard score later in the quarter. Caden Allen totaled 54 yards on 14 carries including a 4-yard score in the second quarter. The quarterback completed 6-of-12 passes for 79 yards and connected with Maddox Davison on a 5-yard touchdown to open the scoring in the first.  Trey Buchholz caught four passes for 57 yards. For Frewsburg, Harrison Eckert ran for three touchdowns and 26 yards on six carries. Quarterback Trent Lewis rushed for 45 yards and a touchdown on 20 carries, to go along with 89 passing yards.

THURSDAY
RUSH-HENRIETTA (0-1) 14
VICTOR (1-0) 41
BRIGHTON (1-0) 40
WILSON MAGNET (0-1) 13 Gavin Parks rushed 13 times for 128 yards including two touchdowns to lead the Brighton offense. Jayden Lian ran eight times, racking up 61 yards and finding the end zone once. Lian also added an interception on defense. Tyler Martinovich completed seven passes for 72 yards and uncorked two passes for six points. Both Thomas Welker and JT Snyder had touchdown receptions with Welker finishing with 26 yards and Snyder for 15. Matthew Heininger made five tackles including one sack on defense. Nikita Moiseiev was 5-for-6 on extra points and nailed two field goals for 30 and 33 yards, respectively.
To report scores and game details, please email scores@pickinsplinters.com.