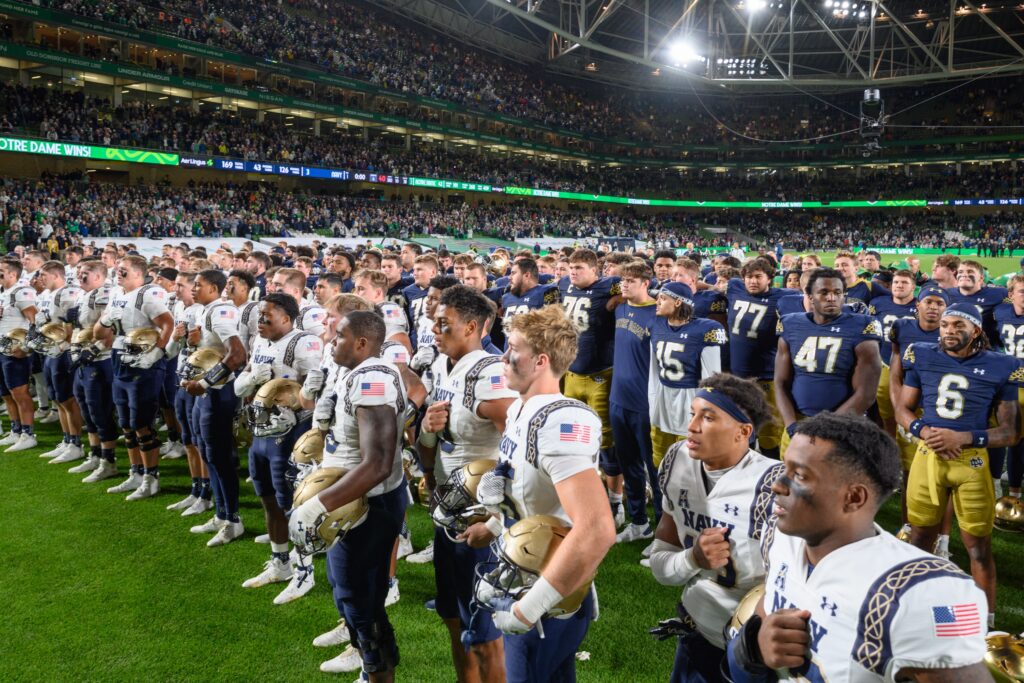 As originally aired on the Rochester Press Box
Notre Dame opened up the college football season with a 42-3 win over Navy. On the surface it was just another of those games the good teams schedule to log a few easy wins. But there's more to this than that.
The Notre Dame versus Navy series has been played 96 times in the last 97 years. The only miss was the Covid season. It hasn't been particularly competitive. The Irish own an 81-13-1 edge, with wins in 55 of the last 59. Still it's a rivalry unlike any other. You see, Notre Dame might owe its existence to the Naval Academy.
In 1943, American was headed to war. Notre Dame as a private university, and an all-male institution to boot, lost much of its population to the war effort. The school shrank to just over 2600 students and was falling fast. That's when the Navy stepped in. Owned in part to the long-standing relationship the schools had forged on the football field, Notre Dame was chosen as a training site for Naval recruits headed to war. It was no small deal. Notre Dame was paid almost 500 thousand dollars for upgrades and the full use of their facilities. As a way of showing its appreciation, Notre Dame guaranteed Navy a place on their football schedule. For as long as they want it.
Contrasted with the chaos the sport finds itself in these days, the Notre Dame versus Navy football rivalry endures.  On a handshake.  It isn't Michigan against Ohio State nor Auburn-Alabama.  It doesn't have to be.  It doesn't want to be.