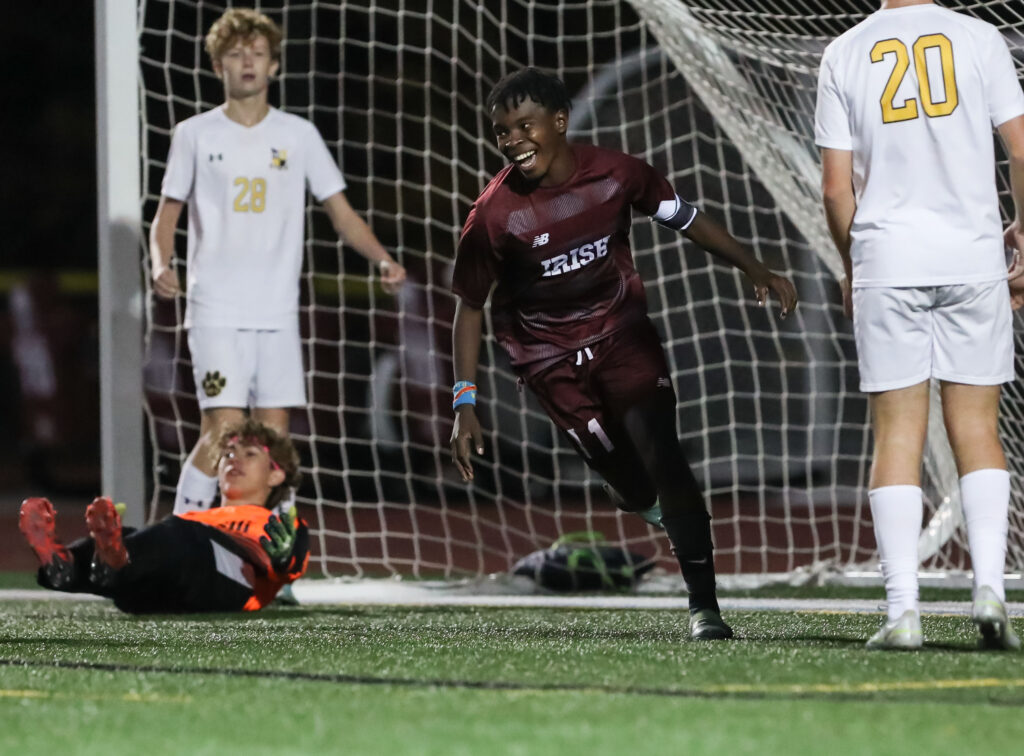 CHURCHVILLE-CHILI (1-0-1) 2
FAIRPORT (1-0-1) 2
Senior forward Andrew Berardicurti found the back of the net twice for Churchville-Chili. Noah Berg and Christopher Keller assisted on a tally apiece. Zach Buys converted a penalty kick for Fairport and added an assist as Alex Grejda found the back of the net on a corner kick for the Red Raiders.

CANISIUS (VI) 0
AQUINAS INSTITUTE (2-0-0) 1
Senior Ali Shabani scored the lone goal in a second straight Aquinas win to open the season. Micaiah Benjamin-Castle picked up the assist on a dish from the 40-yard line to the top of the box. Shabani chased down and one-timed the ball by a charging keeper to give Aquinas the lead with 16 minutes left. Junior keeper LJ Gleason made eight saves for the complete game shutout.

MARION (0-2-0) 2
NEWARK (1-1-0) 3
Late in the second half, Doug Wells and Kaiden Carr registered two tallies in four minutes to secure Newark's first win of the season. Deikan Bueg knotted the score at one with an assist from Tristan Harris before half. Lucas Herd picked up the win between the pipes, turning away seven shots including a penalty kick in the 18th minute. Aiden Miller and Ethan Welch were the two goal scorers for Marion. The match was a consolation game to the Taylor Bliss Tournament.

BYRON-BERGEN (1-1-0) 1
MYNDERSE ACADEMY (2-0-0) 2 2OT
Cullen Herron connected on the golden goal with an assist from Jake Prayne as Mynderse claimed the championship of the Taylor Bliss Tournament held in Newark. Elijah Doell also scored for Mynderse. Brody Tanner made six saves in the win.


WHEATLAND-CHILI ()
C.G. FINNEY ()

KESHEQUA (1-0-0) 5
HONEOYE (0-2-0) 1
Ian Hinrich found the back of the net three times and added an assist to lead Keshequa over Honeoye in its season opener. Owen Pike and Aiden Howe each scored their firsts of the year. Seth Ebersole assisted on two of Hindrich's punch-ins while Pike chipped in with one of his own. Owen Barber scored Honeoye's only goal.

NORTHSTAR (2-0-0) 3
ALBION (1-1-0) 2
Northstar's Lorenzo Danesi tallied two goals, including a clutch penalty kick to push Northstar Christian over Albion in the Mike Skivington Tournament final. Cristian Mazur buried the game winner in the 72nd minute. Sam Boguta picked up two assists and Trevor Nasso made 10 saves in the victory.

FRIENDSHIP-SCIO (0-1-0) 0
ALFRED-ALMOND (2-1-0) 10
Tighe Grigg forced in four while four others contributed a tally in the Eagles' second win in two days. The senior managed to complete the hat trick by the 21st minute. Kouki Yatani and Zavier Rao each registered two goals while Nathan Munson and Kanye Cumberbatch both added one. Jackson Jusianiec chipped in with two assists as well.


CHRISTIAN BROTHERS ACADEMY (II) 3
MCQUAID JESUIT (0-1-0) 2

To report scores and game details, please email scores@pickinsplinters.com.