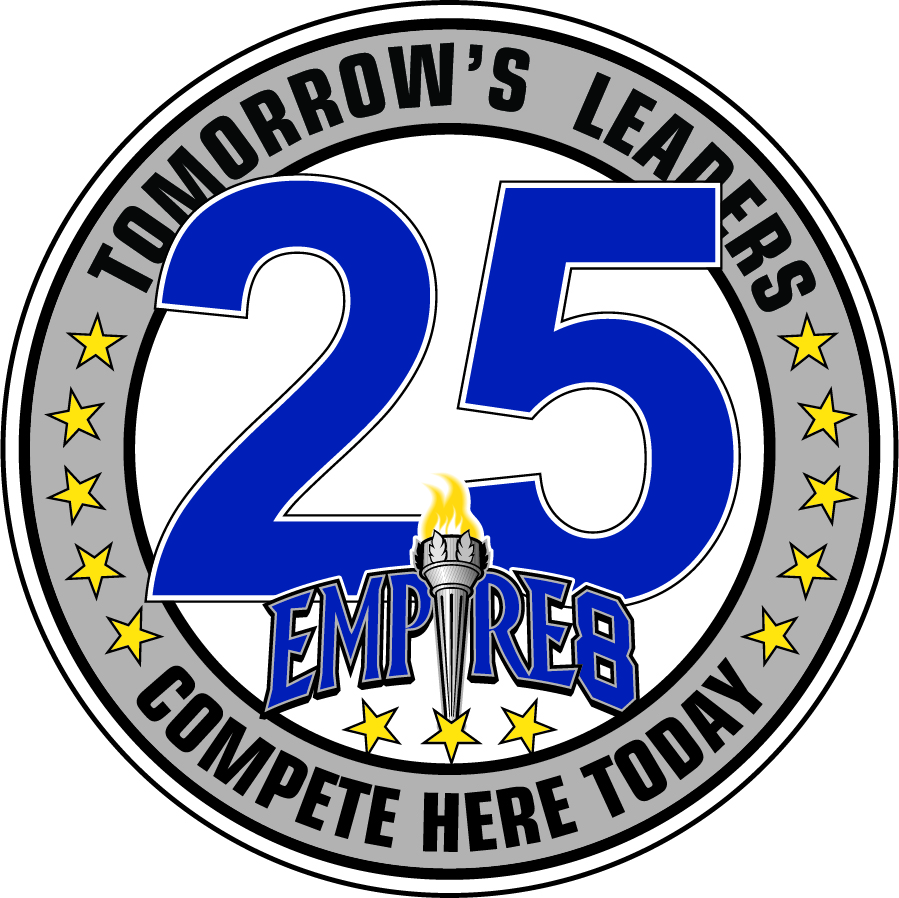 Courtesy of Empire8.com
The Empire 8 Conference is proud to unveil a new logo to celebrate the league's 25th Anniversary season in 2023-24. The logo unveiling will kick off the year-long 25th Anniversary celebration, which will focus on the league's rich history and feature influential student-athletes, championship teams and administrators who excelled over the last 25 years.

Founded in 1999, the Empire 8 has developed into one of the premier NCAA Division III athletic conferences, both on the field and in the classroom. The conference has created and implemented innovative and groundbreaking sportsmanship programming over this time, many of our which have received great publicity, including features in USA Today, The Chronicle of Higher Education, The NCAA News, and various athletic profession publications. The Empire 8 has also been highly influential in helping to shape the Division III landscape, passing many legislative proposals along with individuals who hold leadership roles at the national level.

The Empire 8 25th Anniversary logo will be featured throughout the 2023-24 season. The logo features the Empire 8's long-time torch logo and the 13 stars highlight all past and present full-time Empire 8 members from the league's inception to now, coupled with the "Tomorrow's Leaders Compete Here Today" tagline.

"Our 25th anniversary is an opportunity to reflect on the many achievements of the Empire 8, our institutions, student-athletes, coaches, and administrators," said Empire 8 Commissioner Chuck Mitrano. "The roots of the Empire 8 date back to 1964 as the Independent College Athletic Conference which evolved into the establishment of the Empire 8 in 1999. In that time, we have grown leaps and bounds with much to celebrate. That momentum will propel us to even greater heights in the future in the service of our student-athletes. We hope you will join us in commemorating our past that has primed Empire 8 to flourish in the future as a special conference where 'Tomorrow's Leaders Compete Here Today.'"
Feature stories and series' celebrating the league's 25th anniversary will be highlighted on the conference's website and social media platforms throughout the 2023-24 season, starting in September. The conference will also be using the #E825 and #E8Anniversary hashtags on its Twitter and Instagram platforms as a way for fans to follow along throughout the year.

ABOUT THE EMPIRE 8 CONFERENCE
The members of the Empire 8 Conference are committed first and foremost to the pursuit of academic excellence and the league is regarded as an outstanding NCAA Division III conference. The membership has distinguished itself among its peer group for its quality institutions, spirited and sportsmanlike competition, outstanding services and highly ethical policies and practices. Its commitment to serve the educational needs of its student-athletes is the hallmark of the E8. For more on the Empire 8 visit www.empire8.com.