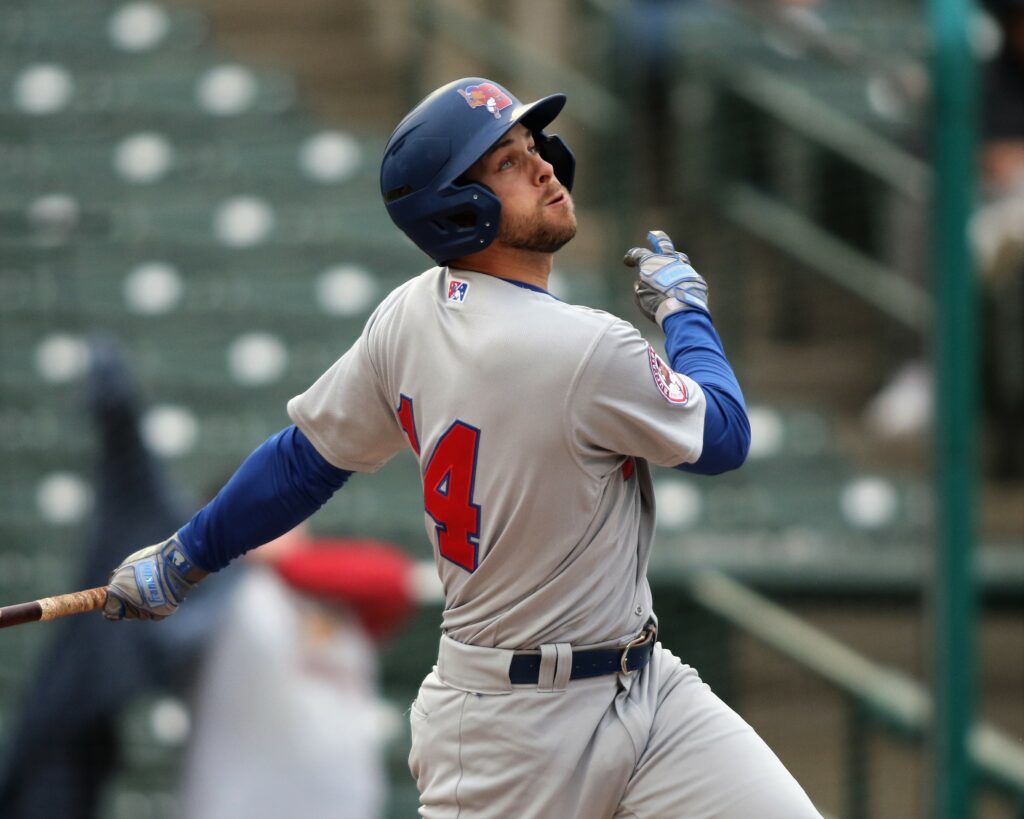 By PATRICK WALSH
Former Section V standouts Danny Mendick (Mendon/Monroe CC) and Ernie Clement (Brighton) highlighted an offensive surge Tuesday night in International League (AAA) action. Squaring off on opposing sides, the duo combined to go 7-for-11 with two extra base hits, five runs driven in and three scored in a 13-4 Buffalo Bisons win over the Syracuse Mets at NBT Bank Stadium in Syracuse.
Clement went 5-for-6 with two two-baggers, two RBI and scored thrice for the Bisons. Clement has slashed .346/.421/.537, driving in 32, scoring 34 and launching six bombs in AAA action this year. The former Virginia Cavalier has appeared in 12 games for the Toronto Blue Jays this year, smacking three hits in seven at bats for a .429 average.
Mendick went 2-for-4 and drove in two for Syracuse. The former UMass-Lowell Riverhawk has started the majority of the games for AAA Syracuse this year, slashing .270/.361/.412 with 38 RBI, 55 runs tallied and nine dingers. Mendick was called up to the Mets on June 24 and appeared in four games, including two starts, one at third and one at second.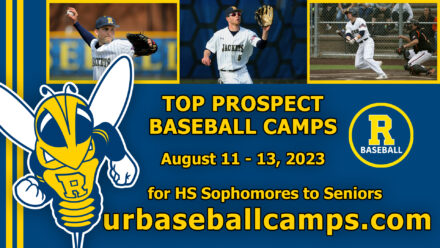 Other Section V Players in the Minors
Greg Cullen (McQuaid) has played in 23 games between AAA Norfolk and AA Bowie in the Baltimore Orioles organization. In AAA, the 26-year-old has six hits, including one long ball alongside two RBI. For Bowie, Cullen has roped three of his seven hits for extra bases.
Cleveland southpaw, Adam Scott (Canandaigua), has hurled 37 innings and recorded 35 punch outs for AAA Columbus. The Canandaigua native has started nine games and entered from the bullpen in five. As a starter, Scott has gone four or more innings in three of his starts.
Benjamin Cowles (Newark) has played in 68 games for the Hudson Valley Renegades, High-A affiliate of the New York Yankees. In the 68 contests, Cowles has 241 at-bats with 60 knocks, including 11 two-baggers and seven bombs this season. The former Newark Red has 13 multi-hit games this season, including two three-hit contests against High-A New Jersey on June 6 and July 6.
Lefty starter, Reid VanScoter (Livonia), has made 17 starts for Seattle's High-A affiliate, Everett this season. VanScoter has an 8-3 record with a 3.57 ERA and 100 punch outs in 95.2 innings hurled. The former NYS Class B Player of the Year notched his first professional win on April 16 and has gone six or more innings in eight of his starts, including three straight starts of seven innings on May 27, June 2 and June 8.
Tanner Cooper (Canandaigua) has made five starts for Cincinnati Reds' Single-A affiliate Daytona, compiling a 4.50 ERA, 1.39 WHIP and striking out 17 over 26 innings pitched.

Collegiate Section V Players in Summer League
Virginia Cavalier outfielder, Casey Saucke II (Greece Athena), is a member of the Harwich Mariners in the Cape Cod Baseball League this summer. Saucke has recorded multiple hits in four games for Harwich, including three-straight 2-for-5 contests to open the season against Cotuit on July 1, Hyannis on July 2 and Chatham on July 3.
Atlantic 10 Pitcher of the Year, Chad Gartland (Irondequoit), hurls for the Orleans Firebirds of the Cape Cod Baseball League. Gartland has made two starts for the Firebirds, going five innings in both and has allowed two runs in 11 innings for Orleans.
Hofstra infielder, Santino Rosso (Victor), has strung together 21 hits in 90 at-bats for the Vermont Mountaineers of the New England Collegiate Baseball League this summer. Of the 21 knocks, 10 have been for extra bases, including four doubles, two three-baggers and four bombs. Rosso has tallied 23 runs driven in and scored 15 for the Mountaineers. In the field, the Victor native has made 50 assists and 14 putouts in 68 chances.
Former West Virginia Mountaineer right-hander, Chris Sleeper (Rush-Henrietta), transferred to SUNY Binghamton for the upcoming year. During his career in Morgantown, Sleeper made 19 appearances with an ERA of 3.55 and struck out 32 in 45.2 innings of work. Sleeper pitches for the Princeton WhistlePigs of the Appalachian League this summer and has fanned 15 batters in 12.1 innings of relief work this summer.
St. John's outfielder, Ben Beauchamp (McQuaid), also is a member of the WhistlePigs. Beauchamp is slashing .237/.349/.376 with three home runs, 12 RBI and 19 runs scored this summer. The McQuaid alum has not recorded an error in the field, going 45-for-45.
Brian Reinke (Honeoye Falls-Lima) hurls for the Wausau Woodchucks of the Northwoods League. The University of Richmond lefty has appeared in nine games, starting four and retiring 28 in 22.2 innings via strikeout.
Tyler Griggs (McQuaid) also competes in the Northwoods League for the Thunder Bay Border Cats. Griggs is batting .267 with eight RBI and 15 runs tallied alongside one double.
Alfred State's Nick Serce (Irondequoit) has played in 40 games for the Westfield Starfires of the Futures Collegiate Baseball League. In those 40 contests, Serce is batting .302, smacking eight doubles and launching 10 home runs. Serce broke the Westfield franchise record with his 10th home run on July 14 and has driven in 30 runs while scoring 28 for the Starfires this summer.
University of South Carolina Upstate right-handed hurler Braden Consaul (Fairport) is playing for the Florence Flamingos of the Coastal Plain League. Consaul is 4-0 in eight appearances for Florence this summer, tallying 14 whiffs over 13 innings.
Former Siena infielder, Aiden Stewart (McQuaid), transferred to the University of Delaware and is playing for the North Adams SteepleCats of the New England Collegiate Baseball League. Stewart has tallied 11 hits with one double, seven RBI and 10 runs scored.
Niagara southpaw Preston Prince (Hilton) and Vic Alongi (Greece Athena) are members of the Batavia Muckdogs in the Perfect Game Collegiate Baseball League. Prince is 1-2 in six starts and has fanned 29 in 26.2 innings pitched with a 1.24 WHIP and has gone five or more innings in his last three starts. Alongi is batting .236 with nine RBI and three runs scored, including a 3-for-4 game with three driven in against Elmira on July 13.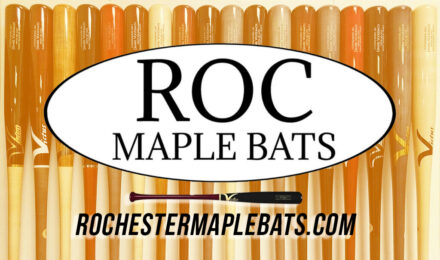 Wyatt Patchett (Geneva), Carter Fink (Victor), Cooper Loyal (Victor), Devin Georgetti (Gates Chili), Anthony Lang (Rush-Henrietta), Tyler Cerame (Hilton) and Casey Burcroff (Waterloo) all are teammates for the Geneva Red Wings of the Perfect Game Collegiate Baseball League. Patchett has appeared in three games, recording six of his seven outs via strikeout. Fink has six innings of work on the mound, recording four punch outs. Loyal recorded five hits, including one double and has appeared in 12 games this summer. Georgetti is 1-1 with eight strikeouts in 7.2 innings on the mound. Lang has made three starts for the Red Wings, with an ERA of 3.72 and a 1.45 WHIP. Cerame has eight hits this summer, including two doubles and four RBI. Burcroff has three hits for Geneva.
The Newark Pilots of the Perfect Game Collegiate Baseball League have six former Section V players, that being Josh Ferris (Churchville-Chili), Paulie Goodness (Palmyra-Macedon), Ian Goodness (Palmyra-Macedon), Cam Kingsley (Fairport) and Mitchell Kelly (Webster Thomas). Ferris has appeared in nine games, hurling 5.2 innings and striking out three. Paulie Goodness has driven in five runs, including a four-RBI day against Niagara on July 18. Ian Goodness has come out of the bullpen in four games, racking up nine innings and striking out eight with a 4.00 ERA. Kingsley has logged seven innings on the mound for the Pilots, striking out four and recording a two-inning save on July 16 against Batavia. Kelly racked up 15 hits in 59 at-bats with 12 runs driven in, including a 3-for-4 game with three driven in and a two-bagger against Geneva on June 30.
Griffin Yastremski (Bath) is a member of the Elmira Pioneers, who are also in the Perfect Game Collegiate Baseball League. The junior right-hander from Keystone College has made six appearances on the mound, five of which have been starts, and has logged 25.2 innings, striking out 22 with a WHIP of 1.48.
In the New York Collegiate Baseball League, the Hornell Steamers have 16 former Section V athletes. Caleb Clements (Prattsburgh) has started three games for the Steamers and punched out eight over 15.2 innings. Liam Eshelman (Victor) has appeared in 14 games for Hornell and has made two starts, including a six inning performance against Olean on July 22, three runs (unearned) on seven hits. Cullen Haley (Hornell) has struck out four batters over 5.2 frames. Logan Hoyt (Arkport) is batting .283 with six runs driven in while scoring five. Gates Miller (Hornell) has made eight relief appearances, including going five innings against Horseheads on June 19, allowing one earned run on three hits and fanning one. Zach Morse (Canandaigua) has gone at least five innings in all four starts and has struck out 14 over 25 frames. Nathan OBrochta (Hornell) is 4-2 on the season and has allowed one or fewer earned runs in each of his last four appearances. The SUNY Fredonia right-hander has 28 punch outs over 35.2 innings pitched. Noah Brooks (Palmyra-Macedon) is slashing .326/.484/.457 with six runs driven in and 11 scored. Luca Ciaramitaro (McQuaid) is batting .286 with one bomb, three doubles, six multi-hit games and 13 RBI. Ryan Hill (Webster Thomas) has 26 knocks, including one long ball and four doubles. Hill also has 16 RBI and has come around to score 23 runs. Tim McClare (Gananda) has struck out 18 over 12.1 innings for Hornell. Daniel Melendez (Victor) has two doubles, eight RBI and scored 11 runs. Tyler Curtis (Greece Athena) is slashing .347/.447/.485 with nine multi-hit days, including going 4-for-4 with three doubles against Dansville on July 15. Bobby Sellers (Rush-Henrietta) has seven hits this summer, driving in eight while scoring five. DJ Stoianovich (Fairport) is batting .318 with 12 multi-knock days including three games with three hits. Stoianovich has 17 RBI and scored 22 runs for Hornell. Jason Story (Hilton) has smacked 16 of his 42 hits for extra bases, consisting of four long balls, two triples and 10 two-baggers. Story also has driven in 27 and scored 35.
Nick Ianniello (Penfield) is the lone former Section V member on the Cortland Crush of the New York Collegiate Baseball League. Ianniello is 2-2 on the mound with 18 strikeouts and is batting .347 with a home run, four two-baggers and 10 RBI at the dish.

Jonathon Haines (Arkport-Canaseraga) struck out nine over 9.1 innings for the Horseheads Hitmen of the New York Collegiate Baseball League and picked up the win against Hornell on June 9, allowing three runs on five hits over five innings and fanned five.
Tanner DeGrazia (McQuaid) is batting .289 with four doubles, one three-bagger and 19 runs driven in. DeGrazia has racked up six multi-hit games and three game with three or more hits, including going 4-for-5 with three RBI and two runs scored against the Syracuse Salt Cats on June 21.
Daniel McAliney (McQuaid), Christian Blatter (McQuaid), Braden Pumputis (Webster Schroeder), Michael Ribis (Gates Chili), William Russotti (McQuaid), Connor Sackett (Fairport), Greyson McDonnell (Webster Thomas) and CJ Phelps (McQuaid) all are teammates on the Rochester Ridgemen of the New York Collegiate Baseball League. McAliney has made four starts, totaling 22.2 innings and allowing six earned runs for a 2.36 ERA. Blatter has not allowed a run in three of five relief appearances. Pumputis has four scoreless relief appearances, totaling eight innings pitched with five strikeouts and only allowed two hits. Ribis is 4-0 on the bump, and hurled eight scoreless frames against the Syracuse Spartans on July 14 and allowed two hits with 12 strikeouts. Ribis has a 3.82 ERA this summer. Russotti has 13 punch outs over 11.1 innings and one save against the Syracuse Spartans on June 29. Sackett has a hit and a run scored. McDonnell has five knocks with three RBI and five runs scored. Phelps is 13-for-52, tallying three doubles, five RBI and eight runs scored.
Tanner Frank (Brighton) is 1-1 with six punch outs over 6.1 frames for the Olean Oilers of the New York Collegiate Baseball League.
Noah Warriner (Canisteo-Greenwood) has fanned 31 in 30.1 innings hurled for the Dansville Gliders of the New York Collegiate Baseball League.
Noah Campanelli (McQuaid Jesuit/St. John Fisher) announced he will continue his college career at Coastal Carolina University.
I am excited to continue my baseball journey at Coastal Carolina University this fall. A special thanks to SJF, my coaches and my teammates who made my last four years incredible. Grateful for the opportunity to play and pumped to get to work @CoastalBaseball pic.twitter.com/IomTjA1ERR

— Noah Campanelli (@NoahCamp7) July 18, 2023