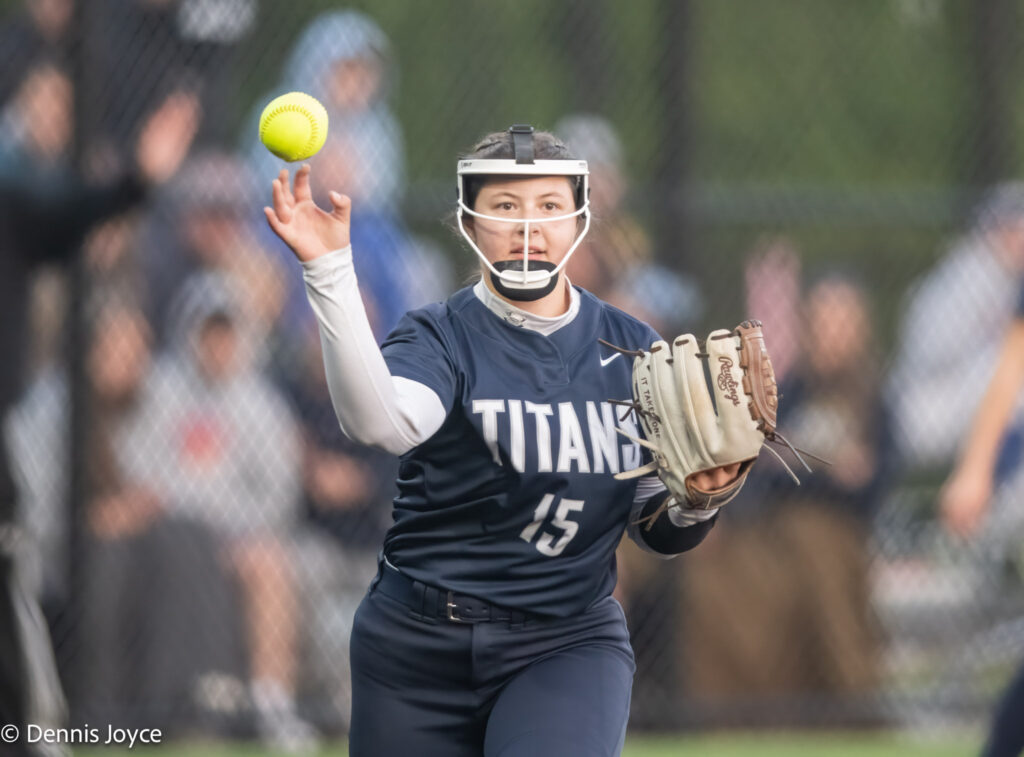 by TYLER HATHAWAY
Leading 2-1 in the third inning, facing an 0-2 count with two outs and the bases loaded, Maddie Hicks delivered the biggest swing of the Webster Thomas season to date.
The junior pitcher connected on a fastball and drove it over the fence in center field, increasing the Titans lead to five runs.
"It was so incredible and amazing," said Webster Thomas head coach Emily Castro. "I almost started crying. My hat fell off, I couldn't yell loud enough. It was amazing."
"I just knew that I put my team up," said Hicks. "I knew I'm helping my team get to where they want to be, and that place is states. And that's all we want to do."
That grand slam helped secure the Titans first trip to the NYS semi-finals in program history with a 6-1 win over Williamsville East (VI).
"These girls deserve this," said Castro. "They've been working so hard to win a sectional title, and to go to states to try and win a state title. So to be able to do this is just phenomenal."
"It's so exciting," said Hicks. "The minute we stepped onto the field this year, we just wanted to go the distance. Everybody is doing their part, and we're putting it all together. It's amazing. Just such a fun feeling."
After the first two innings were scoreless, Williamsville East got on the board with a sacrifice fly. It was then that Webster Thomas came alive. Emma Bello hit a ground-rule double that scored Ella Maloney to tie the game. And then following an RBI single by Julia Maciag, the grand slam happened.

"The big thing was Hicks' grand slam," said Castro. "You can't argue with that. It took the air out of Williamsville. It was what we needed to keep going. It was everything. Her pitching performance, her grand slam. She was the MVP of the game".
Hicks once again started on the mound for Thomas, throwing a complete game and striking out three batters. Defensively, the Titans committed no errors and allowed only seven hits.
"It's that whole philosophy we've been going by," said Castro. "Just keep going. One pitch at a time, keep going, and keep it small. Don't think too far ahead, just do your thing."
The win was 10th win in the last 11 games for Thomas, after starting off the season 8-6.
"It just feels incredible to see them playing like the team I've always known that they are," said Castro. "It really just feels awesome."
Maciag finished with two singles including the RBI single in the third inning, and a run scored. Madeliene Thromolous doubled once and singled. Emma Bello scored and had the RBI ground rule double mentioned earlier. Anna Bello drew a walk and scored. Olivia Constantino had a single. Ella Maloney scored.
For Williamsville East, Grace Kessel struck out eight batters over six innings. Bri White had two doubles and a single. Ella Wesolowski had a single and a sacrifice fly. Elise Elwood, Ofelia Comerford, and Lucy White each singled once.
"I am just so proud of them, they've worked so hard for this moment," said Castro.
The Titans (18-7) advance to play Troy (II) in the NYS Class A semi-finals on June 9th at Moriches Athletic Complex.