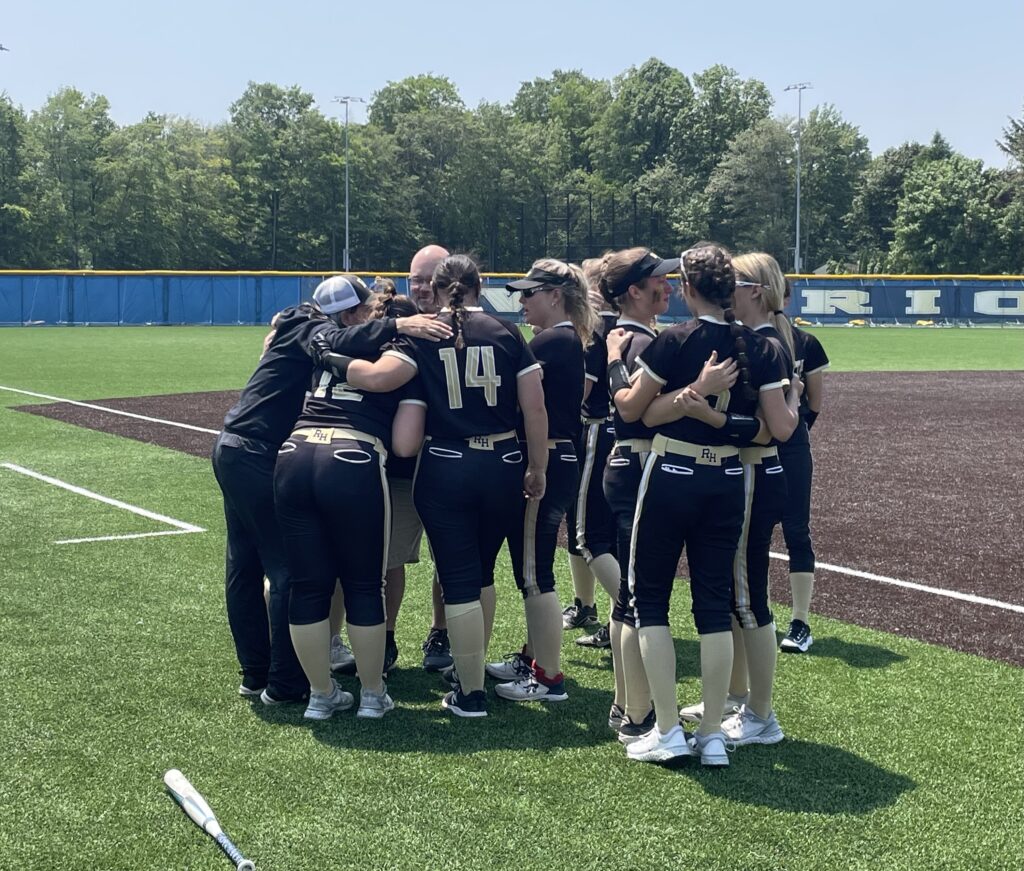 by TYLER HATHAWAY
Rush-Henrietta's season came to a close on Saturday, falling 12-6 to Clarence (VI) in the Class AA Far West Regional at Webster Schroeder High School. A season headlined by the Royal Comets claiming their first ever sectional championship, which was a walkoff comeback win in storybook fashion, Rush-Henrietta finished with the best record in Class AA, entering postseason play at 16-4.
And despite the season not having the outcome they wanted, Rush-Henrietta Head Coach Lynn Rotola had nothing but praise for her players and the year they put together.
"They're awesome, I love them," said Rotola.
"I mean they're fighters, they put in the work all season. They just believe in themselves."
Clarence broke out to a 7-0 lead through three and a half innings, before extending it to 12-1 heading into the bottom of the sixth. Rush-Henrietta went on to score five runs over the game's last two innings.
"What let us down today was our defense wasn't as strong as it usually is, but it happens," said Rotola. "We've had a long season, and an amazing win last weekend. You're always worried about if there's a let down. I don't think it was a let down, they (Clarence) just put the ball in play and we couldn't make plays."
Kadyn Hartel threw a complete game on the mound for Rush-Henrietta, striking out five batters and giving up four earned runs. At the plate, Hartel also singled and scored a run.
Sami Williams tripled in the fourth inning and scored Rush-Henrietta's first run when she came home off a passed ball. Olivia Sheffer doubled, singled, and had two RBI for the Royal Comets. Katelyn Militello had a pair of singles, an RBI, and scored a run. Audrey Gleghorn had a pair of singles and drew a walk. Elizabeth Gleghorn singled and scored. Chloe Smith got on base twice via a walk and scored. Elizabeth Rinella had one run scored and an RBI.
Ella Zobel was the pitcher for Clarence, throwing a full seven innings, striking out five and allowing four earned runs. Zobel had a first-inning home run to start the scoring off for the Red Devils, and also added a double, a single, and three other RBI.
Samantha Pusloskie tripled and singled, scoring twice and adding two RBI. Taylor Pavelski tripled, singled, and added an RBI. Lauren Holley doubled, scoring twice and had an RBI. Ella Harrison singled, scored, and tallied two RBI. Olivia Dickinson singled twice and scored twice. Makenzie Crawford doubled and crossed home plate twice.

Clarence (15-6) advances to face Massapequa (VII) in the NYS Class AA state semi-finals. Rush-Henrietta finished its season 19-5.
"We'll keep working hard in the off-season and hopefully be back here next year," said Rotola.