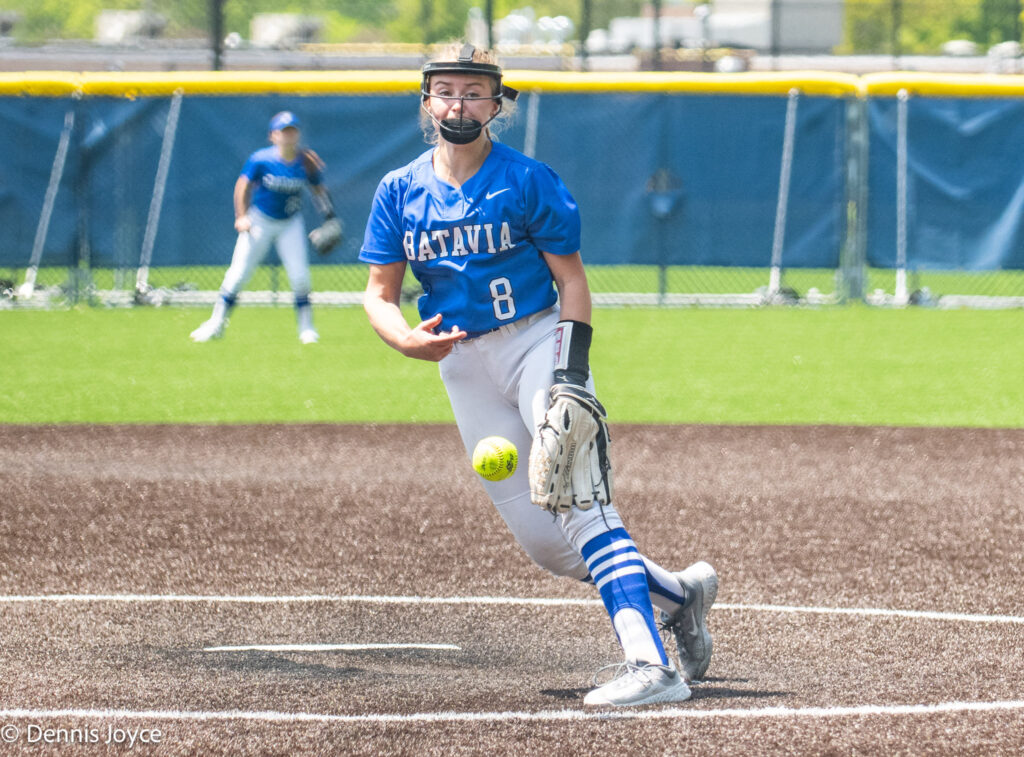 One team won its first sectional in a decade. The other seeks a second straight trip to regionals. Batavia and Wellsville meet on Tuesday with a spot in the New York State Class B Softball quarterfinals on the line. Here's the breakdown:
CLASS B
BATAVIA BLUE DEVILS (16-6/ Monroe County Division IV)
vs.
WELLSVILLE LIONS (19-1/Independent)
5:00 PM Tuesday, Honeoye Falls-Lima
How they arrived here:  Batavia opened the postseason with a victory over No. 7 Livonia in the quarterfinals and No. 3 Midlakes in the semifinals. The Blue Devils clinched their first sectional title since 2013 with a 7-2 victory over reigning champion, Waterloo. Wellsville downed No. 9 Aquinas in the quarterfinals and No. 4 Penn Yann in the semifinals. The Lions walked off with a 3-2 win over Haverling to clinch a third straight sectional title.
Tempo and Trends: Batavia has won eight of its last 11 games. The Blue Devils score 10.1 runs per game while allowing 3.8. Wellsville scores 12.4 runs and allows 1.5 runs per game. The Lions have not lost since April 11th and bring a 13-game winning streak into the regional qualifier.
What's at Stake: The winner advances to the New York State Class B Regional against either Fredonia or Iroquois of Section VI.
Players to Watch for Batavia: Lila Fortes Fr. (.508 BA, 2 3B, 18 RBI, 23 R); Julia Clark Jr. (.448 BA, 9 2B, 3 3B, 22 RBI, 17 R); Libby Grazioplaene Sr. (.381 BA, 13 R, 15 RBI, 6 2B); Arianna Almekinder 8th Grade (4-2, 3.64 ERA, 38.5 IP, 40 K, 13 BB, .375 BA, 13 R, 4 2B, 1 3B, 17 BB); Marisha Tucholski So. (.357 BA, .429 SLG, .435 OBP, 1 2B, 7 RBI); Sophia Branch So. (.318 BA, 8 RBI, .423 OBP); Hannah Carney So. (.317 BA, 28 R, 11 RBI, 3 2B, 2 HR, .467 SLG); Giana Mruczek Jr. (8-4, 4.8 ERA, 76.40 IP, 82 K, 62 BB).
Wellsville: Kaylie Fuller Jr. OF; Makenna Dunbar So. P/1B; Marissa Ordway Jr. P/1B; Averee Palmatier So. OF; Lindsay Stuck So. C/3B; Makenzie Cowburn Jr. P; Brazen Beckwith Jr. C/3B.
Coaches: James Fazio (Batavia), Matt Burke (Wellsville)