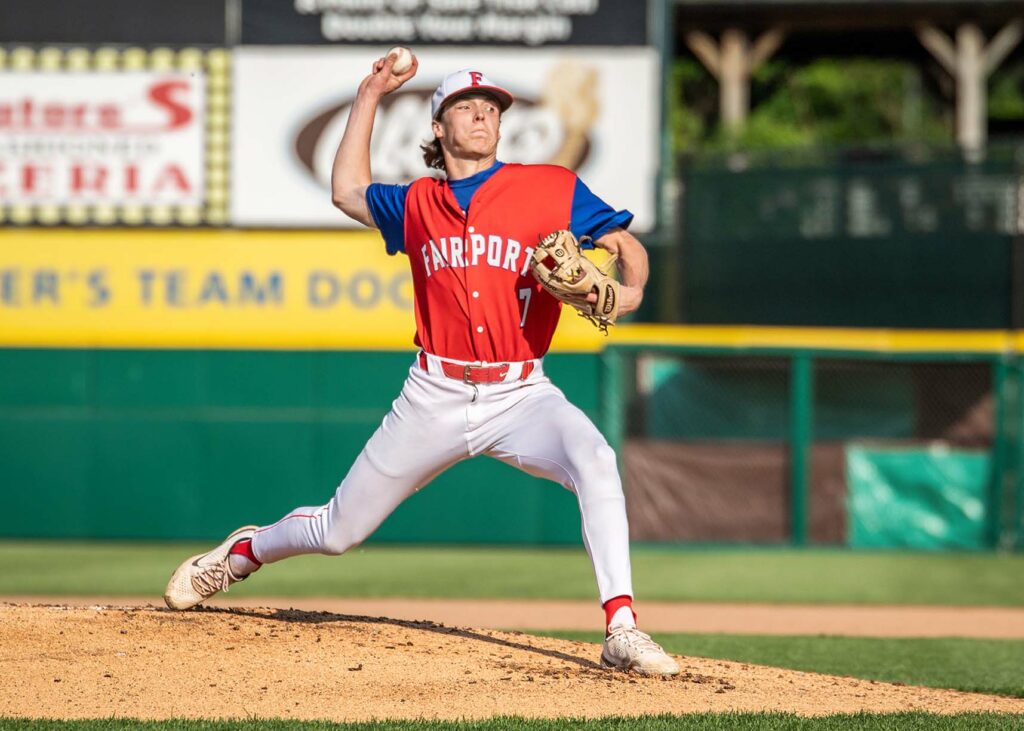 By PAUL GOTHAM
ROCHESTER, N.Y. — Sam Miller shrugged off a rough first inning to toss a complete game, and No. 4 Fairport went on to defeat second-seeded Victor, 5-3 to clinch the 2023 Section V Class AA championship Saturday at Innovative Field.
Miller gave up a base hit and issued a pair of walks to the first three batters he faced. An error on a groundball compounded the problems as Victor took a 3-0 lead heading into the second inning.
The junior right-hander scattered six hits and a walk for the remainder of the contest.
"We've been down before this year," Miller said. "We know we can't put our heads down. It was the first inning, and we still had a lot of time left.
Miller connected on one of four straight hits in the second inning, as the Red Raiders responded with five runs.
Matt Bartusek and Jonathan Roessel worked back-to-back one-out walks to jump start the Fairport offense. Stephen Rizzolo started the scoring with a single. Will Stanek doubled to make it a 3-2 game. Miller brought home Rizzolo to knot the score at three, and Owen Andreatta capped the outburst with a double to bring home two more runs.
Sam Miller grabs the comebacker and finishes it off. 2023 Class AA Champs Fairport with a 5-3 victory. pic.twitter.com/KYtCm3re5x

— Paul Gotham (@PickinSplinters) May 27, 2023
"We just played together," Miller said. "We played for each other and got the job done. We kept up the energy the whole time. We never let it affect us."
Stanek made a diving stop at third base with one out on a line drive off the bat of Victor's Mitchell Schalberg to help Miller escape from a bases-loaded jam in the fourth. Miller went on to retire eight of the last 10 batters he faced to end the game.
Will Stanek saves at least two runs with a diving stop at third in a bases-loaded, one-out situation. pic.twitter.com/YOCESajd3m

— Paul Gotham (@PickinSplinters) May 27, 2023
"Victor has a great hitting team," said Rizzolo, the Fairport catcher. "We were trying to mix it up hitting those locations and working backward sometimes.
"The top of their order has good hitters. We worked around them a little bit. We were throwing more fastballs in the first inning. After that we mixed it up a lot more. That seemed to work."
The sectional title is the eighth in program history but first since 2013 – the end of an eight-year stretch when the Red Raiders claimed four championships. Fairport is one of 15 Section V programs with eight or more championships but Saturday's appearance in the finals was the first since the 4-3 win over Rush-Henrietta in the 2013 Class AAA championship.
"That was just an amazing win for the town of Fairport especially awesome for Coach (Kieran) Murphy," Miller said. "The goal the whole year is obviously to win a state championship, but we had to win this first. This was a great game to get it started. Our team energy is here. We got down early. We came back. We fought."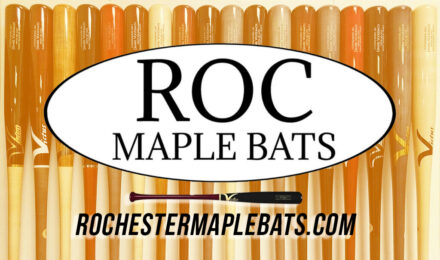 Rizzolo and Andreatta both finished 2-for-3 with a walk at the plate. Stanek was 2-for-4.
"I've been working with all these guys all my life," Rizzolo said. "We've been playing together forever. It means a lot winning together. It feels good."
Schalberg went 2-for-4 with a run scored at the top of the lineup. Cooper Loyal doubled, walked twice and scored a run. Carter Fink singled, walked and scored. Weston Elkovitch drove in a run with a base hit.
Fairport head coach Kieran Murphy was suspended for the game due to the violation of an NYSPHSAA rule regarding eligible participants at team practices. Fairport CSD self-reported the violation.
Fairport will play Section VI champion Lancaster in the New York State Class AA Far West Regional next Saturday at Grand Island High School. An 11 AM first pitch is scheduled.