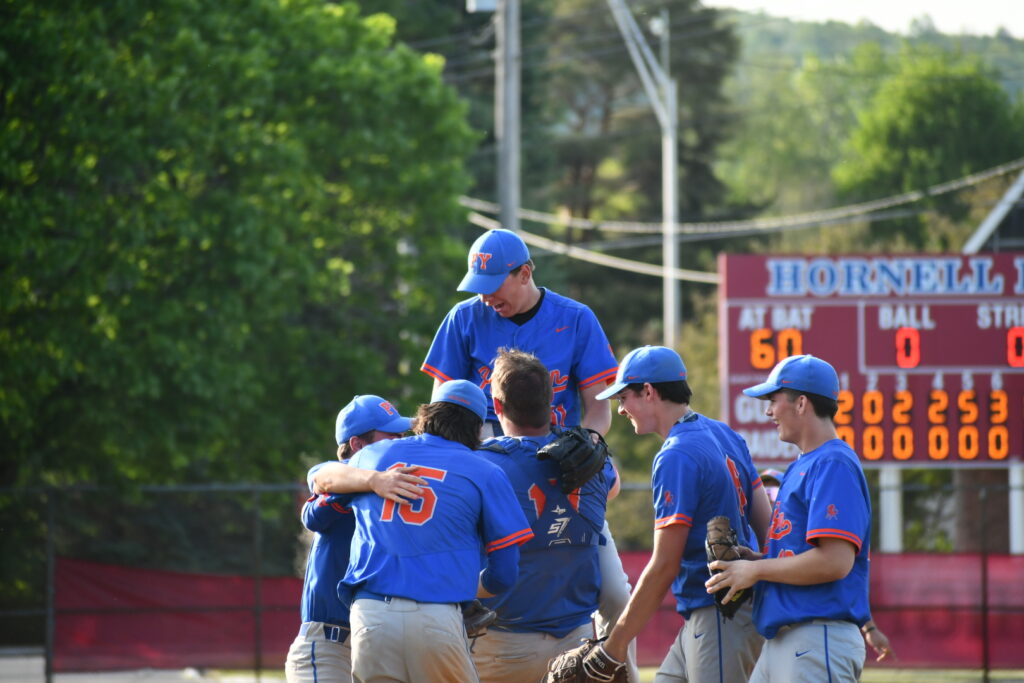 CLASS AA
NO. 4 FAIRPORT (17-6) 5
NO. 2 VICTOR (17-6) 3
Sam Miller gave up a base hit and issued a pair of walks to the first three batters he faced. An error on a groundball compounded the problems as Victor took a 3-0 lead heading into the second inning. The junior right-hander scattered six hits and a walk for the remainder of the contest. READ MORE.
CLASS A1
NO. 2 GREECE ATHENA (18-5) 11
NO. 1 CHURCHVILLE-CHILI (17-6) 4
Greece Athena Baseball enjoyed success near the turn of the century. Starting in 1999, the Trojans won sectional titles in three of four years. Another championship came in 2007. Then there were near misses in 2013 and '14 along with three straight championship game losses heading into the 2023 season. Fourteen years had passed since Athena last raised a championship block READ MORE.
CLASS A2
NO. 5 HONEOYE FALLS-LIMA (14-9) 11
NO. 2 PITTSFORD SUTHERLAND (16-7) 2
There was a time this season when playing for a Section V baseball championship was far more pipe dream than distinct possibility for Honeoye Falls-Lima. Oh, the Cougars' pitching was very good. So was their fielding. "Phenomenal," junior third baseman Landon Hammond went so far as to say READ MORE.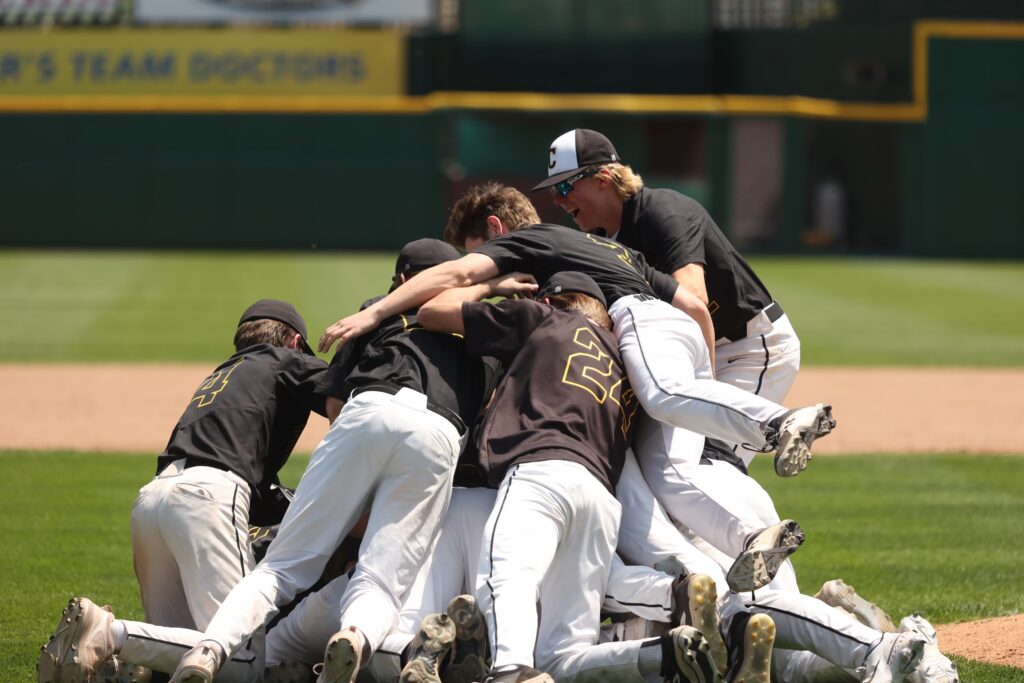 CLASS B1
NO. 4 HORNELL(14-6) 5
NO. 2 PALMYRA-MACEDON (20-2) 6
With two outs in the bottom of the seventh, Brady Prebalick hustled out a dropped third strike, bringing home Brennan Pipitone and Will Caffyn as Palmyra-Macedon raised its third-straight sectional trophy. In the seventh, Palmyra-Macedon crossed home five times on an RBI double by Christian Morrison, an RBI ground out from Isiah Stephens, then Caffyn brought home Ian Goodness to set up the two-run final play. In the second, Palmyra-Macedon scored first when Pipitone trotted home with two outs. Pipitone finished 2-for-3 and hurled 4.2 innings in relief, allowing six hits on three runs to pick up the win. Morrison went 2-for-3 and scored on the Stephens ground out. Noah Brooks led off the seventh with a single and scored on the Morrison double. Brooks went 1-for-2. For Hornell, Will Argentieri legged out an RBI three-bagger to knot the game up at one in the third. Gennaro Picco drove in Argentieri with a single in the next at-bat. In the top of the seventh, Jake Ponticello connected on a two-run two-bagger and Davin Oyer singled later in the frame to put Hornell up four. Picco finished 3-for-3 and scored on the Ponticello double. Ponticello also went 3-for-3. Charlie Oyer went 2-for-3. Gates Miller singled and scored twice. Palmyra-Macedon advances to face Penn Yan in the Class B Far West regional qualifier. READ MORE.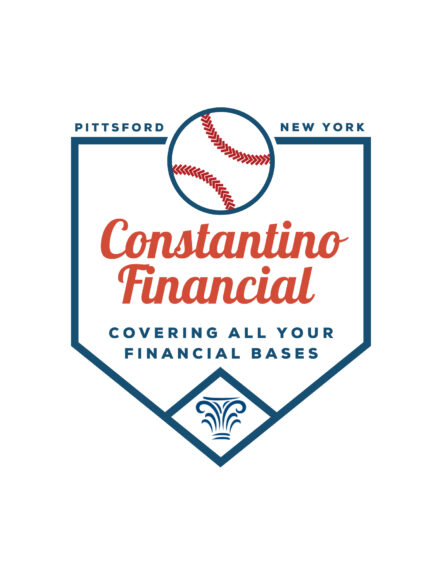 CLASS B2
NO. 4 PENN YAN (11-11) 14
NO. 3 HAVERLING (10-10) 0
Brady Bouchard hurled a complete game three-hit shutout to lift Penn Yan to its first sectional title since 1983. Bouchard fanned five of the first seven outs recorded and after the first, did not allow a ball to leave the infield until two outs in the fifth. Liam Chapman went 5-for-5, hitting for the cycle alongside driving in three and scoring five runs to pace the Mustang offense. Riley Griffiths was a home run shy of the cycle and drove in and scored two runs. Brady Bouchard went 3-for-5 with two RBI and scored a run. Reed Bouchard and Owen Bishop both finished 2-for-3. Bishop drove in two and scored one. Giovanni D'Amico tallied two RBI and crossed home twice. For Haverling, Alex Beyler went 1-for-2. Ethan Brotz and Zach Musso both tallied singles. Penn Yan advances to face Palmyra-Macedon in the Class B Far West regional qualifier.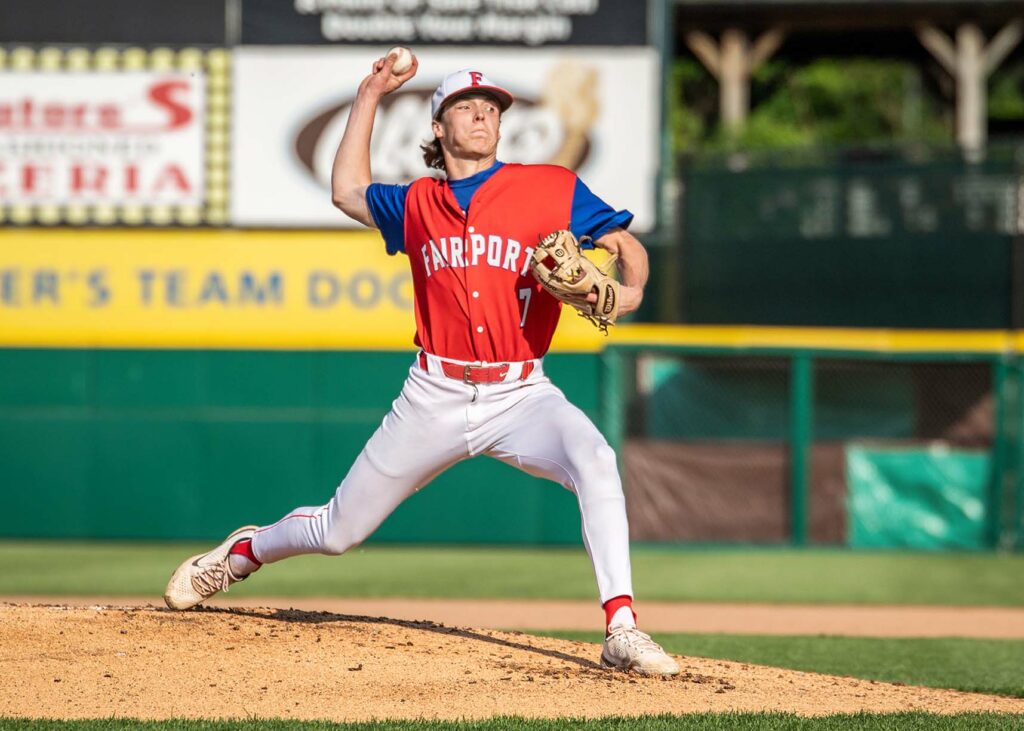 CLASS C1
NO. 3 BLOOMFIELD (16-3) 3
NO. 1 SODUS (20-2) 4 (eight innings)
Marquez Wigent trotted home in the bottom of the eighth as Sodus captured its first sectional title in 20 years. Garrett Barron reached first to provide a one-out baserunner for the Spartans in the inning. Wigent pinch ran for Barron and Parker Orbaker connected on a single to move Wigent to third. Jed Bodine hurled a complete game, allowing three hits and striking out four. The senior right-hander retired nine straight after Bloomfield put up a two-spot in the second. Bodine had an RBI single in the seventh, part of a two-run inning to force extras. Austin Cincinello drove home Evan Laird with a one-out single later in the frame to knot the game up at three. Orbaker finished 2-for-4 to lead the Spartans in hits. Jacob Laird had a single and scored. For Bloomfield, Gunner Vogel led off the game with a single, then came home to score on an RBI ground out from Gabe Ward. Ward went seven innings on the mound, allowing four hits on three runs (one earned) and striking out 11. Tyler Rogers added another RBI groundout in the second. Aiden Rogers followed with a run-scoring single to give Bloomfield its third run. Kyle Dredger had a triple in the fifth. Grady Rogers scored on the Aiden Rogers single. Sodus advances to play top-seeded Notre Dame Batavia in the Class C Far West Regional qualifier.
CLASS C2
NO. 3 BOLIVAR-RICHBURG (19-5) 0
NO. 1 NOTRE DAME-BATAVIA (21-1) 3
Bryceton Berry hurled a complete game shutout, allowing five hits while striking out 15 as Notre Dame Batavia clinched its 11th sectional title in program history, tying for third most in Section V. Berry allowed two balls to leave the infield in the first 3.1 innings and struck out the side in the seventh to seal the win. The Fighting Irish were able to score first on an RBI ground out from Ryan Fitzpatrick in the third. Jaden Sherwood connected on a double to drive home Berry later in the frame. James Fanara doubled in the following frame to end the scoring for the Fighting Irish. Charles Cummings went 2-for-2 to lead Notre Dame Batavia in hits. Fanara went 1-for-2 and scored. Jay Antinore also went 1-for-2. For Bolivar Richburg, Landon Barkley went 2-for-2. Caden Allen was 2-for-3. David Baldwin had the fifth hit for the Wolverines. Notre Dame-Batavia advances to play Sodus in the Class C Far West Regional qualifier.

CLASS D1
NO. 2 AVOCA/PRATTSBURGH (20-3) 9
NO. 1 FILLMORE (17-2) 5
Haden Abbott earned the win, striking out seven and went 2-for-5 at the plate to lead Avoca/Prattsburgh to its first sectional title since merging. Sawyer Devoe went 3-for-3 with a triple and a double, racking up two RBI and scoring twice for the Titans. Dan Stilson went 2-for-4 with a double and an RBI. Josiah Stilson had an RBI single. Connor Hammond had a single with three RBI. Evan Campbell and Chris Abbott each had a hit. Jamel Crowder tripled and scored two runs. For Fillmore, Nolan Krzemski, Zach Sisson, Brent Zubikowski, Luke Columbo and Jeff Hill all tallied hits. Avoca/Prattsburgh advances to face Northstar Christian in the Class D Far West regional qualifier. READ MORE.
CLASS D2
NO. 3 C.G. FINNEY (8-10) 3
NO. 1 NORTHSTAR CHRISTIAN (16-3) 21
Northstar Christian advances to play Avoca/Prattsburgh in the Class D Far West regional qualifier.
To report scores, please email photos of that night's scorebook pages to scores.pickinsplinters@gmail.com.