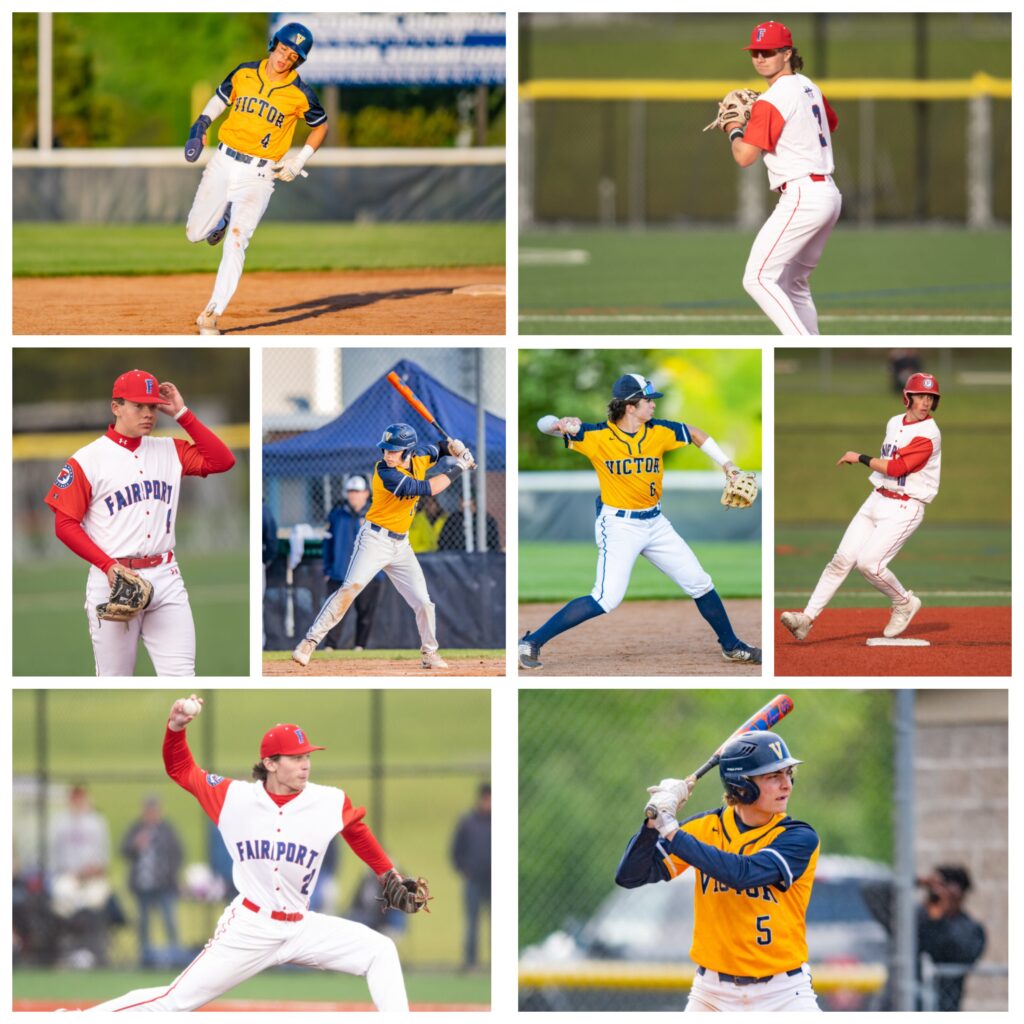 One team is looking to avenge a championship defeat the season prior. Another is looking to win its first title since 2013. Innovative Field is the setting on Saturday when Fairport and Victor meet to decide the AA championship. Here's the breakdown:
CLASS AA:
NO. 2 VICTOR BLUE DEVILS (17-5/Monroe County Division I)
vs.
NO. 4 FAIRPORT RED RAIDERS (16-6/Monroe County Division I)
4:00 PM Saturday, Innovative Field
How they arrived here: Second-seeded Victor downed No. 7 Rush-Henrietta 11-1 before defeating No. 3 Webster Schroeder 3-2 in 13 innings. Fairport beat No. 5 Edison and No. 9 Penfield to clinch a trip to the sectional final.
Tempo and Trends: Victor scores 5.77 runs per game and allows 2.82. The Blue Devils enter the final having won nine in a row and 10 of their last 11. Fairport scores 6.86 runs per game and allows 3.68. Fairport has won three straight and six of its last seven.
What's at Stake: The winner advances to the NYS Far West Regional against the Section VI champion.
History 101: With 11 titles, Victor sits tied for third on the leaderboard of most Section V championships, with the most recent coming in 2018. That year, the Blue Devils reached the NYS semifinal game before falling to Section III champion, Baldwinsville. This is the second straight year Victor has reached the title game after falling to the eventual state champion, McQuaid, in 2022. Fairport is looking for its first title since 2013 and its fifth since 2000. The Red Raiders reached the state semifinal in 2006. The squads split the two regular season matchups with Fairport winning the first 7-0 before Victor came back and won the second by an 11-2 score.

Players to Watch for Victor: Weston Elkovitch Jr. 1B/OF/P (.355 BA, 14 RBI, 3 HR) (41 K); Carter Fink Sr. P (.297 BA, 9 RBI) (3.80 ERA, 51 K); Mitchell Schalberg Jr. INF/C (.356 BA, 13 RBI, 18 RS); Adam Ruffalo Jr. OF (.313 BA, 9 RBI, 13 RS); Cooper Loyal Sr. SS (.265 BA, 10 RBI, 2 HR, 17 RS); Ty Pero Sr. OF (.409 BA, 5 RBI, 10 RS); Coz Zeiser Sr. P (3.60 ERA, 46 K)
Fairport: Sam Miller Jr. OF/P (.493 BA, 28 RBI, 23 RS, 3 HR) (1.18 ERA, 42 K); Owen Andreatta So. OF (.391 BA, 11 RBI, 9 RS, 1 HR); Nathan Mathis Sr. P (0.91 ERA, 18 K); Stephen Rizzolo Sr. C (.279 BA, 10 RBI, 22 RS); Antonio Jorge Sr. OF/P (2.36 ERA, 24 K); Will Stanek Jr. 3B/P (.284 BA, 9 RBI, 17 RS) (3.00 ERA, 32 K); Jackson Rucker Jr. SS (.255 BA, 14 RBI, 15 RS, 1 HR)
Coaches: Sean Rucker (Victor), Kieran Murphy (Fairport)