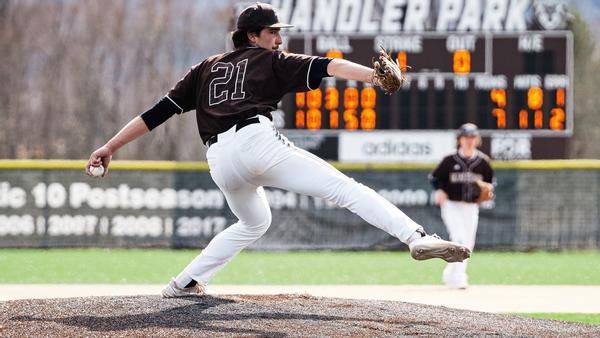 Courtesy of GoBonnies.com
DAYTON, Ohio – The St. Bonaventure University baseball team fell to Dayton in heartbreaking fashion, 3-2, in the series finale Friday afternoon in Ohio.
After trailing for most of the day, Mark Darakjy provided a clutch pinch-hit RBI single for the Bonnies to tie the score up at two in the top of the ninth.
The Bonnies were in position to rally late thanks to an outstanding start on the hill by graduate Liam Devine. St. Bonaventure's southpaw put together a stellar performance, throwing a season-high eight innings with seven strikeouts and only allowing two runs on just one hit.
However, Dayton walked it off in the bottom of ninth with an Omar Daniels' single off of Bonnies reliever Ryan O'Connell.
Dayton scored first with a sac fly RBI off the bat of Matt Maloney in the first inning.
The Flyers (22-31, 13-8 A-10) grabbed another run off a sac fly in the fourth inning, but that is all Dayton could muster against Devine, who did not allow a hit after the first inning. The lone hit came in the form of a first inning double from Kegan Calero.
Devine and Flyers' starter Mark Manfredi were in an old-fashioned pitcher's duel for the first eight innings.
Devine's counterpart and fellow southpaw for Dayton surrendered one run on three hits with strikeouts in 7.1 innings pitched, while giving up two free passes.
The effort by Devine marks the longest outing in a game by a Bonnies pitcher only allowing one hit over the past decade.
The Bonnies (8-37, 5-16 A-10) threatened to even the score at two in the eighth inning with a pair of runners on base, but Dayton's reliever Andrew Zapka worked out of the jam with a strikeout and groundout.
Following Darakjy's game-tying base hit, the Bonnies had a chance to take the lead, but Flyers reliever Nick Wissman came out of the bullpen and kept the game scoreless going into the bottom half of the inning.
The Bonnies will end the regular season when they host George Washington for a three-game series beginning on Thursday, May 18. First pitch Thursday is scheduled for 2:00 p.m. Following Saturday's game, 10 seniors will be honored in a postgame ceremony.