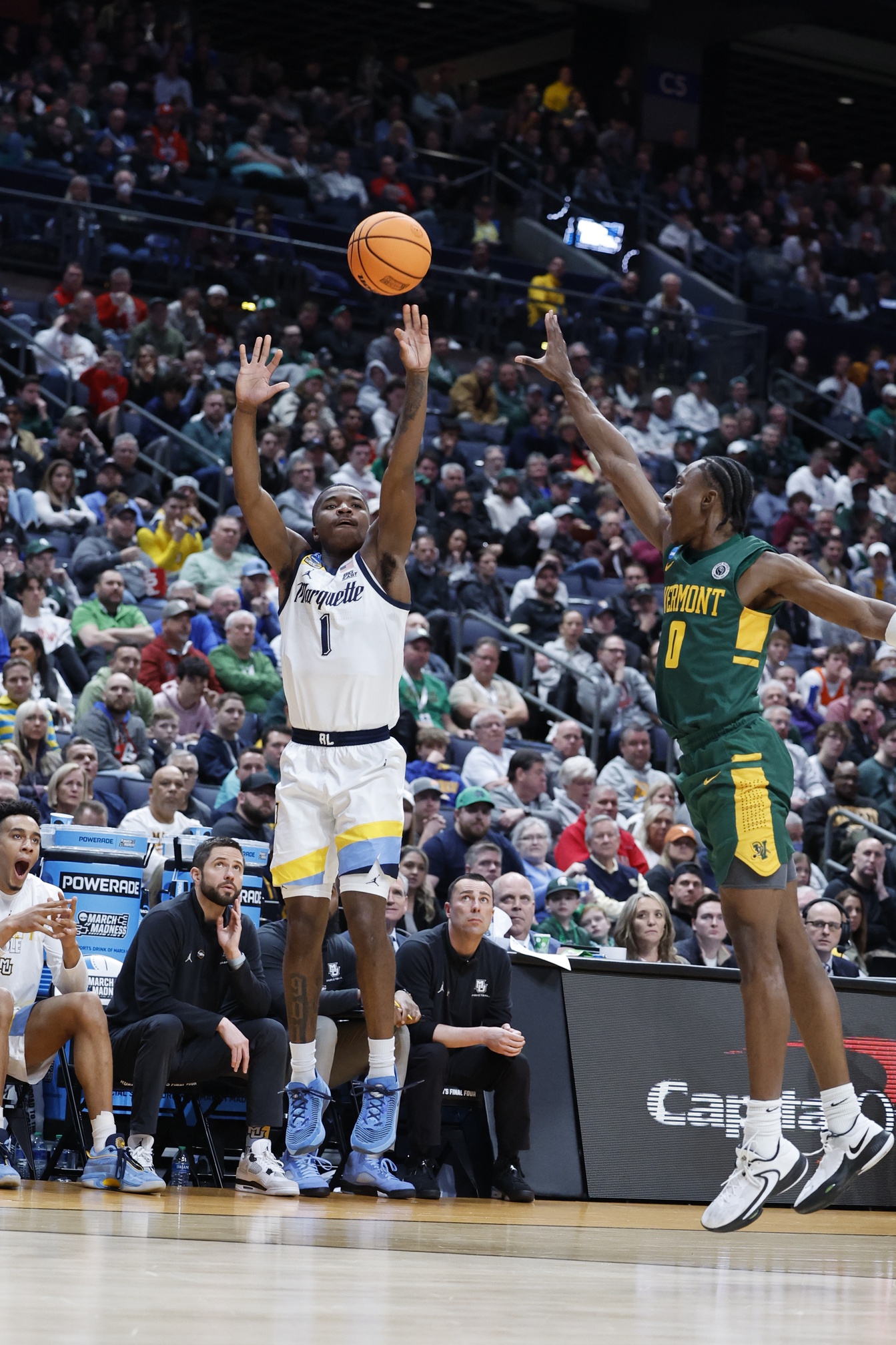 by TYLER HATHAWAY
COLUMBUS, Ohio — The first half was an oddly quiet one for Marquette's Kam Jones. The Golden Eagles' leading scorer throughout the season, the sophomore guard only attempted one shot from the field and went into the halftime break with one point.
After giving up a backdoor cut to Vermont's Finn Sullivan for an easy layup with just under 16 minutes to play in the second half, something changed in Jones. He went on to score eighteen consecutive points for Marquette over a six minute stretch midway through the second half that helped the second-seeded Golden Eagles pull away from the No. 15 seed Vermont Catamounts for a 78-61 win, Marquette's first NCAA tournament win since 2013.
"I hate feeling like I'm letting my teammates down," Jones said to CBS Sports' Jamie Erdahl after the game. "With that cut it gave Vermont momentum, and I just wanted to come out and make up for that, and I know they (my teammates) believe in me so I'm just coming out and playing my game."
Jones, who averaged 15 points per game in the regular season and was named to the Second Team All-Big East, finished his day with a game-high 19 points, four rebounds, and two assists. He shot 7/9 from the floor and 3/4 from behind the three-point arc in a game that was Marquette's 16th win in their last 17 games.
"Coach just told me to be myself," said Jones. "I was frustrated with myself missing free throws. I gave up that cut on defense. He told me to take a deep breath, be myself and just go out there and play loose."
It was a team effort from the Golden Eagles, with five players scoring in double figures. Sophomore big man Oso Ighodaro only missed one shot from the field and tallied 14 points, five rebounds, and five assists. David Joplin came off the bench and provided an early 10 first-half points, finishing with a dozen. Olivier-Maxence Prosper had 11 points along with six rebounds. Guard Stevie Mitchell wrapped up his day with 10 points and a team-high seven rebounds.
Big East Player of the Year Tyler Kolek injured his thumb early, but was able to return to the game and finished with eight points, four assists and three rebounds. The former George Mason transfer now sits 10 assists away from earning the Marquette single seasons assist record.
"Our guys played with good fight, and we continued to give multiple efforts." Marquette head coach Shaka Smart told Erdahl. "I thought over the course of the game the guys' willingness to play for one another and put consecutive stops together gave us the win."
Smart, who was named the Big East Coach of the Year after leading Marquette to both the Big East regular season and tournament championships, snapped a seven-game NCAA tournament losing streak with the win. But, he emphasized the focus was not, and never has been, on himself.
"It's not about me, it's about us. I've never been around a more connected group of guys, and we came here to win today, but we're not done. We're gonna move forward and give it to the next one."
The Catamounts, in their ninth NCAA Tournament appearance in program history, trailed the Golden Eagles 39-30 at halftime after shooting 6-12 from three. Vermont would cut the Marquette lead to 45-40 after a 10-4 run early in the second half, but were not able to keep up with the Golden Eagles after that. Seniors Matt Veretto, Dylan Penn, and Robin Duncan each scored 11 points to lead Vermont in scoring.
The Golden Eagles (29-6, Big East) advance to the second round of the East region of the NCAA Tournament, where they will square off against the No. 7 seed Michigan State Spartans (20-12, Big 10), Sunday in Columbus.