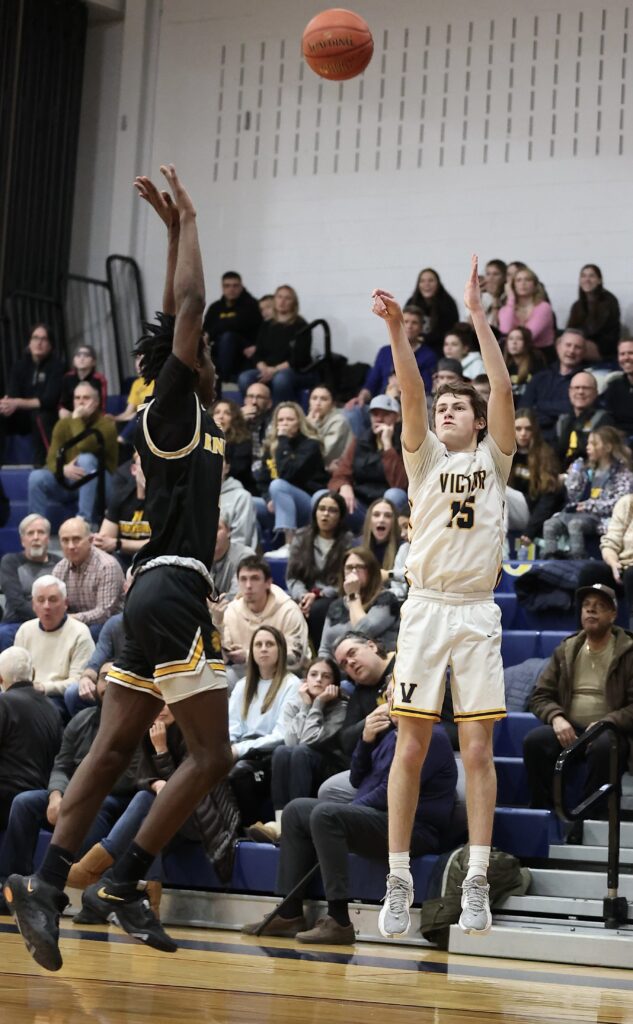 By PATRICK WALSH
Garrett Clar scored eight of his 19 points in the first quarter, as Victor used a 10-0 run to begin the game and eventually advanced to the NYS final on Saturday, beating Brentwood (XI) 56-41.
Clar converted eight layups and one three in the winning effort. Cam Ryan followed Clar up with 16 points of his own via three layups, one three-pointer and seven charity stripe conversions.
Victor held Brentwood to 41 points, the second-lowest-scoring game for the Indians this season. The Blue Devils forced 10 turnovers and turned them into 12 points.
After trailing 20-7 at the conclusion of the first stanza, Brentwood was able to cut the lead down to two under a minute before halftime. Tyrell Davender converted three free throws then Jeremiah Webb cashed in on one of his two three point plays of the quarter at the 4:09 mark. The Indians went on a 14-6 run and forced Victor into 5 turnovers in the second frame.
Victor quickly went on a 7-0 run after the break and pulled away for good. Cam Ryan scored five of the seven points on the Blue Devil run hitting a three pointer from the wing that saw a chance at a four point play as well as two free throws.
Nick Leonard cashed in four field goals inside the arc. AJ Queri added a pair of three pointers. Brennan Hopkins scored four points and Griffen Hopkins hit a three pointer which rounded out the scoring for Victor.
Jerimiah Webb led the way for Brentwood finishing with 13 points. Tyrell Davender converted three free throws and three layups for nine points. Frederic Diogene (6), Marquese Dennis (5) and Devon Snell (5) all contributed for the Indians.
Victor advances to play North Rockland (I) in the NYS final on Saturday. Tip off is scheduled for 7 p.m. at Cool Insuring Arena.