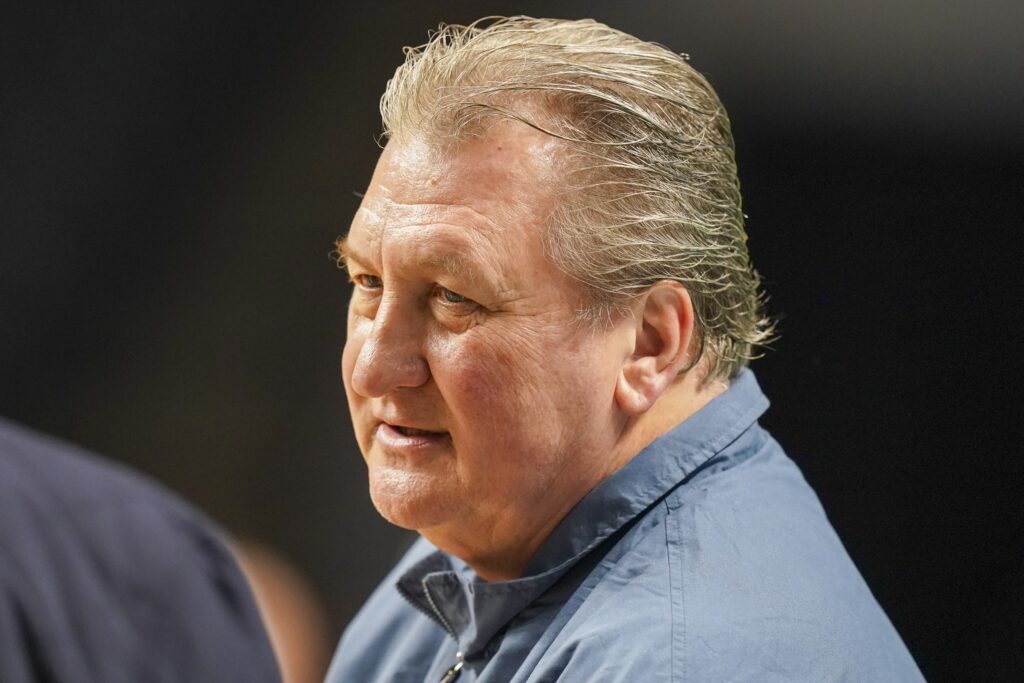 By PATRICK WALSH
The West Virginia Mountaineers have weathered the storm of the Big 12 and are making their 31st NCAA tournament appearance, matching up with the no. 8 seed Maryland Terrapins out of the Big 10 in the round of 64. The contest will take place at 12:15 p.m. at Legacy Arena at BJCC.
The Mountaineers are one of seven Big 12 teams making the tournament, which makes 70 percent of the conference in the field. This is the highest percentage of any conference in Division 1. They are led by coach Bob Huggins, who just recently has taken over the throne of the winningest active coach in college basketball with the recent retirement of Jim Boeheim and was enshrined into the Naismith Basketball Hall of Fame prior to the season.
Making the tournament did not come at ease for the Mountaineers, who started off conference play losing five straight before knocking off no. 14 TCU at home.
"I think once we figure out what those one to two plays were to help us win games that's when we started winning games. And we've seen that continue until the end of the year," said fifth-year senior Emmitt Matthews Jr.
Emmitt began his college career at WVU and then transferred out to Washington for his senior year before returning to WVU with his final year of eligibility. He is averaging 10.4 points per game.
West Virginia's star player this season has been fifth-year guard Erik Stevenson. The South Carolina transfer is WVU's leading scorer averaging 15.5 points per game.
"It's hard to believe that he's [Stevenson] played for the coaches that he's played for and the programs he's played in and he hasn't played in an NCAA Tournament. So hopefully he's kind of settled down and plays this like he would play any other game," said Huggins about Stevenson.
Stevenson averaged more than 20 points in the last five games of the regular season, the first Mountaineer to achieve such a feat since Wil Robinson in 1972. He regressed in the Big 12 tournament but the Mountaineers will look toward getting him back on track in order to make a deep run in the NCAA Tournament.
WVU will also be looking to get production from sixth-man Joe Toussaint. Toussaint, a guard, is making his third NCAA Tournament appearance after he appeared in two when he was at Iowa. Toussaint is averaging 9.5 points per game and provides an excellent ball handler, in the event Kedrian Johnson runs into trouble with turnovers.
Free throws have either won or lost games for the Mountaineers this season. In the Mountaineers' 19 wins, they average 78.4% from the line, but only 67.1 percent in their 14 losses.
This is the 39th meeting between the Mountaineers and Terrapins, with WVU holding a 24-14 series lead. The two teams last met in the 2015 NCAA Tournament Second Round in Columbus, Ohio, with WVU winning, 69-59.
First-year Maryland head coach Kevin Willard is relying on his transfers to set the baseline for the program.
"You can bring kids in and try to knock it out of the park right away and try to do all this, and year two you are really struggling, year three you are really struggling. We brought kids in who I thought were extremely high character, good players, and all wanted to help bring Maryland basketball back to a level that we could sustain," said Willard.
One of such player is senior guard Jahmir Young. Young, a Charlotte transfer, is averaging 16.1 points per game while limiting turnovers to 2.1 per game. The Terrapins as a team rarely turn the ball over and play great perimeter defense. This could prove troublesome for a sharpshooter like Erik Stevenson.
Young has been more excited than nervous for the NCAA Tournament opportunity.
"I would say just exciting. Just happy to be out here. Just growing up wanting to be out here, just watching March Madness, just knowing how many people are going to be watching," said Young.
The Terrapins split the season series with Purdue, a team West Virginia lost by 12 to in the Phil Knight Legacy tournament back in November. Jahmir Young was able to score 20 points in the Terrapins win against the Boilermakers, one of nine 20-point games this season for him. Maryland also limited Purdue to its season low for scoring in the win which saw them only allow 54 points.
Maryland has won 14 of their last 15 opening-round games, dating back to 1997. West Virginia has won their last three straight opening-round appearances.
Both teams will be looking to jump out to fast starts. WVU is 0-10 when losing at halftime, whereas Maryland is slightly better at a 2-10 record.
The Mountaineers and Terrapins will tip off at 12:15 on CBS.