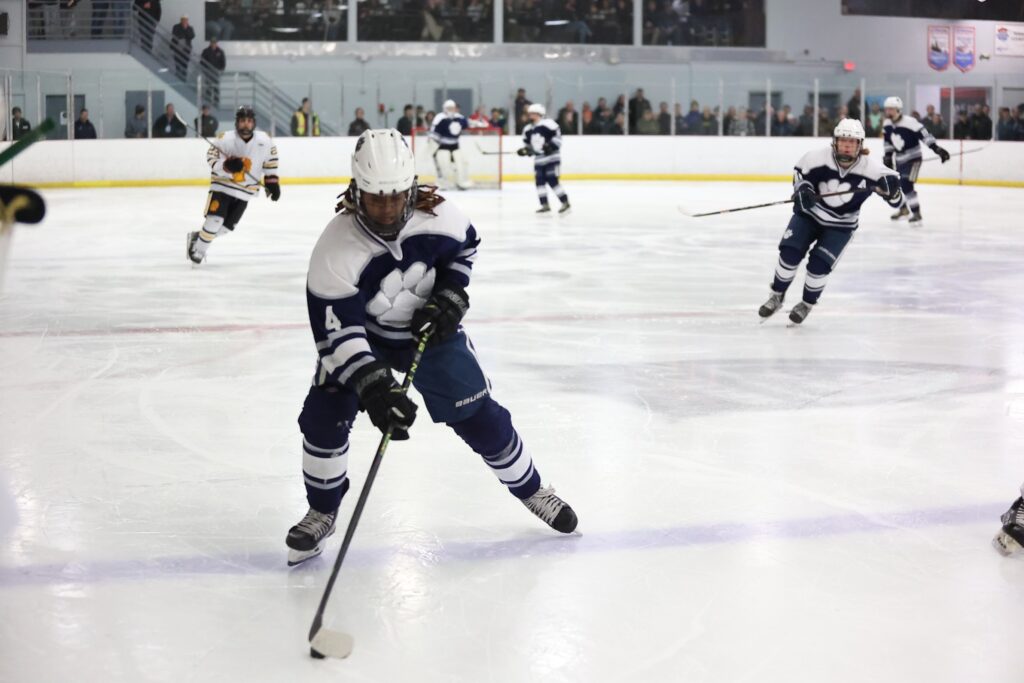 By JONATHAN SKUZA
For the first time since 2019, the NYSPHSAA Ice Hockey Division I championship tournament will feature both Pittsford and Orchard Park. Both teams will look to capture their first NYSPHSAA Ice Hockey championship. Here's what you need to know:
PITTSFORD PANTHERS (17-5-1/MCPSAC Division I/Section V)
vs.
ORCHARD PARK QUAKERS (16-4-2/ECIC Division I/ Section VI)
How they got here: Pittsford (No. 9 NYSSWA Division I) received a first-round bye to the quarterfinals where they won 4-2 over No. 5 seed Penfield and then knocked off top seeded McQuaid 2-1 in the semifinals to secure a spot in the finals. The Panthers claimed their second Class A title in three years with a 2-1 victory in double overtime over the No. 2 seed and defending champion Victor Blue Devils. Orchard Park (No. 3 NYSSWA Division I) opened its Section VI playoffs with a 4-0 victory over Williamsville North and claimed its second straight title with a 4-1 victory over Clarence.
Trends: Pittsford has limited its opponents to two goals or less in six of their last seven games. Orchard Park has won three straight contests scoring four goals in each of them and allowing only four goals in that stretch.
Players to watch for Pittsford: Will Masaschi Sr. F 18 goals, 20 assists, 38 points; Lucas Procious Sr. F 14 goals, 15 assists, 29 points; Colin Norton Jr. F nine goals, 16 assists, 25 points; Brady McMahon Jr. F 12 goals, 10 assists, 22 points; Aden Brown So. G 14-4-1, two shutouts, 1.52 goals against average, .930 save percentage.
Orchard Park: Presley Schiltz Sr. F 16 goals, 13 assists, 29 points; Chase Krtanjek Jr. F eight goals, nine assists, 17 points; Frank Neeson Sr. F seven goals, seven assists, 14 points; Brennan O'Hara So. F six goals, eight assists, 14 points; Brayden Hearn Jr. G 16-4-2, four shutouts, 1.47 goals against average, .941 save percentage.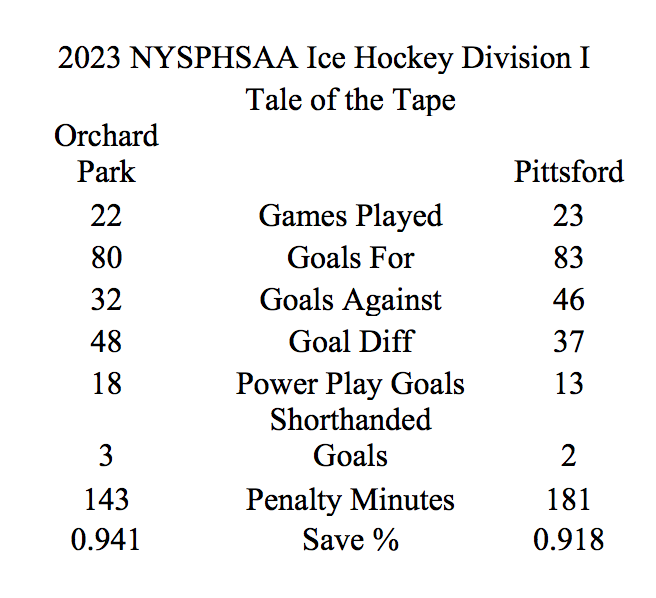 Coaches: Steve Thering (Pittsford), Josh Dannecker (Orchard Park)
History 101: Pittsford is making its first NYSPHSAA Ice Hockey tournament since 2019 when the Panthers defeated 2-1 by Syracuse. Orchard Park is making its first NYSPHSAA Ice Hockey tournament since 2019 as well where they made the semifinals and were defeated by Syracuse 5-1. The two teams have never met in the NYSPHSAA Ice Hockey tournament. Pittsford will look to be the first Section V to win a NYSPHSAA Ice Hockey Division I title since 2018 when Victor won.
What's next: The winner will advance to the 2023 NYSPHSAA Ice Hockey Division I semifinals.
Puck drop is scheduled for Saturday at 3 p.m. at the LECOM HarborCenter in Buffalo, N.Y.