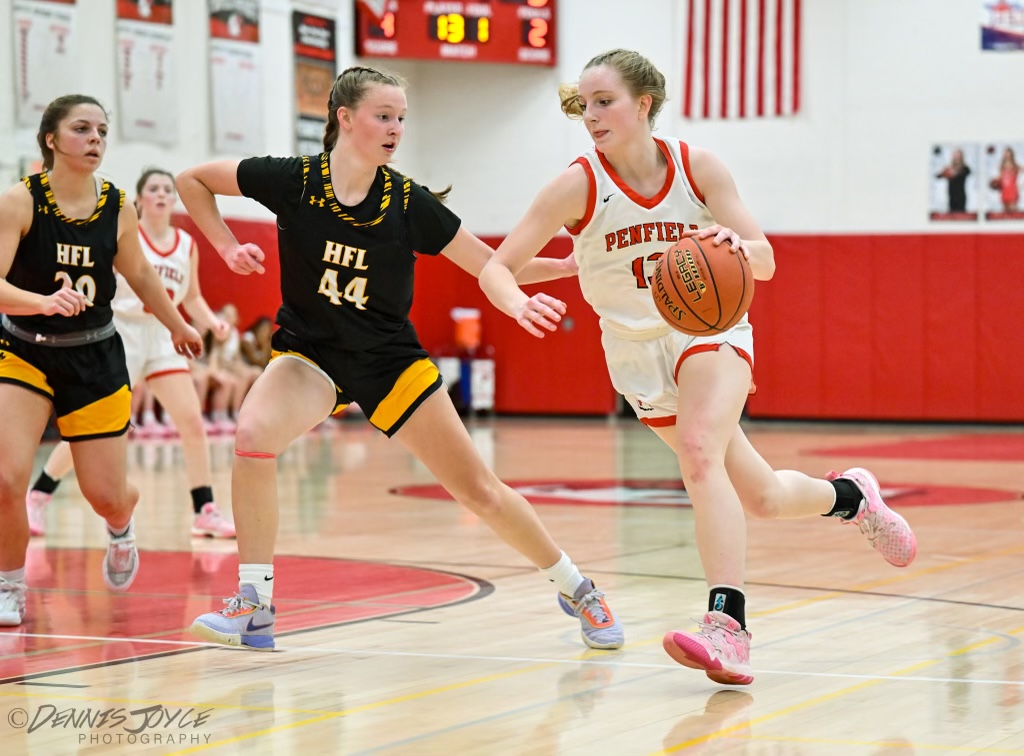 RUSH-HENRIETTA (3-11) 29
PITTSFORD SUTHERLAND (12-2) 73
Cecilia Peinado Calvo led with 12 points, and Sutherland won its ninth straight game. Leora Cook, Petra Hunt, and Eden Lewis added 10 apiece in the win. Annie Dodge grabbed a team-high 11 rebounds. Ashlyn Roberts and Alivia Day both scored eight points for Rush-Henrietta.
HONEOYE FALLS-LIMA (10-5) 25
PENFIELD (14-1) 66
Grace Alexander finished with a game-high 19 while Jackie Funk registered a double-double with 18 points and 11 rebounds as Penfield won its 11th straight game. Carolyn Smith paced HF-L with seven points.
EAST ROCHESTER (9-5) 40
VICTOR (6-8) 51
Rhylin Fehrenbach finished with a game-high 24 as Victor, taking the floor for the fifth time in eight days, rallied from an early deficit to win back-to-back games. Abbie Murphy and Devin Livingston added 10 points apiece in the win. Victor used a 1-3-1 half-court defense to come back from one down at half. Lily Funk led East Rochester with 19 points.
EAST (6-5) 64
EASTRIDGE (5-8) 31
Gabby Brown-Sturdviant scored 12 of her game-high 22 points in the second quarter when East used an 18-10 advantage to grab a 16-point lead at halftime on the way to a third straight win. Brown-Sturdviant connected five times from the floor during the frame including once from behind the 3-point arc. The sophomore guard also had four steals. Jaelyn Giles finished with 10 points and seven assists while Jiasia Norris had five points and 10 rebounds. Nevaeh Grisham (5), Ali'Yana Robinson (9), Ayasha Cherry (6), Teeny Bowers (2), Yerieliz Castro (1), Tiasia Gibson (1) and Nyla Polydore (3) rounded out the scoring for East. Ada Krupa led Eastrdige with 14 points. Grace Devlin had 10. Ella Scantlin (3), Aaliviah Green (2), Danica Burton (1) and TT Green (1) also scored for the Lancers.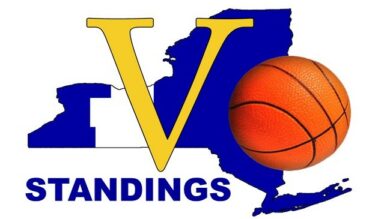 BATAVIA (0-13) 40
LE ROY (7-7) 45
HOUGHTON (2-10) 49
SCHOOL OF THE ARTS (10-1) 51
Maya Williams finished with a double-double of 13 points and 10 rebounds to go with four steals as SOTA won its fourth straight game. Jazlynn Logan poured in 27 points while collecting a rebound, two assists and three steals. Son'ger McCullough added six points, four rebounds, two assists and a steal. Precious Grant grabbed six rebounds. Breyelle Gieger had three points, three rebounds and an assist. Nina Pallotta had points, two assists, a rebound and a steal. London Alexander accounted for two steals. Kayona Toney had two rebounds, and Katarina Terrell had a steal.
GANANDA (9-3) 48
BYRON-BERGEN (7-6) 38
Kaylee Marvin led three in double figures with 22 points, and Gananda won its fifth straight game. Eva Jenny added 14 points in the win while Katie Rothwell had 10. Nyah Cruz contributed two points.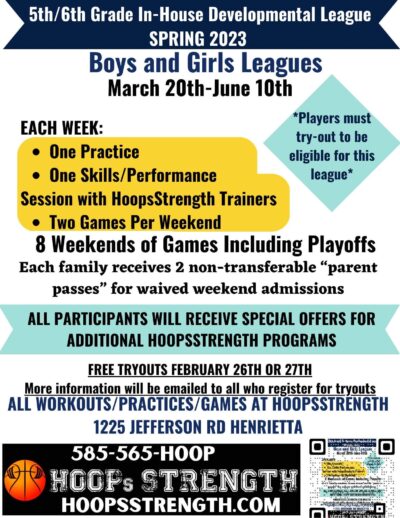 GENEVA (1-11) 21
LYONS (12-2) 64
Jayla Bell finished with a game-high 22 points including the 1,000th point of her career, and Lyons went to win its fourth straight game. Bell connected nine times from the floor and converted 4-of-4 from the free throw line. She also contributed eight steals, six assists and six deflections in the win. Teammate Kamryn Bonnell accounted for 10 points, eight steals and six deflections. Milleniyah Glanton had 11 points, and Kara Stephens added 10 points. Samantha Figueroa (6), Cadence Watkins (3) and Addison Jones (2) rounded out the scoring for Lyons. Trinity Maxon led Geneva with six points. Kelly Bucklin, Natalie Budgar and Kaitlyn Wright had four apiece for the Panthers. Meghan Forbes had three points.

ATTICA (6-6) 31
HOLLEY (6-8) 27
PAVILION (11-3) 39
ELBA (6-7) 50
Sydney Reilly finished with 16 points, six assists, six steals, four rebounds and a steal to lead Elba to its fourth straight win. Maddie Hall added 12 points in the win. Mariah Ognibene grabbed a team-high 13 rebounds and scored four points. Kennedy Augello had seven points, six rebounds and four assists. Lydia Ross (7) and Halie Deville (4) rounded out the scoring for the Lancers. The win overshadowed the effort of Pavilion's Lauren Kingsley who scored 18 points, grabbed 17 rebounds and had three steals. Kylie conway (8), Karlee Zinkievich (8), Ella Tillotson (3) and Makayla Washburn (2) also scored for Pavilion.
NEWARK (5-8) 40
DANSVILLE (10-4) 54
Aynsley Belcher amassed a 23-point, 18-rebound double-double, and Dansville won for the fourth time in the past five games. Belcher also had one assist in the win. Teammate Chelsie Tyler finished with 11 points, eight rebounds, two assists and three steals. Kali Meyer added eight points, four rebounds, two assists and four steals. Megan Tyler had six points and four rebounds. Taylor Hamsher had two points. Emma Allen accounted for four points, 11 rebounds and a steal. Eleni Mountzouros had two rebounds. Naomi Jones and Karina Natale led Newark with 12 apiece.

TRUMANSBURG (IV) 31
SOUTH SENECA (6-7) 52
YORK (5-8) 53
BLOOMFIELD (12-2) 56
WELLSVILLE (8-8) 46
HORNELL (8-6) 78
Jordyn Dyring finished with 23 points, five rebounds, four assists and three steals as Hornell won for the second time in the past three games. Selena Maldonado added 13 points, eight rebounds and six assists. Maddie Moore finished with double-double of 10 points and 10 rebounds to go with nine steals, four assists and two blocks. Ragan Evingham and Lillian Hoyt accounted for 10 and six points respectively. Makenna Dunbar led Wellsville with 13 points. Natalie Adams and Avaree Palmatier had nine apiece.
CUBA-RUSHFORD (6-7) 27
CANISTEO-GREENWOOD (16-0) 57
Lily Mullen scored 13 of her game-high 18 points in the first quarter as Canisteo-Greenwood sprinted to a 36-12 advantage at halftime and cruised to its 15th double-digit win of the season. Mullen also had six assists in the win. Brooke Burd accounted for 15 points, four rebounds and three blocks including the 100th block of her career. Bailey Mullen added 10 points, six rebounds and four steals. Elaine Roach collected five points, six rebounds and three assists. Hailey Davis had six rebounds. Peyton Peters (6), Sara Coddington (2) and Kennedy Richardson rounded out the C-G scoring. Taylor Searle led Cuba-Rushford with 16 points. Brynn Lavery and Cloey Larabee scored six and five points respectively.
ALLEGANY-LIMESTONE (VI) 29
FILLMORE (8-4) 37
ARKPORT-CANASERAGA (7-8) 24
GENESEE VALLEY/BELFAST (8-6) 42
WARSAW (2-11) 32
ROCHESTER PREP (3-10) 48
HAMMONDSPORT (10-3) 44
SCIO/FRIENDSHIP (9-5) 34
CHURCHVILLE-CHILI (9-6) 55
WILSON MAGNET (1-10) 23
ANDOVER/WHITESVILLE (10-3) 54
BOLIVAR-RICHBURG (4-8) 15
RE JACKET (3-10)
HARLEY-ALLENDALE-COLUMBIA (5-9)
ODESSA
JASPER-TROUPSBURG (4-9)
To report scores, please email photos of that night's scorebook pages to scores.pickinsplinters@gmail.com.