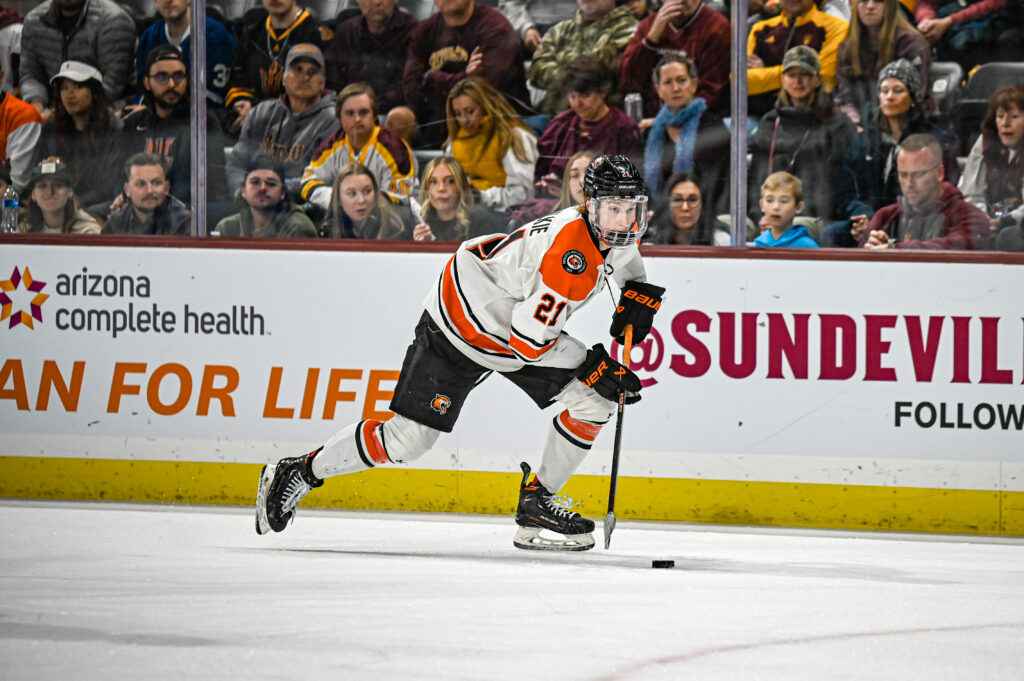 Courtesy of RITAthletics.com
ROCHESTER, N.Y. – RIT sophomore forward Carter Wilkie was named the Atlantic Hockey Player of the Week, Monday. Wilkie landed his third weekly honor of the season after scoring a team-high five points during the Tigers' two-game road sweep of Arizona State last week. 
Wilkie logged a goal and two assists in Friday's 5-1 victory before assisting two goals in Saturday's 5-3 decision. He also combined to win 20-of-39 faceoffs during the weekend.
Wilkie currently leads Atlantic Hockey with 28 points and 1.17 points per game, while his 18 assists are tied for tops in the conference with teammate Aiden Hansen Bukata and his 10 goals are tied for third. Currently 18th nationally in scoring, he also entered the week 10th with 285 face-off victories. 
Wilkie and the No. 19 Tigers (17-6-1, 13-2-1 AHA) return to Atlantic Hockey play this weekend with a trip to Holy Cross for games on Friday (7:05 p.m.) and Saturday (7:05 p.m.). RIT looks to complete the season sweep versus the Crusaders after earning 5-2 and 3-2 (OT) wins at the Gene Polisseni Center earlier this season (Oct. 28-29).