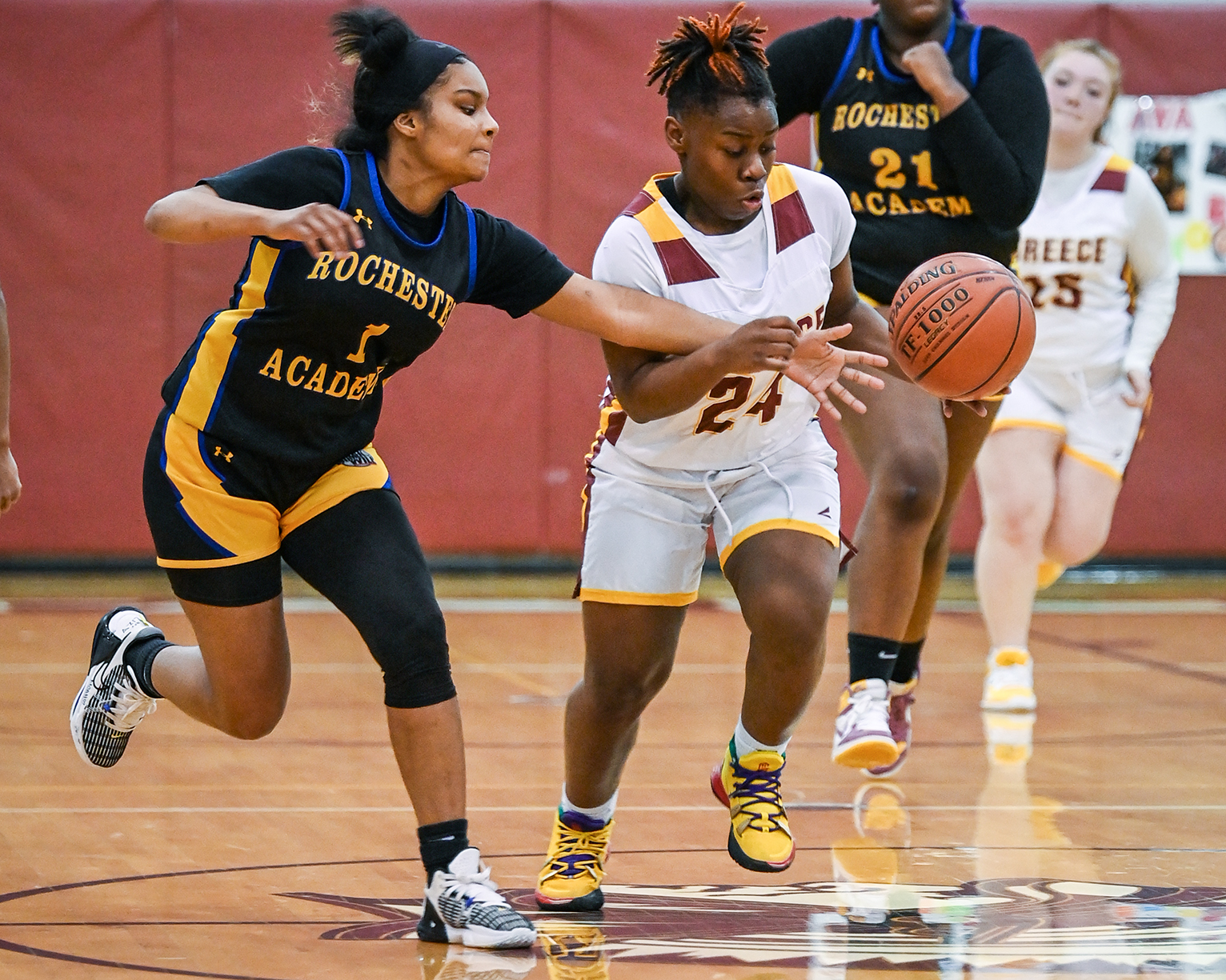 CARDINAL O'HARA (MONSIGNOR MARTIN) 48
BISHOP KEARNEY (10-2) 52
A year ago as the Bishop Kearney girls' basketball team made its run to the NYS Class AA championship, then-junior Caydence Hadley provided an interior presence. With an eye toward her future endeavors on the hardwood, the 6-foot-1 forward has spent more time this season on offense facing the basket from 15 to 20 feet away.
Monday night, though, with BK needing production in the paint, Hadley returned to a familiar spot. And the adjustment proved to be just what Kearney needed. READ MORE.
SCHOOL OF THE ARTS (9-1) 49
ROCHESTER PREP (2-10) 33
Senior guard Jazlynn Logan led School Of The Arts with 20 points, four rebounds, four assists and three steals. Maya Williams posted a double-double of 18 points and 13 boards along with three steals, three assists and a pair of blocks. Despite only scoring two points, freshman center Precious Grant hauled in 14 rebounds, swiped a pair of steals and rejected a pair of shots. Senior guard Son'ger MccCullough collected seven points, seven boards, eight assists and four steals. Junior guard Nina Pallotta recorded eight dimes, four assists, two points and two rebounds.
GREECE ATHENA/ODYSSEY (5-10) 55
EAST (5-5) 71
Nevaeh Grisham sparked a 26-point second quarter with four three-pointers as East High outscored Greece Athena/Odyssey, 26-10, and pulled away for back-to-back wins. The sophomore guard finished with 18 points and added two dimes and a pair of swipes. Jaylen Giles scored 12 points through the first three quarters and doubled her total in the final stanza to finish with 24 points. The senior guard compiled four assists and four steals. Graftoneishe Bowers ignited the Eagles with 11 of her 15 points in the first half for a commanding 41-22 intermission advantage. The junior center gobbled up 14 rebounds for a double-double along with two blocks. Sophomore guard Gabriella Brown-Sturdviant finished just shy of a double-double with 10 points, nine boards and five assists. For Greece Athena/Odyssey, junior guard Mariah Freeman led with 16 points on five made field goals and three foul shots. Trinity Johnson and Asia Philip both chipped in 12 points. Junior guard Tiara Smith had all 10 of her points after the first period. Other scorers – East: Ali'Yana Robinson (4); Greece Athena/Odyssey: Julianna Bates (3)
EDISON TECH (8-4) 41
VICTOR (4-8) 74
Freshman forward Rhylin Fehrenbach scored 16 points as Victor raced to a 19-5 first-quarter lead and left no doubt. Junior guard Devin Livingston finished with eight points. Vanessa Chumacero and Ally Dodge both contributed seven points. For Edison Tech, junior guard Gabriela Lopez netted a game-high 18 points.
PENN YAN (2-11) 23
WATERLOO (12-0) 70
Morgan Caraballo and Natalie DiSanto split 36 points to conduct Waterloo to its sixth home victory of the season. Freshman guard Addison Bree produced 12 points. Jazzmyn Lewis (9), Maci Mueller (5), Davonti'a Loucks (4), McKenzie Scutt (3) and Logan Amidon (1) rounded out the scoring for the Tigers.

NAPLES (1-12) 30
HONEOYE (4-10) 33
Sophomore forward Ashley Thomas netted a game-high 10 points to lead Honeoye in snapping a three-game skid. For Naples, Grace Hebding had nine points. Other scorers – Honeoye: Ava Higgins (7), Catelynn Farrell (6), Lindsay Higley (6), Sarah Baader (2), Sheyenne Lead (2); Naples: Erika Reigelsperger (6), Polly Bay (4), Brynn Davis (4), Danielle Clark (3), Hannah Christmas (2), Emily Lester (2)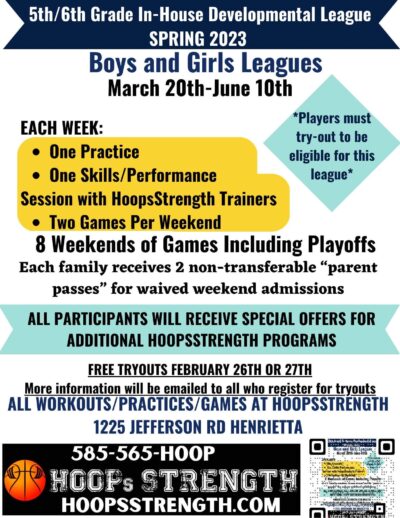 HINSDALE (0-14) 24
MOUNT MORRIS (6-7) 51
Maria Caceres Pou and Denishka Valentin combined for 34 points as Mount Morris rolled to its second win in the last three games. Pou led with 19 points while Valentin followed up with 15. Cadence Stroud (9), Shayla Brown (2), Angelica Caceres Pou (2) and Melissa Lopez (2) rounded out the scoring for the Blue Devils.
HAVERLING (9-6) 38
LETCHWORTH (3-11) 34
Haverling held Letchworth to 17 points over the final three quarters to come out on top. Meredith Czajkowski drilled five three-pointers as part of her 21-point output. The senior guard grabbed seven rebounds, including six on the defensive glass, dished out four assists and swiped a steal. Sophomore guard Leah Krelie finished just shy of a double-double with 10 points and eight boards along with a dime. For Letchworth, freshman forward Annika Milillo led with 10 points. Other scorers – Haverling: Lola Coots (5), Victoria Martinez (2); Letchworth: Morgan Brace (8), Alyssa Milillo (6), Hana Gill (5), Sasha Bellamy (2), Charity Scott (2), Abigale DeRock (1)
GENESEO (11-3) 50
WAYLAND-COHOCTON (1-13) 21
Caroline Capel and Mary Claire Rollins both procured 11 points as Geneseo steamrolled its way to seven straight wins. Senior guard Tessa Salatel added 10 points. Emily Lamb (5), Bridget McMaster (5), Lara Moriel (4), Maddie Mark (2) and Morgan Wolcott (2) rounded out the scoring for the Blue Devils.
ANDOVER/WHITESVILLE (9-3) 69
SCIO/FRIENDSHIP (9-4) 45
Senior forward Vanessa Hall dominated with a double-double of 27 points and 10 rebounds along with five assists, four blocks and two steals for Andover/Whitesville. Junior guard Lexy Palmatier accumulated seven steals to go along with 10 points, four dimes and a pair of boards. Senior forward Zoe Baert posted seven points, 10 rebounds, three steals and a rejection. Kennedy Bledsoe (8), Graci Lewis-Ellison (8), Gabby Terhune (7) and Gabbi Hall rounded out the scoring.
ROCHESTER ACADEMY (0-9) 21
GREECE ARCADIA/OLYMPIA (6-7) 62
HANNIBAL (III) 56
WILLIAMSON/MARION (4-10) 38
FRANKLIN (0-12) 29
NORTH ROSE-WOLCOTT (4-9) 42
WEBSTER THOMAS (7-6) 39
CANANDAIGUA (9-3) 44
BOLIVAR-RICHBURG (4-6)
CAMPBELL-SAVONA (1-10)
To report scores, please email photos of that night's scorebook pages to scores.pickinsplinters@gmail.com.